We're just less than a month away from the start of the 2015 MLB All-Star festivities and excitement is slowly building for baseball's Midsummer Classic. As the first half of the season draws to a close, we take an in-depth look at the players who are currently setting the gold standard in the National League this year.
Read on below for our breakdown of the five leading contenders in this year's National League MVP race and while you're at it, you can check out our piece on Major League Baseball's controversial All-Star voting process.
[sc:MLBArticles ]
Five Leading Candidates in the 2015 Major League Baseball NL MVP Race
Max Scherzer, P, Washington Nationals
Clayton Kershaw made history last season, becoming the first pitcher in nearly a half-century to win the National League Most Valuable Player award. With the way Max Scherzer is pitching right now, it isn't far-fetched to see another pitcher take home the coveted award once again.
[sc:MLB240banner ]Scherzer captured the imagination of baseball fans everywhere with his historic two-start stretch for the Nationals last week. He delivered a 16-strikeout, one-hitter against the Milwaukee Brewers on June 14 before producing that magnificent no-hitter on Saturday against the Pittsburgh Pirates. Scherzer is the fifth pitcher in the modern era and first since 1944 (Jim Tobin – Boston Braves) to allow one hit or fewer in back-to-back complete games.
Scherzer has been phenomenal for Washington this season, leading the majors in ERA (1.76), strikeouts (123) and opponents' batting average (.181). If he can continue this torrid pace for the rest of the year, Scherzer has an excellent chance of hoisting that NL MVP trophy.
Giancarlo Stanton, RF, Miami Marlins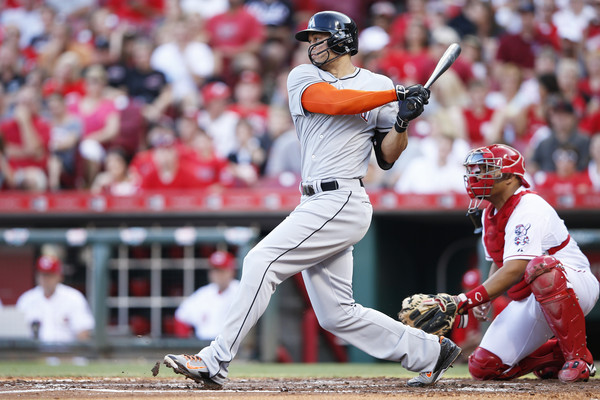 The Miami Marlins may be languishing near the bottom of the NL East standings with a mediocre 30-41 record but we can't take for granted the monster numbers being put up by star right fielder Giancarlo Stanton this season. Signed to a record $325 million deal last November, Stanton has certainly lived up to that huge contract with his stellar play in the first half of the season.
He leads the entire majors in home runs (25) and RBIs (64) thus far this campaign. He is also ranked fourth in slugging percentage with a solid .596 clip. He has struggled, however, in his last seven games posting a triple slash line of .259/.286/.481. He needs to rediscover his form quickly for the Marlins to gain some ground in the NL East and also bolster his MVP stock.
Anthony Rizzo, 1B, Chicago Cubs
One of the fascinating stories of this young 2015 MLB season has been the stunning resurgence of the Chicago Cubs. Led by veteran manager Joe Maddon, the Cubs are right in the mix for those coveted NL playoff spots, posting a 38-30 record thus far this campaign. Key to their strong start this season has been the excellent play of their first baseman Anthony Rizzo.
He is third in the National League in on-base percentage (.420) and fifth in slugging percentage (.590). His OPS of 1.010 is fourth-highest in the entire majors, next only to Bryce Harper, Paul Goldschmidt, and Miguel Cabrera. To demonstrate Rizzo's offensive impact for Chicago, he also leads the Cubs in homers (15), RBIs (43), walks (34) and hits (77) this season.
It's quite incredible to think that even with these numbers Rizzo isn't in line to start the All-Star game. He is currently second in the National League All-Star voting, behind the Dodgers' Adrian Gonzalez, Arizona's Paul Goldschmidt and the Cardinals' Matt Adams. He may get snubbed for the Midsummer Classic but he certainly has our vote as one of the leading candidates for the NL MVP award.
Paul Goldschmidt, 1B, Arizona Diamondbacks
One player who's certainly making a case for MVP honors in the National League this year is Paul Goldschmidt. The 27-year-old has been playing some spectacular baseball this season, leading the entire majors in batting average (.356), walks (55) and on-base percentage (.474). He's also tied for second in the majors with 57 RBIs and is ranked second as well in slugging percentage (.656).
Goldschmidt's play has really taken flight the last 30 games, posting a slash line of .412/.545/.735 during this time. He has hit nine homers during this stretch, driving in 25 runs, and manufacturing 30 walks. He's the main reason why the D-Backs are just four games back of the Dodgers in the tight NL West race. Goldschmidt will need to sustain those MVP-like numbers if he is to lead Arizona to its first postseason appearance in four years.
Bryce Harper, RF, Washington Nationals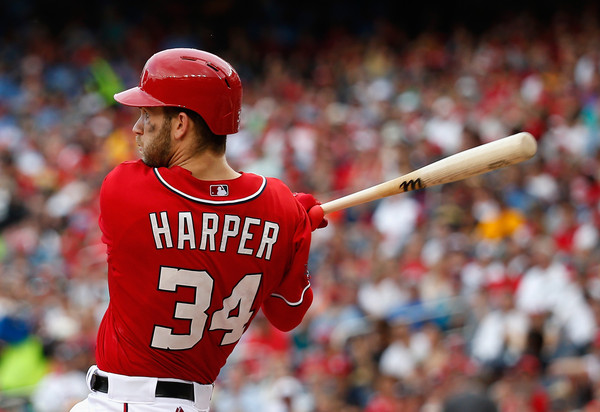 Not even a hamstring injury can derail Bryce Harper's outstanding 2015 campaign. The Washington slugger hit his 24th home run of the season into the second deck of right field in the Nationals' 9-2 victory against the Pittsburgh Pirates at Nationals Park. That's now the highest mark in Harper's career and he has managed to achieve that with less than half of the season done.
To illustrate how great Harper has been this season, take a look at these numbers. He is second in the entire majors in homers (24), fourth in batting average (.345), second in RBIs (57), second in walks (54), third in runs scored (54), second in on-base percentage (.473), first in slugging percentage (.735) and first in OPS (1.208).
If he can continue this blistering pace up until the end of the season, it's safe to say Harper has the NL MVP trophy all but locked up. The main question now is: can he finally avoid the injury curse that has repeatedly dogged him his entire career? That we shall all find out.
The All-Star Game is fast approaching. Create a betting account now and put your MLB predictions to the test!
[sc:MLB490banner ]
2,439 total views, 2 views today
Comments
comments