---
After a three-year absence, the UFC will be bringing their hard-hitting and blood-gushing action to Toronto, Canada. The original headlining match of Light Heavyweight champion Daniel Cormier and Anthony "Rumble" Johnson got scrapped due to the champion's injury, but the card is still pretty loaded with very interesting fights.
An interim title for the Featherweight belt is now on the line and the winner will eventually face Jose Aldo, who's back as the divison's undisputed champ after Conor McGregor was forced to forfeit. Along with that are matchups that are expected to provide us a ton of excitement.
Max Holloway, Anthony Pettis, Donald Cerrone, and Matt Brown will all be on deck. Just between those four fighters are countless knockouts, submissions, and explosive battles. Read on and see which fighters you should bet on!
---
Cash In on the Best Online Sportsbook Offers Now at TopBet!
---
UFC 206 Main Card Preview
The Main Event – UFC Interim Featherweight Championship
Max Holloway (-210) vs. Anthony Pettis (+165)
Holloway (16-3), an unorthodox striker who has a knack for hitting from unusual angles, is boasting a good list of accomplishments. Along with having a nine-fight winning streak (third longest among active fighters), he's also the only UFC Featherweight to go the distance with Conor McGregor, while also being tied with having the most knockdowns in his division, withe six.
Pettis (19-5), who at one point, was the Lightweight champ and one of the fastest and most vicious kickers in all of MMA, is trying to climb back to the top. He lost three straight fights in a span of a year, but he recently picked up a good submission win over Charles Oliviera.
Considering that both are creative strikers, expect the two to stand-up for most of their match. Their aggressiveness should result into an entertaining clash.
WRITER'S PREDICTION: Holloway wins via unanimous decision.
Donald Cerrone (-300) vs. Matt Brown (+220)
Cerrone (31-7) is having a very great run at Welterweight. Since moving to the weight class earlier in the year, "Cowboy" has won three straight in the division and all have been finishes (two knockouts and one submission). He's a great Muay Thai kickboxer and a black belt in Brazilian jiu-jitsu, but look for him to maintain a distance against Brown.
Brown (20-15) is currently on a free-fall, as he has lost four of his last five fights. However, he deserves a small pass since those are against the likes of Robbie Lawler, Johnny Hendricks, etc. Like his opponent, Brown also possesses a great Muay Thai background, while also being a brown belt in Brazilian jiu-jitsu.
Expect "The Immortal" to move forward often during the fight. He likes to be close to his opponent and fire away from anywhere. With Cerrone being a bit vulnerable in taking shots, he will be in a good position to get this W if he executes things correctly. Brown has 11 finishes, which is tied for most in the Welterweight division.
WRITER'S PREDICTION: Cerrone wins in a finish after a great brawl. This may win "Fight of the Night."
Cub Swanson (+170) vs. Doo Ho Choi (-220)
Swanson (23-7) is one of the longest-tenured guys at 145. He is a veteran that has a nice combination of striking and wrestling in his repertoire (black belt in Brazilian jiu-jistu and Judo). In battling the younger Choi, he may look to be patient and let his opponent be aggressive until he fully operates his offense.
Choi (15-1) hasn't fought a whole lot in the past few years. He only has three fights since June of 2013, which is a shame since he has 14 finishes (12 KOs) in his 15 wins. As a sharp kickboxer, "The Korean Superboy" owns a ferocious kick and a powerful right hand bomb. Look for him to keep unloading on Swanson. Choi should know, though, that this will be his greatest test to date.
WRITER'S PREDICTION: Choi wins via TKO, but Swanson should be able to land some good ones too.
Tim Kennedy (+145) vs. Kelvin Gastelum (-115)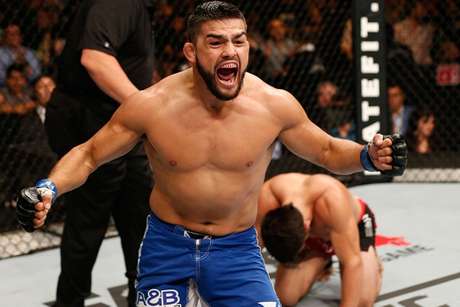 Kennedy (18-5) is a crafty veteran that can do damage standing up and on the ground. In this fight, though, expect him to take it to the mat, since he's bigger and stronger, especially also after seeing Gastelum have problems with Neil Magny's wrestling. If he executes the way he wants to, he'll bring home an easy win.
Gastelum (12-2) has versatility, but doesn't have a real forte in attacking. That said, he has a clear advantage in striking, and it will be a given that it'll be the approach that he will take. His number one key to a victory is to be solid on his offense and be ready with his takedown defense, because he will be in for dozens of takedown attempts from his foe, who is the far better wrestler and grappler.
WRITER'S PREDICTION: Kennedy has success in the start, but Gastelum ends up winning via TKO.
Jordan Mein (+160) vs. Emil Weber Meek (-130)
Mein (29-10) is a very skilled boxer and quite the technician in that area. Against an athlete like Meek, it's nice that he has those abilities since the last thing he'd want is to exchange blows. It will be a steep road but Mein should prefer to just keep his distance and be efficient in his punches.
With the bout being his first since returning from an early retirement, remember that ring rust could come into play.
Meek (8-0) will be making his UFC debut after shining from various promotions. He has tremendous momentum coming in. All of his eight wins are finishes (seven KOs and one submission), and his most recent was a vicious first-round TKO of Rousimar Palhares. The Norweigan is all about aggression and Mein struggles when facing fighters with such. Meek should be able to impose his bombs and different attacks.
WRITER'S PREDICTION: Meek wins via TKO.
Create a betting account now and cash in on all the awesome mixed martial arts action on display in UFC 206.

1,965 total views, 2 views today
Comments
comments