All the pre-fight trash talk will be put to the test as Luke Rockhold and Michael Bisping go toe-to-toe in Sydney, Australia. For Rockhold, a potential shot at UFC Middleweight champion Chris Weidman looms with a victory. Meanwhile, an impressive showing from Bisping may land him a title shot of his own.
The stakes are high heading into this match. Another intriguing fight is on the horizon, this time for fisticuffs, as the ageless Bernard Hopkins attempts to capture Sergey Kovalev's WBO Light Heavyweight title.
[sc:MultiSportArticles ]
UFN 55: Rockhold vs. Bisping Preview
Where: Allphones Arena, Sydney, Australia
When: Friday, November 7, 10 PM ET
Line: Luke Rockhold vs. Michael Bisping – view all UFC lines
Betting on Luke Rockhold
From surfer boy to UFC middleweight contender, Luke Rockhold will take one more step toward championship gold if he gets past Michael Bisping. Rockhold has the tools to do so. He utilizes dynamic and powerful striking in his fights, landing 3.62 significant strikes per minute. As if that weren't enough, the young contender is also very efficient on his feet, landing with a 42 percent clip, while defending 63 percent of strikes coming his way.
[sc:UFC240banner ]Rockhold needed just 12 strikes, including the fight-ending liver kick, in two minutes and thirty seconds to hand UFC veteran Costas Philippou's first career stoppage loss. Rockhold was also able to outstrike top middleweight contender Ronaldo "Jacare" Souza 97-49 earlier in his career to win the Strikerforce Middleweight Championship.
A natural right-hander, Rockhold prefers to use the southpaw stance on his feet. It opens up his favored left kick to the liver, something that already hurt Bisping before. Battering the body will be beneficial as it forces Bisping to lower his hands, giving Rockhold the perfect opportunity to land a fight-ending head kick.
Still, Rockhold hasn't reached the top of the division with only his striking. He also owns a black belt in Brazilian Jiu Jitsu, and has adapted it well in MMA situations. Six of his 12 wins have come by submission, most recently forcing the gritty Tim Boetsch to tap out to a combined inverted triangle and kimura.
Rockhold is 4-1 in fights scheduled for five five-minute rounds.
Betting on Michael "The Count" Bisping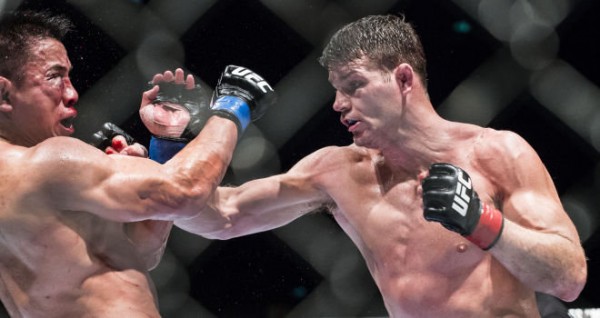 Michael "The Count" Bisping reached the top of the loaded middleweight division with his excellent kickboxing and stellar takedown defense (he's stopped 62 percent of opponents' takedown attempts). Heading into this match, he'll likely remain on his feet as both fighters love to stand and bang.
Bisping likes to stay busy, landing 4.39 significant strikes per minute with an in-your-face style that can wear out all but the most conditioned fighters. He adds a kick or two in his combinations, but prefers to be a straight-up boxer.
The eight-year UFC veteran is certainly well-experienced against dynamic strikers. He outstruck Alan Belcher 93-29 in a unanimous decision win on April 2013. Most recently, Bisping knocked out Sanshou specialist Cung Le in the fourth round of their August 23 showdown after outlanding Le 94-38.
For this fight, the smaller Bisping will need to push the pace and back up Rockhold to the fence to minimize his disadvantages in height (two inches) and in reach (five inches). However, this style may also cause Bisping's downfall as he receives 2.40 significant strikes per minute.
The Count has also shown that he has a couple of tricks up his sleeve, like the flashy spinning heel kicks he's incorporated in his most recent fights. Rockhold was already knocked out by such a kick against current title challenger Vitor Belfort, but Bisping lacks the technical affinity or setups required to pull it off. Bisping will throw a couple of flashy kicks in this contest, but don't expect them to land.
Bisping is 6-4 in fights that have gone to decision.
Writer's Prediction
At this point in their careers, Luke Rockhold will be too much for Michael Bisping to handle. Rockhold hurts Bisping in the early goings before cruising to a unanimous decision. Create a betting account now and cash in on all the biggest fights in mixed martial arts.
[sc:UFC490banner ]
2,390 total views, 2 views today
Comments
comments