It's time for fireworks when two knockout artists go toe-to-toe in the Octagon. Vitor Belfort, fresh off challenging for the UFC Middleweight Title, takes on a familiar opponent in American legend Dan Henderson in the main event of UFC Fight Night 77.
A fantastic main event needs an exciting main card to whet people's appetites. Five thrilling matchups lead up to the main event culminating in a light heavyweight showdown between former title challenger Glover Teixeira and up-and-coming contender Patrick Cummins.
Want some more fisticuffs? Check out our complete preview for the big Alvarez vs. Cotto boxing match later this month.
[sc:MultiSportArticles ]
UFC Fight Night 77: Belfort vs. Henderson Preview
Middleweight: Vitor Belfort vs. Dan Henderson
Line: Vitor Belfort (-350) vs. Dan Henderson (+270) – view all UFC Fight Night 77 lines

Vitor "The Phenom" Belfort recently challenged for the UFC Middleweight Championship. Despite hurting champion Chris Weidman in the early goings, Belfort quickly ran out of steam en route to a first round technical knockout loss. It was a performance expected of Belfort, who is not off testosterone replacement therapy. Without the use of testosterone to boost his training, the Brazilian bulldozer should end up suffering from reduced performances.
[sc:UFC240banner ]Belfort may be off TRT now, but he's still one dangerous fella. He possesses knockout power in both hands and feet—something which testosterone cannot teach. Belfort also possesses an arsenal of head kicks, which should knock opponents silly on TRT or not. In their second head-to-head matchup in November 20113, Belfort bashed Dan "Hendo" Henderson's head in with a well-placed left high kick for the TKO victory in the first round.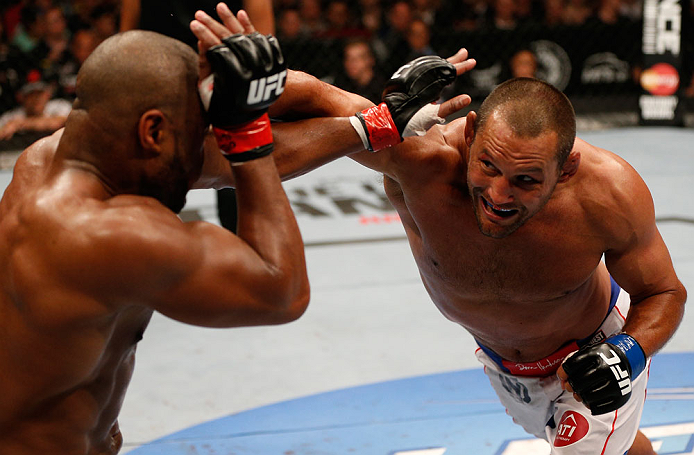 After the loss to Belfort, Henderson went on to lose two of his next three fights. He returned to the Middleweight Division in June 2015, and he couldn't have made a better decision. Henderson unloaded his patented H-Bomb en route to a first round knockout victory over former contender Tim Boetsch. Henderson has one weapon that he can use, his right hand, but he lands it with so much efficiency and ferocity that his last six victories have come by knockout or technical knockout.
Henderson also has an iron chin that could help him weather Belfort's early blitzes. Despite being 45 years old, Hendo can still endure plenty of punishment to keep him in fights.
Writer's prediction: Better take cover because the H-Bomb is coming! Henderson (+270) wins by second round knockout after his iron chin wears out Belfort.
Light Heavyweight: Glover Texeira vs. Patrick Cummins
Line: Glover Texeira (-500) vs. Patrick Cummins (+350) – view all UFC Fight Night 77 lines
A former barista, Patrick "Durkin" Cummins can offer plenty more than just preparing cups of joe for the UFC. He's turned into a complete fighter under the guidance of famed Kings MMA coach Rafael Cordeiro. Cummins already has the wrestling to grind his opponents down, landing 7.16 takedowns per fight. He also has the striking chops, albeit still patchy, to hand with opponents on the feet.
Against one-time title challenger Glover Teixeira, Cummins will need his wrestling to be in tip-top shape. In his most-recent loss, Teixeira was taken down nine times by another of the division's best wrestlers in Phil Davis in October 2014. But if he can keep the fight on the feet, Teixeira has the boxing and the power to give Cummins trouble. 13 of Teixeira's wins have come by knockout or technical knockout.
Writer's prediction:  Cummins (+350) grinds out Teixeira en route to a unanimous decision victory.
Bantamweight: Thomas Almeida vs. Anthony Birchak
Line: Thomas Almeida (-450) vs. Anthony Birchak (+325) – view all UFC Fight Night 77 lines
Aggression and pure unadulterated violence will take place in the Octagon when two of the Bantamweight Division's top young up-and-comers, Thomas Almeida and Anthony Birchak, go toe-to-toe. Birchak stormed into the scene with a first-round knockout of former title challenger Joe Soto in June, showcasing a much-improved striking game.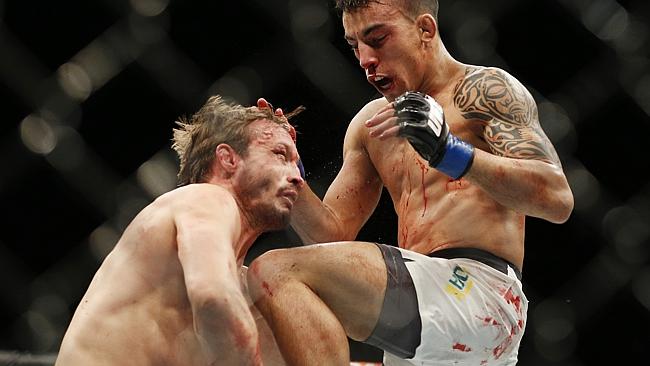 Almeida isn't one to shy away from a fire fight as a talented Muay Thai stylist. He's won all 19 of his professional fights to date, including his last three in the UFC. Almeida is coming into this matchup off a spectacular flying knee knockout of Brad Pickett in July. But he showed that he can also be vulnerable to heavy hitters being knocked down, while absorbing 17 heavy strikes to the head.
Writer's prediction: It's going to be a war of attrition. Birchak (+325) lands just enough and controls Almeida on the ground for a bloody unanimous decision victory.
Lightweight: Alex Oliveira vs. Piotr Hallman
Line: Alex Oliveira (-220) vs. Piotr Hallman (+170) – view all UFC Fight Night 77 lines
If you want a fight, call Alex "Cowboy" Oliveira. He's sure to indulge you in a fist fight. After dropping his first UFC fight to Gilbert Burns in March, Oliveira won back-to-back fights in the Octagon with a first-round rear-naked choke of K.J. Noons and a dominant unanimous decision against Joe Merritt. He'll be up for a tough outing next when he takes on a physically imposing Pole, Piotr "Pletwal" Hallman.
Hallman is a proven finisher with seven knockouts and seven submissions in his 15 victories. He'll be hard-pressed for a victory to keep his spot in the UFC secure after dropping three of his last four fights.
Writer's prediction: Hallman (+170) has the physically imposing style that could trouble Oliveira. Take Hallman to win by unanimous decision.
Lightweight: Gilbert Burns vs. Rashid Magomedov
Line: Rashid Magomedov (-190) vs. Gilbert Burns (+155) – view all UFC Fight Night 77 lines
Gilbert "Durinho" Burns is one of the best grapplers in mixed martial arts. Six of his 10 career victories have come by submission, while three have come by knockout or technical knockout. However, he struggles to get opponents down on the mat, being successful on just 31 percent of his takedown attempts.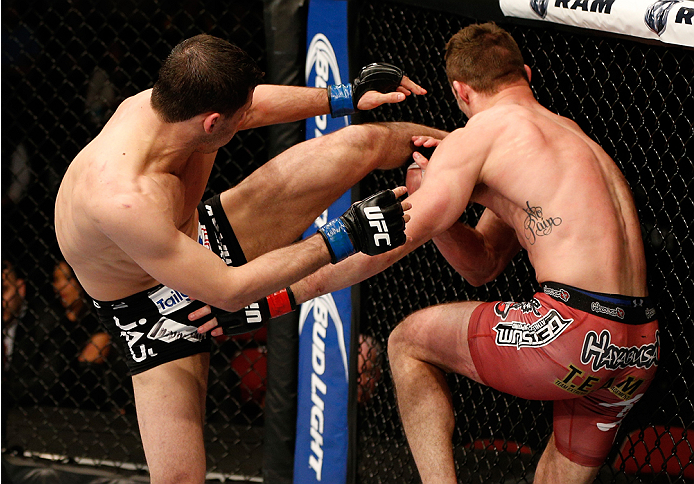 Things don't look too good when Burns takes on Russian Rashid "Goretz" Magomedov, who owns a stellar 92 percent takedown defense rate. Magomedov is also quite busy when on his feet, landing about 4.5 significant strikes per minute.
Writer's prediction: Magomedov (-190) outstrikes Burns to a clear unanimous decision.
Middleweight: Fabio Maldonado vs. Corey Anderson
Line: Fabio Maldonado (+375) vs. Corey Anderson (-550) – view all UFC Fight Night 77 lines
Fabio Maldonado is a fan favorite with his brawling style and reckless abandon. He's too willing to take one to give three of his own punches. Body punching is his specialty as he looks to tire out his opponents with rips to the body. Maldonado may struggle to stay vertical in this fight, considering he's going up against the up-and-coming Corey "Beastin25/8" Anderson.
Anderson is a solid wrestler, landing 4.3 takedowns per fight. He's also pretty busy when it comes to ground and pound with 5.83 significant strikes per minute.
Writer's prediction: Anderson (-550) wrestles Maldonado to a unanimous decision.
Fox Sports 1 Prelims
A veteran savvy Gleison Tibau (-120) should be able to handle a young and wild slugger in Abel Trujillo.
Yan Cabral sucks after the first round. Take Johnny "Hollywood" Case (-320) to dominate the last two rounds.
Everybody's favorite caveman returns as Clay "The Carpenter" Guida takes on Brazil's Thiago Tavares. Guida (-165) should have enough gas in the tank to dominate this matchup in a frenetic pace.
Kevin Souza is a scrappy boxer with power in his hands. He'll have quite a stylistic matchup when he takes on grappler Chas "The Scrapper" Skelly. Souza (+135) will be difficult to take down en route to a second round TKO victory.
UFC Fight Pass Prelims
Viscardi Andrade (EVEN) is the more talented grappler, which leads to a unanimous decision victory.
Jimmie Rivera has plenty of power but Pedro Munhoz (-180) should be able to ground him out for the submission victory.
Bruno Rodrigues is too wild, while Matheus Nicolau is a sound counter-puncher. Nicolau (-180) catches Rodrigues with a textbook counter to put the lights out in the first.
Craving for an adrenaline rush to fuel your Saturday night? Take a stab at a parlay of the last four underdogs; a $1 stake wins a whopping $190.5. That's sure to be enough to wet your betting buds. Create a betting account now and dive right into an explosive night of fights.
[sc:UFC490banner ]
2,123 total views, 1 views today
Comments
comments