The Washington Wizards pulled off arguably the biggest upset of the first round by taking care of the Chicago Bulls in just five games. Rested and full of confidence, the Wizards will now take on the no. 1 seed Indiana Pacers, who avoided a huge upset themselves by beating the Atlanta Hawks in seven games. The Wizards are the underdogs in this series, and are priced at +160 to make the Eastern Conference finals.
If the Pacers hope to avoid yet another close call and deliver on their -190 odds to win the series, they'll need to answer these five questions. Answer a few questions yourself about who will in our NBA Playoff survey here.
[sc:NBAArticles ]
NBA Playoffs Round 2 Washington Wizards vs. Indiana Pacers Series Preview
Series Scores & Schedule
Game 1 – May 5, 7:00 PM ET – Washington (+4) vs. Indiana (-4); total: 183.5 – view all NBA lines
Game 2 – May 7, 7:00 PM ET – Washington at Indiana
Game 3 – May 9, 8:00 PM ET – Indiana at Washington
Game 4 – May 11, 8:00 PM ET – Indiana at Washington
Game 5 (if necessary) – May 13, TBA – Washington at Indiana
Game 6 (if necessary) – May 15, TBA – Indiana at Washington

Game 7 (if necessary) – May 18, TBA – Washington at Indiana
Make your playoff predictions here in our NBA survey
1. Is Roy Hibbert really back?
After going scoreless in Games 5 and 6, Roy Hibbert finally showed signs of life with a 13-point, seven-rebound and five-block Game 7 against the Hawks.
If the Pacers barely managed to get away with Hibbert's poor play against Atlanta, nothing less than a Game 7-level Hibbert performance will do against the Wizards, whose frontline of Marcin Gortat (11 PPG and 9.6 RPG) and Nene (18 PPG and 6.5 RPG) is playing very well in the playoffs.
2. Can the Pacers stop John Wall?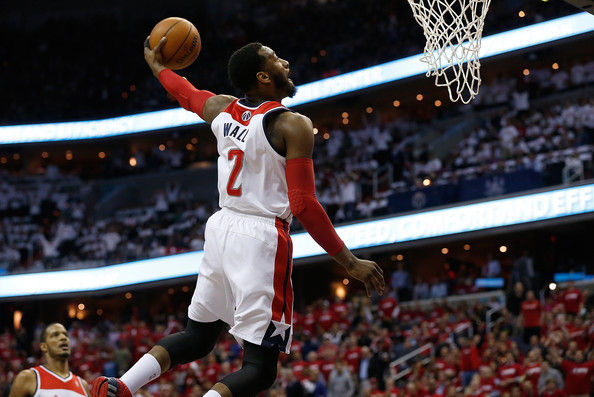 A resurgent Hibbert will also be required to deter John Wall's ability to get to the lane at will. Time and again, Wall knifed through a stout Chicago defense which resulted in him either shooting himself (23 shots within five feet vs. the Bulls, 2nd most on the team), getting to the line (9.2 free throw attempts per game in the series) or setting up his teammates (6.8 APG).
[sc:NBA240banner ]Head coach Frank Vogel had a similar dilemma with Jeff Teague in the Hawks series, and resolved it by putting Paul George on him. Look for Vogel to make a similar switch if George Hill shows that he can't stay in front of Wall early in the series.
3. Will the Wizards' starting line-up exploit its advantages?
Compare the starting line-ups of the no. 1 seed Pacers and the no. 5 seed Wizards by how they're playing right now and you'd see that besides Paul George (24 PPG) over Trevor Ariza (15.6 PPG), the other four Wizards starters are outplaying their counterparts in the playoffs.
The aforementioned Gortat and Nene have been better and more consistent than Hibbert (5.3 PPG) and David West (13 PPG), while the backcourt duo of Wall (19 PPG) and Beal (20 PPG) have superior numbers to Lance Stephenson (15.4 PPG) and Hill (13 PPG).
The Wizards have the parts, but can they put it together like they did against Chicago?
4. Whose bench will play better?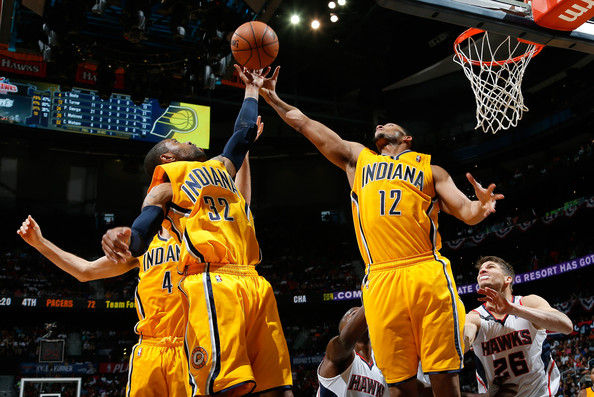 The Wizards' bench has averaged just 13.8 PPG (albeit in just five games) – dead last among playoff teams – while the Pacers' bench (22.4 PPG) isn't too far ahead at third to last.
The likes of Trevor Booker (5.6 PPG) and Andre Miller (4 PPG) have provided some important minutes thus far for the Wizards, but the Pacers' reserves Luis Scola (9 PPG) and CJ Watson (8.1 PPG) offer more potential to explode in any given game.
5. Can the Wizards win in Indiana?
Indiana has not been a happy hunting ground for the Wizards, who haven't won on the road against the Pacers in the last six years. They've gone 0-12 SU and 3-7-2 against the spread over that stretch, including two humiliating losses this season where they lost by 30 and 27 points and were held to 139 points total.
But if momentum really exists, the Wizards will have a lot of it ahead of Game 1 in Indiana. Washington is 6-0 SU/ATS in its last six road games, which included a sweep of the Bulls in the three games played in Chicago.
Writer's Prediction
Washington looked outstanding against Chicago, a team very similar to the Pacers. Expect the Wizards to steal Game 1 on the road, which will set up another intriguing series. In the end though, the Pacers will have just enough defense to take the series in seven games.
[sc:NBA490banner ]
1,599 total views, 2 views today
Comments
comments