The NBA has finally released the full schedule of the 2014-2015 season, making us even more excited for a brand new season. That season will start on October 28, more than two long months away. While waiting for the hardcourt action to come, let's break down some of the highlights of the 1,230-game bonanza, including of course LeBron James' highly anticipated first game in South Beach.
[sc:MultiSportArticles ]
Highlights of the 2014-2015 NBA Season Schedule
LeBron James' Homecoming Game
[sc:NBA240banner ]Cleveland crowd has to see it to believe it. Months after LeBron James announced that he'd suit up again for Cleveland starting this season, home fans have been itching to be witnesses to The King's first game as a Cavalier since his bitter departure in 2010. On October 28, they'll have that chance as Cleveland plays host to the visiting New York Knicks, who'll hit town lead by a new coach in Derek Fisher and star forward Carmelo Anthony.
Christmas Day Schedule
As usual, the NBA will have a Christmas Day schedule stacked to the gills with awesome games, none more anticipated than the soap opera that is the Cleveland Cavaliers-Miami Heat meeting.
Washington Wizards at New York Knicks: The Wizards have a great blend of young talents (John Wall, Bradley Beal) and veteran help, highlighted by the offseason acquisition of former Net, Paul Pierce. This is a good time for Randy Wittman's team to showcase on national TV just how much better it is since a surprising second round appearance in last season's Playoffs.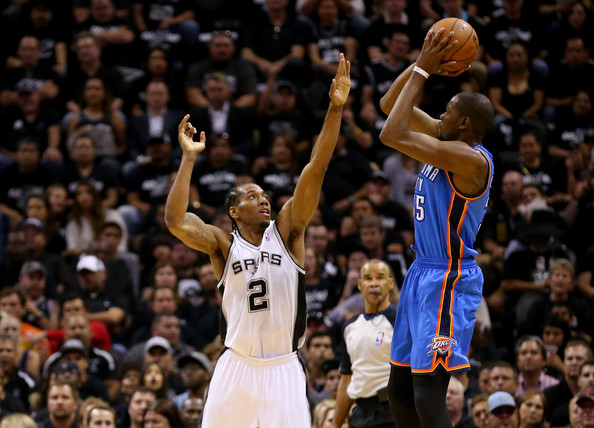 Oklahoma City Thunder at San Antonio Spurs: No knock on the Wizards and the Knicks, but it's this rematch of last season's Western Conference finalists, which would start getting people on couches to watch.
Kevin Durant, Russell Westbrook, and Serge Ibaka will have something to prove again against the defending champions, who eliminated the Thunder in six games of last season's topsy-turvy WCF. It's a regular season game but expect a playoff atmosphere from the opening to the last buzzer.
Cleveland Cavaliers at Miami Heat: Basketball fans would rather receive no gifts than miss watching this game. It's going to be odd and intriguing to see LeBron James playing against the team he led to four straight NBA Finals appearances, while winning two championships along the way. How will the South Beach crowd receive the four-time MVP?
Another question: Can the duo of Chris Bosh and Dwyane Wade prove they can carry this team without James? Will Miami have its own version of this fan? But no matter what kind of answers fans are looking for in this game, they will sure be glued to this big game.
Los Angeles Lakers at Chicago Bulls: Pau Gasol is the LeBron James in this game, as he faces his old team when Chicago welcomes the Lakers for a showdown at the United Center. There's Kobe Bryant also, who is set to play his 16th Christmas Day game. Who knows if this is the last time we're going to see Black Mamba strut his wares on a December 25 game?
Golden State Warriors at Los Angeles Clippers: There's bad blood between these two teams, which saw a fair share of on-court fracas last season. Aside from being a Christmas rematch, this game is also the first meeting of both teams since their grueling seven-game series in last season's postseason.
All-Star Break
Players are going to be well-rested going into the second half of the season, as Adam Silver approved a longer All-Star break, spanning from February 12 to February 19 next year. This new development comes as great news, especially to players, who are mandated to appear not only in the All-Star Game but also in other All-Star-related activities. However, it clear if the extended midseason break is here to stay. The NBA has expressed that this will be an experiment and will deliberate on the matter afterwards.
International Games
Mexico and England are the two lucky countries the NBA have chosen to host two of its regular season games. The Minnesota Timberwolves, who'll parade the recent draft's No. 1 overall pick Andrew Wiggins this season, will go up against the Houston Rockets on November 12 in Mexico City. Two months later, the O2 Arena in London hosts the Milwaukee Bucks and the New York Knicks.
Create a betting account now and start betting on NBA Futures while waiting for the regular season.
[sc:NBA490banner ]
2,222 total views, 1 views today
Comments
comments