Last year, the Ohio State Buckeyes went undefeated in the regular season with a 12-0 SU record before losing to Michigan State in the Big Ten Championship Game and the Orange Bowl against the Clemson Tigers.
Another undefeated run will be difficult now that the Buckeyes have lost quarterback Braxton Miller due to a torn labrum. Can the Ohio State Buckeyes fight on and excel nonetheless? Or will their thinned roster be exposed en route to a disappointing year?
Read on for everything you'll need to know about the Ohio State Buckeyes as they head toward the 2014 college football regular season, and don't miss our betting picks on the best games to watch in Week 1 of the college football season..
[sc:NCAAFArticles ]
2014 Ohio State Buckeyes Season Preview
Key Player – RB Dontre Wilson
With star QB Braxton Miller out, the responsibility of the starting role now falls in the hands of redshirt freshman J.T. Barrett. However, with the unexpected change in the depth chart, Barrett may find himself overwhelmed with the responsibility of starting in his first college football season.
[sc:NCAA240banner ]Here's where running back Dontre Wilson comes into play. In just his freshman year at Ohio State last year, Wilson immediately became one of the fastest players for the Buckeyes.  He ran the 100 meters in 10.5 seconds during his junior year in high school, the 200 in 20.9 seconds two years ago and the 40-yard dash in 4.33 seconds early last year at Ohio State, impressive for a 5'10", 180-pound player.
Wilson's' speed led him to recording 1,895 rushing yards and 37 touchdowns while catching 37 passes for 750 yards and nine touchdowns in his high school career with DeSoto. His best is yet to show in college football as he failed preseason expectations finishing with just 460 total yards and three touchdowns last year.
However, Wilson may have an increase in work rate this coming season to help alleviate their first-time starting QB, at least for the first few weeks of the college football season. Getting more handoffs may just be what Wilson will need to live up to his potential. After all, a talented RB like Wilson is due for a ground breaking performance and he will impress this coming season.
Strength – Defense
Ohio State's defense has potential to be the best in college football in the coming season. This unit will be led by star defensive end, Noah Spence, who finished with 58 tackles, 14.5 tackles-for-loss and eight sacks last season. However, Spence will be suspended for the first two games of the season after a positive drug test.
But even with Spence missing for the first few games, the rise of defensive linesman Joey Bosa helps further cement the Buckeyes' defensive line. Last year, Bosa had 29 tackles, 13.5 tackles-for-loss and 7.5 sacks in an incredible freshman season. Spence and Bosa will be leading a defensive line with other key returnees Adulphus Washington, Tommy Schutt, Joel Hale and Michael Bennett.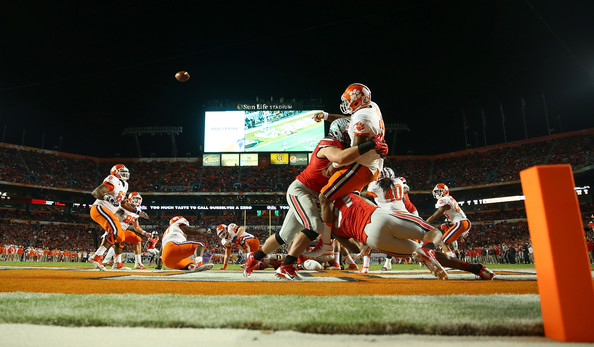 Linebacker was the biggest concern for head coach Urban Meyer for the Buckeyes when first-team All-American Ryan Shazier was drafted into the NFL. Depth will not be an issue for the head coach after he secured four-blue chip linebackers in the 2014 recruiting class. Most notable of which was the addition of five-star linebacker Raekwon McMillan.
Meanwhile, returning junior Joshua Perry will be moving to Shazier's spot. Perry recorded 64 total tackles, two tackles for loss and a sack. Still, he will need a big season to fill-in Shazier's shoes.
To further strengthen Ohio State's defense, Meyer brought in Chris Ash as a co-defensive coordinator to Luke Fickell. With the talent already there, Ash and Fickell have all the tools necessary to turn this defense into the best in the country.
Weaknesses – Offensive Line/Wide Receiver
Ohio State head coach Meyer himself highlighted the offensive line as the part of his team that he needs to work on, and it's not hard to see why. The Buckeyes' O-line, which was so crucial in their prodigious rushing numbers (308 yards/game, 5th in FBS) will have to be rebuilt from scratch after four starters left in the offseason.
And if the Buckeyes and their revamped O-line struggle to run the football, which will also be made difficult by the loss of leading rusher Carlos Hyde (1,521 rushing yards with 15 touchdowns last year), Ohio State's weakness in wide receiver may also be exposed.
They lost top receiver, Corey "Philly" Brown, who had just 63 catches for 771 yards last season. Seniors Devin Smith, Evan Spencer, and Jeff Heuerman are steady, but none of them is a particularly great receiver. If none of the wideouts can stand out this season, then their freshman QB J.T. Barrett will have a rough year as a first-time starter.
Key Game – Saturday, November 29 – vs. Michigan Wolverines
The Michigan Wolverines and the Ohio State Buckeyes have an intense rivalry that they contest every year. The rivalry is known as The Game and has often determined the Big Ten Conference championship and resulting Rose Bowl matchups. Their most recent outing saw a very close game end 42-41 for Ohio State.
With Miller out of the season for Ohio State, the Michigan Wolverines will be confident they can take The Game this year. However, this type of confidence may also leave them surprised if Ohio State proves to be a difficult challenge even without Miller.
The Ohio State Buckeyes are +1,800 to win the 2015 National Championship.
Prediction
The Ohio State Buckeyes go 9-3 SU during the regular season highlighted by a loss in The Game to the Michigan Wolverines.
Create a betting account now and cash in on the football season.
[sc:NCAA490banner ]
1,788 total views, 1 views today
Comments
comments