It doesn't get any better than this. The World Series will start in just two days time and for the first time in its history, two wild card teams will contest baseball's top prize. The Kansas City Royals have looked unstoppable this postseason, going a perfect 8-0 blowing past the Oakland Athletics, Los Angeles Angels and the Baltimore Orioles in the American League playoffs.
The same thing can be said about their opponents the San Francisco Giants who have peaked at the right time as well, dispatching the Pittsburgh Pirates, Washington Nationals and St. Louis Cardinals in the National League playoffs.
In this unlikely World Series pairing though, only one team will survive. We have sought out the experts' advice and listed their picks for this upcoming series. Read on below for those selections and while you're at it, you can check out our preview for Game 1 of the World Series between Kansas City and San Francisco here.
[sc:MLBArticles ]
2014 World Series Expert Picks
ESPN
| Expert | Prediction |
| --- | --- |
| Aaron Boone | Royals in 6 |
| Jonah Keri | Giants in 5 |
| Jim Bowden | Giants in 7 |
| Jim Caple | Royals in 4 |
| Jerry Crasnick | Royals in 6 |
| Gordon Edes | Giants in 7 |
| Tim Kurkjian | Royals in 7 |
| Andrew Marchand | Giants in 7 |
| Buster Olney | Giants in 5 |
| Eduardo Perez | Royals in 6 |
| David Schoenfield | Giants in 7 |
| Jayson Stark | Giants in 6 |
| Eric Karabell | Giants in 5 |
| Mark Simon | Royals in 7 |
| Howard Bryant | Giants in 5 |
[sc:MLB240banner ]Nine out of ESPN's 15 experts picked the San Francisco Giants to win their third World Series title in five years. The reasons that they cited are the Giants' experience in these pressure-packed ballgames and the leadership of manager Bruce Bochy and Buster Posey in the dugout.
The minority sided with the Kansas City Royals who are looking for their first World Series crown in 29 years. Tim Kurkjian, who picked the Royals to win in seven games, believes that Kansas City's bullpen, defense and their homecourt advantage will play a crucial factor in them clinching the series.
Bleacher Report
Prediction: Royals in 7
The sports website went with the American League champions because of three reasons. First is because of their pitching. The Royals have one of the most talented bullpens in the majors this season and it is definitely paying off for them in this postseason. Kelvin Herrera who handles the seventh inning had a 1.41 ERA in 70 games this season. Wade Davis, the eighth-inning guy, had an incredible 1.00 ERA in 71 outings. Their closer, Greg Holland, had a 1.44 ERA while saving 46 games in the regular season.
Herrera has pitched 8 1/3 innings this postseason allowing just one run for an ERA of 1.08. Davis has allowed just one run in 9 1/3 innings of action for a 0.96 ERA. And Holland (1.13 ERA) saved all four Royals victories in their ALCS sweep of the Orioles.
The second reason why the Royals will win is because of their speed. The Royals have 13 stolen bases this postseason. That's nine more than the second-ranked team. That brings an added dimension to their already impressive offense.
The third and final reason does not dwell on stats and numbers. Bleacher Report just believes that there is something magical with the way Kansas City is playing right now. Ever since their titanic comeback in the wildcard game against Oakland, the Royals have embarked on this dream run and it's only fitting that they cap off this playoff run with a storybook ending in Game 7.
Heavy.com
Prediction: Giants in 7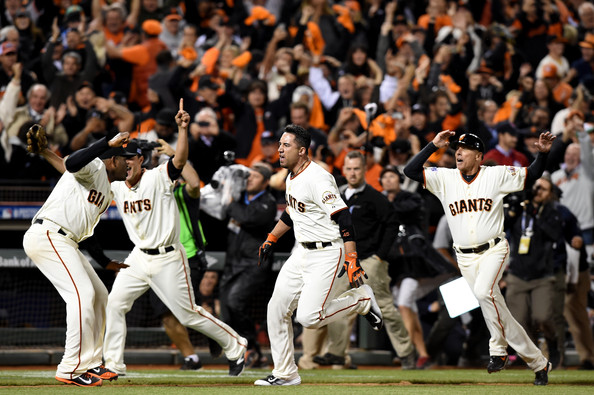 Heavy.com's sports editor Evan Grossman picked the San Francisco Giants to win this year's World Series in seven games. The main reason behind his selection: experience. The Giants are playing in their third World Series in five years. They won in 2010 and 2012 and there's no reason to believe that they won't do it again this year.
Rantsports.com
Prediction: Royals in 6
This sporting website believes that the Royals' defense will be the main reason why they will be this year's World Series champions. They have arguably the greatest defensive outfield of all time in Alex Gordon, Lorenzo Cain, Nori Aoki and Jarrod Dyson. Plus their infield makes plays too. Just look at third baseman Mike Moustakas' play in Game 3 of the ALCS.
One of the most-used sports clichés is "Defense wins championships". That might just be the case in this World Series.
Create a betting account now and cash in on this final baseball series of the year.
[sc:MLB490banner ]
1,815 total views, 1 views today
Comments
comments