For the past two years, Arizona has been hands down the best team in the Pac-12. But after a mass exodus of key contributors in the desert, the emerging California Golden Bears – armed with two big-time recruits – are threatening to take the conference crown away from the weakened Wildcats. Will this year see a changing of the guard in the Pac-12?
Let's get a complete sense of the conference from top to bottom ahead of the college basketball season and see where each team will end up by season's end. Also, don't forget to check out our conference previews of the ACC, Big 12, and Big Ten.
[sc:MarchMadness ]
2015-16 NCAA Season Pac-12 Conference Preview
1. Arizona Wildcats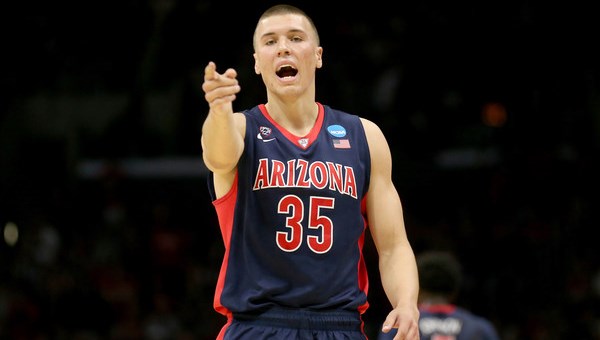 2014 record: 16-2
Predicted 2015 record: 14-4
[sc:NCAAB240banner ]Many are predicting Arizona's demise as the Pac-12's undisputed powerhouse after the Wildcats lost four starters from last year's team, which was one win shy of the Final Four.
However, don't underestimate Sean Miller's ability to coach. Miller still has two seniors in Kaleb Tarczewski and Gabe York to build his team around, as well as some key transfers in Ryan Anderson and Mark Tollefsen and a five-star freshman in Allonzo Trier.
They likely won't run away with the conference like they did last season, but they should have enough to remain in their perch atop the Pac-12.
2. California Golden Bears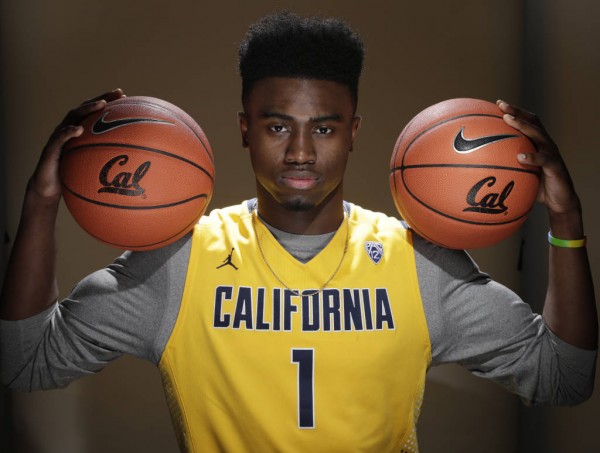 2014 record: 7-11
Predicted 2015 record: 13-5
The team widely tipped to knock those Wildcats off said perch is Cal. The Golden Bears had an uneven first season under head coach Cuonzo Martin, but he struck it rich on the recruiting trail by getting the in-demand duo of Jaylen Brown and Ivan Rabb (No. 4 and No. 8, respectively, in ESPN's Class of 2015 rankings).
The two will be expected to contribute immediately alongside the very experienced trio of Tyrone Wallace, Jordan Matthews and Jabari Bird, who averaged 40 of the team's 66 points last season. With so much firepower on board, look for the Bears to push Arizona all the way, and also to go far in the tourney. Cal actually has the lowest odds of any Pac-12 team at +1,500 to win the national title.
3. Utah Utes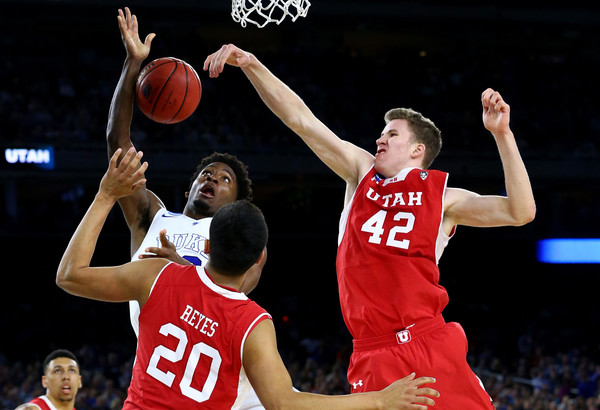 2014 record: 13-5
Predicted 2015 record: 12-6
The many things that Delon Wright, the Utes' departed point guard, brought to the table (scoring, rebounding, playmaking, defense) will be tough to replace, but the expected development of second-year big man Jakob Poeltl into a legit star should soften the blow.
The Utes will still have solid veteran leadership with the senior trio of Brandon Taylor, Dakarai Tucker and Jordan Loveridge, and breakout potential from sophomore Brekkott Chapman, so expect them to keep hanging around the top tier of the conference.
4. Oregon Ducks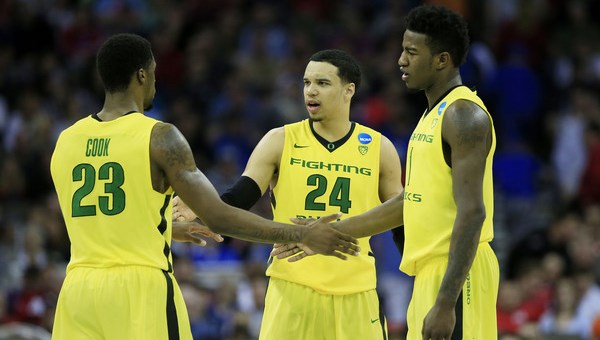 2014 record: 13-5
Predicted 2015 record: 12-6
The next wave of impact transfers are coming to save the day for the Oregon Ducks. Dylan Ennis (formerly of Villanova) has tons of experience, and will run the show at the point. Meanwhile, junior college national player of the year Chris Boucher will help seal up the frontcourt along with another former juco transfer, Elgin Cook, and Jordan Bell.
However, the Ducks will need freshman Tyler Dorsey to find his feet quickly and make up for the 20 points of offense lost from the departure of Joseph Young.
5. UCLA Bruins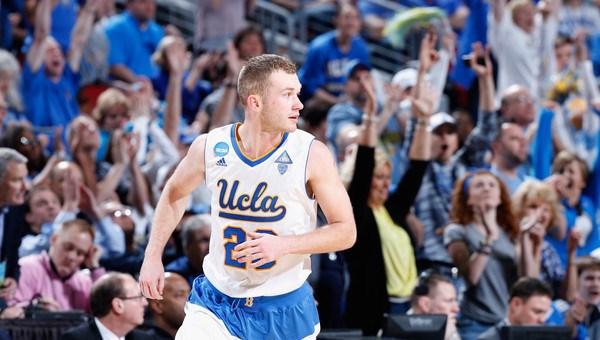 2014 record: 11-7
Predicted 2015 record: 10-8
The Bruins lost a bunch of production with Norman Powell and Kevon Looney moving on to the NBA, but they do return the trio of Bryce Alford, Tony Parker and Isaac Hamilton, all of whom averaged double-digits in points last season. The addition of Aaron Holiday (Jrue's younger brother) should also be an impact freshman to help the Bruins stay above .500 in the conference.
6. Oregon State Beavers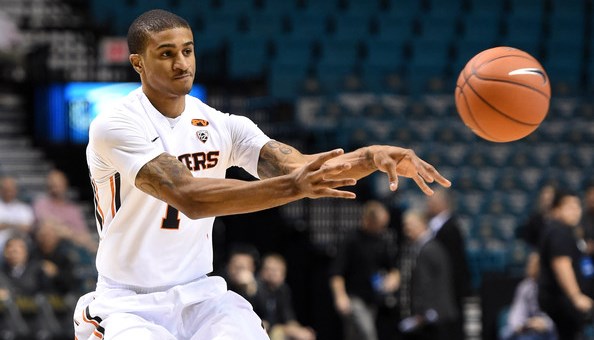 2014 record: 8-10
Predicted 2015 record: 9-9
Yes, the Oregon State Beavers might just have the best player in the Pac-12 with Gary Payton II. The kid "Glove" is a defensive savant just like his dad, but he'll need help putting points on the board to remain competitive.
The Beavers have arguably the best recruiting class in program history coming to augment last year's surprise team that returns all five starters, but the likes of Tres Tinkle and Stephen Thompson might not be enough to help GPII taste a winning conference record before the end of his college career.
7. Arizona State Sun Devils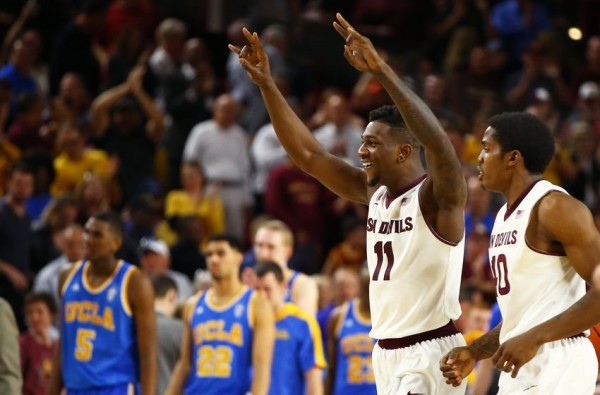 2014 record: 9-9
Predicted 2015 record: 9-9
Head coach Bobby Hurley will have an uphill battle to keep Arizona State from suffering a losing conference record in his first year in charge. Junior forward Savon Goodman and senior Gerry Blakes will do the heavy lifting on offense, while juco transfer Andre Spight will provide some much-needed outside shooting. Whether that'll be enough to crack the top half of the conference in Hurley's debut season remains to be seen.
8. Colorado Buffaloes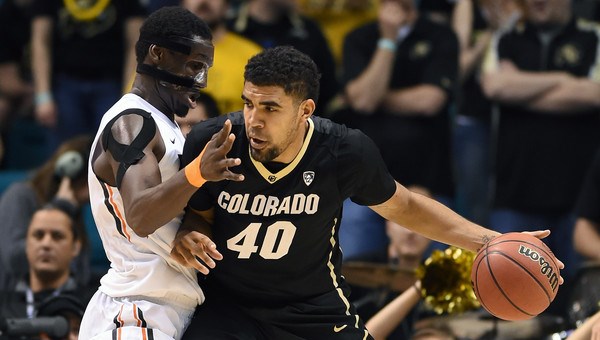 2014 record: 7-11
Predicted 2015 record: 8-10
The injury bug just loves biting the Buffaloes. Senior swingman Xavier Johnson was the latest to get bit as he tore his Achilles over the summer and is done for the year. That makes the sizeable burden on big man Josh Scott's shoulders all the heavier. The Buffs will be in business if Dominique Collier and/or George King steps up, because as good as Scott is, he alone can't lift Colorado too high up the standings.
9. Stanford Cardinal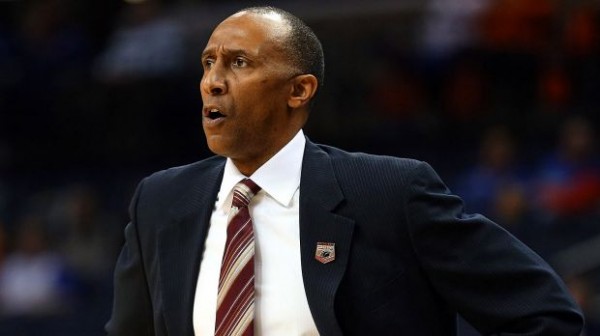 2014 record: 9-9
Predicted 2015 record: 7-11
Stanford got their hands on another NIT title, but lost their top three scorers, who accounted for 48 of the team's 73 points per game. Meanwhile, the pressure continues to mount on head coach Johnny Dawkins to produce in the NCAA tournament. That'll be tough to accomplish with virtually no star power remaining, so don't be surprised to see the Cardinal crash down the conference standings this season.
10. USC Trojans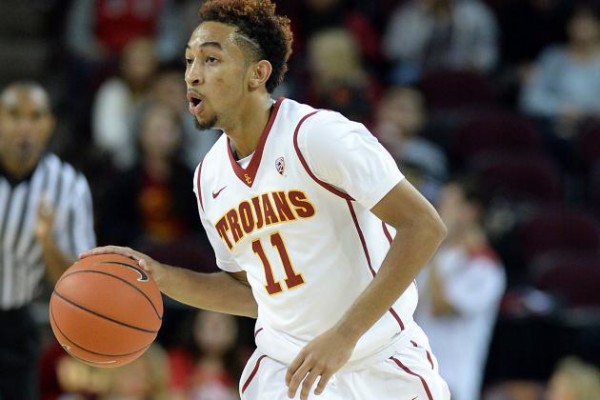 2014 record: 3-15
Predicted 2015 record: 6-14
The excuses are running out for head coach Andy Enfield. Results are expected, starting this season, as the Trojans return their top nine scorers from last year along with top recruits Bennie Boatwright and Chimezie Metu. The health of point guard Jordan McLaughlin will be crucial, but there should be enough talent to see at least some improvement – with or without him on the court.
11. Washington Huskies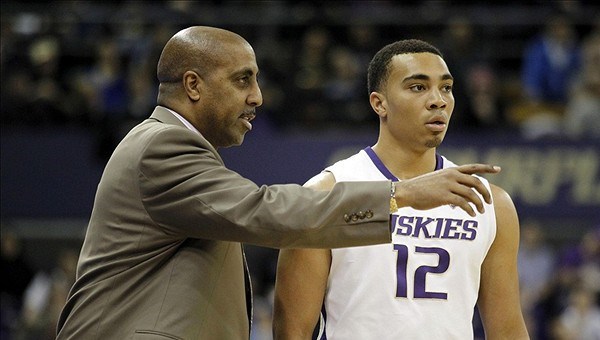 2014 record: 5-13
Predicted 2015 record: 5-13
Lorenzo Romar's nearly decade-and-a-half-long tenure in Seattle could be coming to an end if he doesn't start producing results. The good news is that he definitely has the backcourt talent to do just that with senior point guard Andrew Andrews – the team's leader in points rebounds and assists last season – and highly-touted freshman Dejounte Murray. This team is very young, though, which seldom translate to wins (for teams that aren't Kentucky or Duke, that is).
12. Washington State Cougars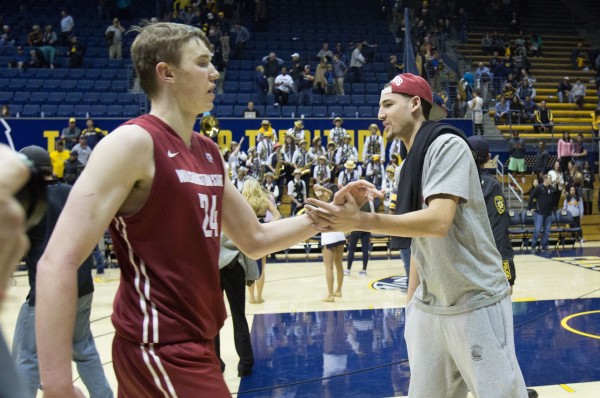 2014 record: 7-11
Predicted 2015 record: 4-14
Wazzu will go where Josh Hawkinson will take them. The junior averaged nearly 15 points and 11 rebounds last season, and should continue putting up similar numbers, in large part because nobody else will. Ike Iroegbu could grow into a solid second option in his junior season, but that likely won't be enough to lift the Cougars from the cellar of the conference.
Create a betting account now and cash in on all the upcoming college basketball action.
[sc:NCAAB490Banner ]
2,068 total views, 1 views today
Comments
comments