---
If all the drama and emotion of college football's Rivalry Week wasn't quite enough, don't worry because there's bound to be more of the same on Championship Week. All of the remaining College Football Playoff hopefuls will look to cement their spot with a conference championship in Week 14. That includes Oklahoma, which will face fierce rival Oklahoma State in the de facto Big 12 title game in Bedlam.
Read on below for our against the spread picks and predictions for Week 14 of the college football season.
---
Cash In on the Best Online Sportsbook Offers Now at TopBet!
---
2016 NCAA Football Week 14 Picks and Predictions
Friday, December 2
#13 Western Michigan (-19) vs. Ohio (+19) – 7:00 PM ET
Western Michigan is almost there. The Broncos are one win away from a perfect 13-0 season. They are coming off a huge 55-35 win over their nearest division rivals, Toledo. That win just goes to show just how dominant they are relative to their competition in the MAC. Ohio's defense is good, but the Broncos offense, which has scored 31 or more points in 11 straight games, is just better.
Writer's Prediction: Western Michigan (-19) seals its perfect season in style with a 45-24 win.
#9 Colorado (+7.5) vs. #4 Washington (-7.5) – 9:00 PM ET
Washington displayed its dominance with a 45-17 win over Wazzu in the Apple Cup, but Colorado's defense will be the best it's faced to date. The Huskies offense struggled against the other two top defenses they faced. They labored to a close 31-24 win at Utah and lost 26-13 at home to USC.
The Buffs can match U-Dub's balance on both sides of the ball, which will make them tough to shake. Colorado has been an underdog four times this season, and it has gone an impressive 4-0 ATS in those games.
Writer's Prediction: This should be a very closely-contested Pac-12 title game which will likely come down to the wire. That means Colorado (+7.5) stays within a touchdown to cover.
Saturday, December 3
Kansas State (TBA) vs. TCU (TBA) – 12:00 PM ET
Neither Kansas State nor TCU has anything left to play at this point, although the Horned Frogs could be looking to pull even with the Wildcats for fourth in the conference. But while TCU will have homefield advantage, Kenny Hill is just too erratic at quarterback to be completely trusted.
Everyone knows what K-State will do on offense – pound the ball on the ground – and it remains to be seen whether TCU's front can keep the Wildcats from running all over them. On the other side, the Wildcats D can take the ground game away from the Frogs, and put the game in the hands of Kenny Trill.
Writer's Prediction: K-State comes out on top, 27-24.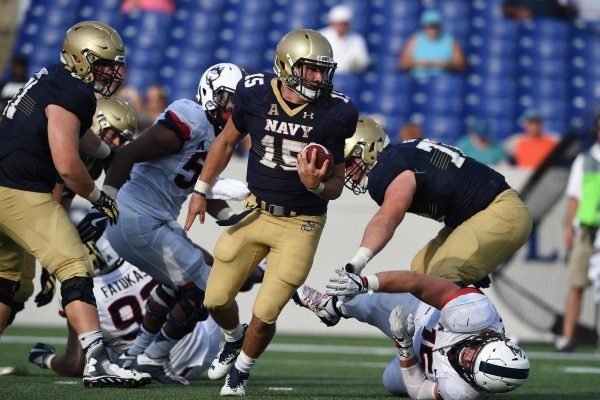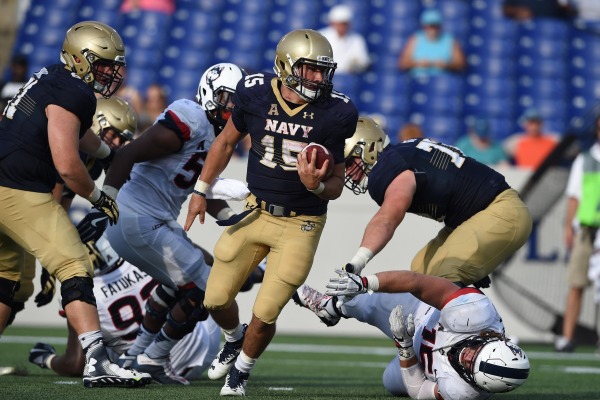 Temple (+3.5) vs. #20 Navy (-3.5) – 12:00 PM ET
This AAC title game will come down to who will win the matchup between Navy's offense (183 points in its last three games) and Temple's defense (10 points allowed in its last three games). Navy's offense should have the edge. The Midshipmen's triple-option offense has just been on a different level, topping 480 yards with 9 rushing touchdowns in each of the last two weeks.
Temple's defense has improved leaps and bounds as the season has worn on, but it should be noted that one of the Owls' three losses this season came against another triple option team – Army – in Week 1.
Writer's Prediction: Navy (-3.5) gets enough offense on the ground as the Midshipmen win and cover, 31-27.
Louisiana Tech (+7.5) vs. Western Kentucky (-7.5) – 12:00 PM ET
Western Kentucky has turned on the afterburners. After going 0-6 ATS for a stretch this season, the Hilltoppers are now 4-1 ATS in their last five games. Three of those wins have come by 49, 38, and 54 points. Talk about dominant.
Homefield advantage has been key when the Bulldogs and Hilltoppers meet up. The home team has won and covered in their three games against one another. Western Kentucky will be at home this year, and they have the defense (19.1 points allowed) to keep Tech quiet just enough.
Writer's Prediction: Western Kentucky (-7.5) beats La Tech 42-32 to win the Conference USA title.
#11 Oklahoma State (+12.5) vs. #7 Oklahoma (-12.5) – 12:30 PM ET
Oklahoma's march to an improbable College Football Playoff return continues. The Sooners' win streak is now at eight games after they systematically took apart West Virginia, 56-28. The Oklahoma offense, with Baker Mayfield, Dede Westbrook, Samaje Perine, and Joe Mixon, is just playing on another level at the moment.
Oklahoma should be able to extend that streak to nine wins in a row in Bedlam. However, 13 points just feels like too many points to cover for a suspect pass defense going up against an explosive Cowboys offense. Oklahoma failed to cover against Texas and TCU precisely because that defense couldn't completely shut the door.
Writer's Prediction: Oklahoma wins Bedlam, 45-38, but Oklahoma State (+12.5) covers.
Baylor (+16) vs. #14 West Virginia (-16) – 3:30 PM ET
Baylor's season ended over a month ago. Since their loss to Texas in the end of October, the Bears have gone 0-4 SU and ATS, and have lost by 21 or more points in all four games. They just want their season to end, and likely won't put up much of a fight.
Meanwhile, West Virginia will be looking to end a good season on a high note in front of their home fans. The Mountaineers are coming off a huge 49-19 win against Iowa State. They've gone 6-1 at home this season, with their lone loss coming against Oklahoma.
Writer's Prediction: West Virginia (-16) puts Baylor out of its misery as the Mountaineers maul the Bears, 38-17.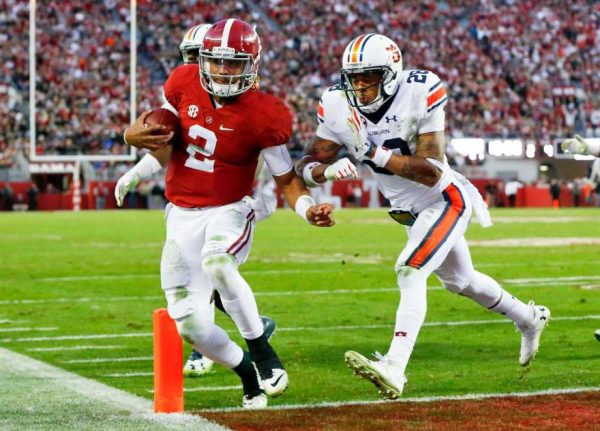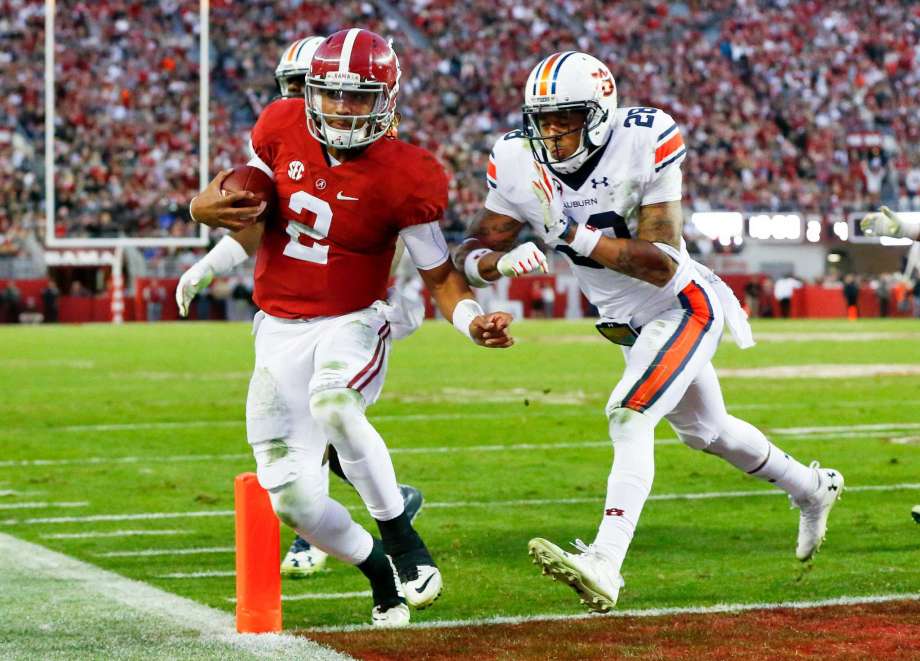 #1 Alabama (-23) vs. #15 Florida (+23) – 4:00 PM ET
Sorry, but Alabama isn't losing to Florida. It's just not going to happen. Judging by how dominant the Tide have been this season, the only real question is by how much they will win the SEC championship game. Their average margin of victory in seven conference wins is a staggering 26 points.
Florida is beat up on defense and essentially useless on offense. The Gators just got spanked by 18 against Florida State, and don't appear to have much of anything left in the tank.
Writer's Prediction: Two words: Roll Tide. Alabama (-23) stomps all over Florida, 35-10, to grab yet another SEC crown.
#3 Clemson (-9) vs. #19 Virginia Tech (+9) – 8:00 PM ET
It's been hard to put complete faith in Clemson this season. But while the Tigers fell flat against lesser opponents like NC State and Pitt, they came through in their two biggest games – against Louisville and Florida State. There should be no sense of complacency for Clemson ahead of the ACC title game.
This Clemson defense, which is No. 1 in the conference in both scoring defense and pass defense, will easily be the best Virginia Tech will face this season. No offense to Tennessee and Miami, but the Tigers D is head and shoulders better than those units. And of course, Deshaun Watson, who threw for six touchdowns against South Carolina, has the potential to just take over at any moment.
Writer's Prediction: Clemson (-9) claims the ACC title – and a likely College Football Playoff bid – with a 34-24 win.
#6 Wisconsin (-3) vs. #8 Penn State (+3) – 8:00 PM ET
Penn State has just looked amazing in recent weeks. The Lions offense has averaged 46 points over the last five games to power their run to the Big Ten East title. Meanwhile, the defense has been solid albeit while facing pretty mediocre offenses.
However, the elite Wisconsin defense (13.7 points allowed, 3rd in the nation) has been able to limit the equally prolific attacks of Michigan and Ohio State this season. Basically, the Badgers D can (and likely will) be the best unit on the field, which should give Wisconsin the edge in another closely-contested battle.
Writer's Prediction: Wisconsin (-3) wins the Big Ten title as the Badgers edge out Penn State, 28-24.
Create a betting account now and cash in on all the exciting college football action this season.

2,697 total views, 2 views today
Comments
comments