---
The SEC West title will likely be on the line as its two unbeaten teams – No. 1 Alabama and No. 6 Texas A&M – square off in Tuscaloosa. That titanic showdown headlines a Week 8 schedule which also features two other top-25 SEC matchups. Check out our picks and predictions for those big SEC games, as well as the rest of the top 10 matchups all across college football.
---
College Football News and Previews
---
2016 NCAA Football Week 8 Picks and Predictions
Thursday, Oct. 21
Miami (FL) (+5) vs. Virginia Tech (-5) – 7:00 PM ET
After a strong 4-0 start, Mark Richt's Miami has now dropped two in a row at home to Florida State and North Carolina. The defense did just about enough to win, giving up just 20 points each against two top offenses. But the Canes' own offense just hasn't been up to snuff, with quarterback Brad Kaaya struggling to find a groove.
But are they really five points worse than Virginia Tech, whose big 34-3 win over UNC was aided by bad weather and just lost 31-17 to Syracuse? Probably not. The Miami defense is more than capable of making this game a dogfight, one that likely won't be decided by more than a field goal.
Writer's Prediction: Miami (+5) snaps out of its slump and upsets Virginia Tech, 27-24.
Saturday, Oct. 23
#10 Wisconsin (-3.5) vs. Iowa (+3.5) – 12:00 NN ET
This Wisconsin team is for real. The Badgers have now taken two of the five best teams in the country – Michigan and Ohio State – all the way in back-to-back games. And against a very good Ohio State defense, their offense actually looked quite competent. They gashed the Buckeyes for 236 yards through the ground and outgained them overall, 450-411.
But as good as the Badgers have been, you have to wonder how much they have left in the tank after another hard-fought battle. They won't have the benefit of a bye to prepare and recover for Iowa, another physical team that will hold its own in the trenches. The public will be all over the Badgers this week, so there should be some value in taking the Hawkeyes to at least cover.
Writer's Prediction: Iowa (+3.5) battles, and covers in a close 24-21 loss.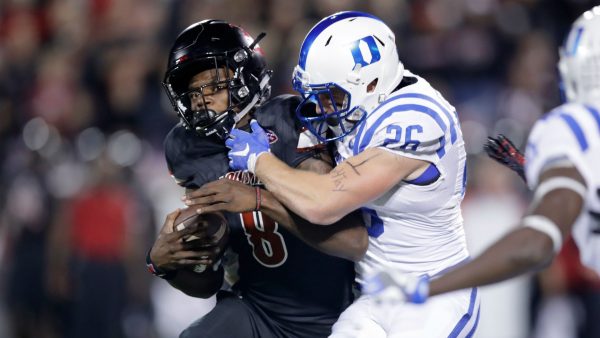 NC State (+19.5) vs. #7 Louisville (-19.5) – 12:00 NN ET
NC State has finally gotten the public's attention after beating Notre Dame and pushing No. 3 Clemson to overtime in back-to-back games. Meanwhile, Louisville's Lamar Jackson finally looked human in a hard-fought 24-14 win over Duke on Friday. The Cardinals fell way short of covering as 35.5-point favorites.
But as good as the Wolfpack have been, it still seems scary to bet against Jackson and the Cards. It's not too hard to see that Duke game as the wake-up call Louisville needed after the Clemson loss.
Writer's Prediction: Louisville (-19.5) gets back on track with a 42-21 win.
Texas (+3.5) vs. Kansas State (-3.5) – 12:00 NN ET
Kansas State's front did a decent enough job against the Oklahoma running game, but the secondary repeatedly got burned deep by Baker Mayfield. But look for K-State to bounce back at home against Texas. The Wildcats have already shown what they can do against an all-offense, no-defense team like the Longhorns. The K-State D came up with enough stops to top Texas Tech, 44-38.
Kansas State is 5-1 (6-0 ATS) in six all-time meetings at home against Texas.
Writer's Prediction: Kansas State (-3.5) takes down Texas, 35-28.
Colorado (+2) vs. Stanford (-2) – 3:00 PM ET
Colorado is legit. The Buffs are 5-2, and a very impressive 7-0 ATS. Quarterback Sefo Liufau, who was giving Michigan's defense fits before succumbing to injury, looked sharp in his return as he led the Buffs to a big 40-16 win over Arizona State.
The Buffs' big weakness has been allowing big pass plays, which was a major reason why they won by just three at Oregon and lost to USC. But the Cardinal don't have the quarterback to expose that weakness, and if Christian McCaffrey can't make it back, they don't really have much of an offense to speak of.
Writer's Prediction: Colorado (+2) gets the outright win at Stanford, 27-21.
#6 Texas A&M (+17) vs. #1 Alabama (-17) – 3:30 PM ET
Everyone talks about Alabama's defense, but this Bama offense is incredibly scary. In three SEC road games – against Ole Miss, Arkansas, and Tennessee, who were all ranked – the Tide have put up 48, 49, and 49 points. And in their lone conference home game thus far, they beat Kentucky by 28.
Texas A&M has been very good thus far, and Trevor Knight has the potential to cause Bama's defense some problems once again. But the Aggies still can't stop the run consistently, and the Tide should be able to run it right down their throat all day long.
Writer's Prediction: Alabama (-17) tears through Texas A&M, 45-24.
TCU (+5) vs. #12 West Virginia (-5) – 3:30 PM ET
So, how about West Virginia? The 5-0 Mountaineers are coming off a 48-point outing on the road, which isn't quite as impressive once you realize it was against Texas Tech. However, they limited the Red Raiders' free-scoring offense to just 17 points, their lowest scoring output since 2014.
Meanwhile, TCU's barely beating Kansas, which should tell you just how disappointing they've been this year. Kenny Hill has been his usual inconsistent self, while the pass defense has been Texas Tech-level awful. In short, this has all the makings of a WVU home win.
Writer's Prediction: West Virginia (-5) remains unbeaten with a 38-27 home win.
#17 Arkansas (+10) vs. #21 Auburn (-10) – 6:00 PM ET
Auburn's offense is finally starting to get it together. The Tigers tore Mississippi State apart, 38-14, thanks to 228 rushing yards and three touchdowns. And now, they face an Arkansas run defense which is giving up 5.57 yards per carry (6th-worst in the country) and 17 rushing touchdowns.
Arkansas quarterback Austin Allen has been a revelation, and played a big part in their 34-30 win over Ole Miss. But the Auburn pass defense has been one of the strongest in the conference, giving up just 5.9 yards per attempt.
Writer's Prediction: Auburn (-10) runs away from the Razorbacks, 31-17.
#16 Oklahoma (-14) vs. Texas Tech (+14) – 8:00 PM ET
Oklahoma showed how good it still is by blowing out bogey team Kansas State, 38-17. Baker Mayfield had arguably his most impressive passing game of the season as he completed 80 percent of his passes for 346 yards and four touchdowns.
But don't sleep on the Red Raiders despite their 48-17 loss against West Virginia. This is still an incredibly prolific offense, and it's hard to see them struggle scoring in back-to-back home games. The Sooners have had a lot of trouble defending teams who can throw the ball deep, and have allowed 40-plus points to TCU and Texas. That should give Tech the chance to keep things relatively close.
Writer's Prediction: Texas Tech (+14) loses but covers at home in a high-scoring 52-42 loss.
#23 Ole Miss (+6) vs. #25 LSU (-6) – 9:00 PM ET
Ed Orgeron has only been in charge of LSU for two games, but the early returns have been promising. They've won those two games by a combined score of 87-17. Of course, Missouri and Southern Miss aren't exactly elite competition, but the fact that the running game and the defense are playing well is a good sign ahead of their matchup with Ole Miss.
The Rebels have been vulnerable against the run, as they showed when they allowed a previously struggling Arkansas ground game to rush for 200 yards last week. The Tigers defense also has the athleticism to match up well with Ole Miss' many receiving weapons.
Writer's Prediction: LSU (-6) remains unbeaten with Coach O as the Tigers top Ole Miss, 38-31.
Create a betting account now and cash in on all the exciting college football action this 2016 season.

1,970 total views, 2 views today
Comments
comments