---
Week 5 will be another huge week in NCAA football. There are not one, not two, but three matchups between top 10-ranked teams on the week's slate, all with major ramifications for the ACC, Big Ten and Pac-12, as well as the College Football Playoff. Here are our picks for those massive matchups, as well as the rest of the top 10 games in Week 5.
---
College Football News and Previews
---
2016 NCAA Football Week 5 Picks
Thursday, Sept. 29
Connecticut (+28) vs. #6 Houston (-28) – 9:00 PM ET
The last time Houston faced UConn, the Cougars suffered their lone loss of 2015, and may have cost them a spot in the College Football Playoff. Of course, they were without star quarterback Greg Ward Jr. for that game, which they still lost by only three points on the road.
Even though Ward's shoulder is probably not quite at 100 percent just yet for this year's matchup, the Cougs should still have enough offense to cover. They're 3-1 ATS on the season, and easily covered a 31-point spread last weekend with a 64-3 win on the road against Texas State. The one game they failed to cover was against Lamar, and they just barely missed covering a 43.5-point spread in a 42-0 home win.
Writer's Prediction: Houston (-28) pours it on UConn in a 45-14 win.
Friday, Sept. 30
#7 Stanford (+3) vs. #10 Washington (-3) – 9:00 PM ET
Washington didn't quite rise up to the occasion in its first big test of the season as it needed overtime to get past Arizona. But despite being way short of covering the 17-point spread, the Huskies got the job done on the road, which is what matters for them.
They now get to go home to Seattle for the big game against Stanford on Saturday. The Cardinal's Christian McCaffrey is the obvious danger man, but he hasn't exactly lit the world on fire this season. The Huskies do have a defense capable of slowing him down a bit, while their offense has more weapons to outlast Stanford's McCaffrey-centric attack.
Writer's Prediction: Washington (-3) gets the big home win over Stanford, 27-23.
Saturday, Oct. 1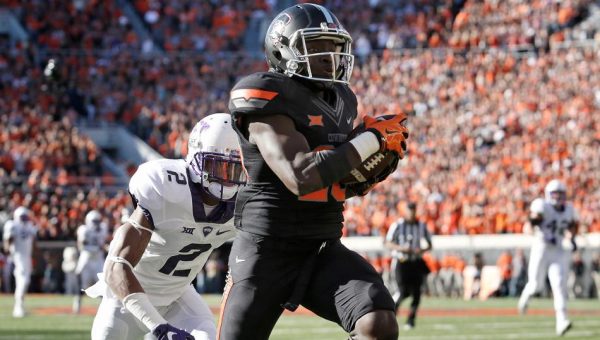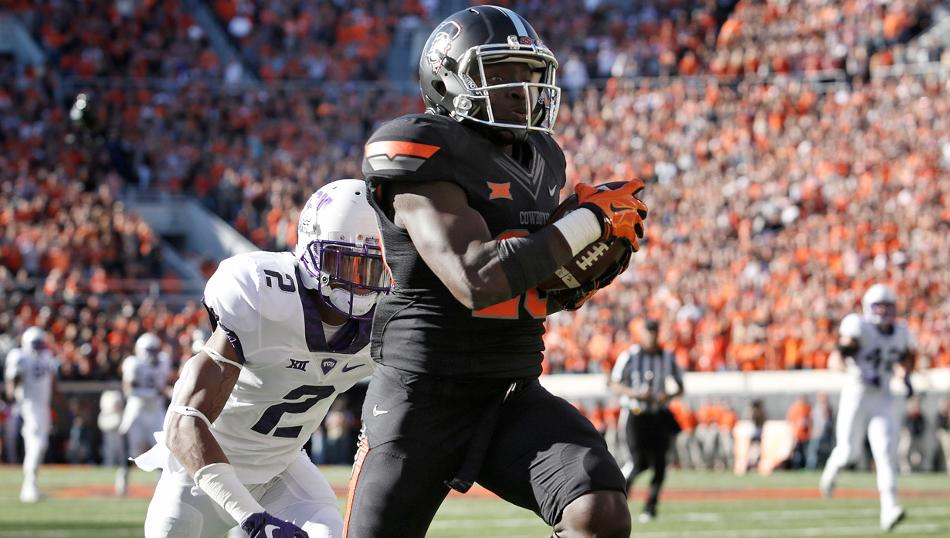 #22 Texas (+3) vs. Oklahoma State (-3) – 12:00 NN ET
Texas has been involved in two of the most entertaining, high-scoring matchups of the year thus far – a 50-47 2OT win vs. Notre Dame and a 50-43 loss at Cal. That's because the Longhorns' new offense has been high-octane as advertised, and the defense is still a bit of a sieve. Their matchup with Oklahoma State has all the makings of a third shootout in five weeks.
But the Cowboys will be at home, and they have the terrific downfield weapons to outgun the Longhorns. After seeing how Cal's Chad Hansen tore the Texas secondary apart, James Washington could end up with another ungodly stat line similar to his game against Pitt (9 catches, 296 yards, 2 TDs).
Writer's Prediction: Oklahoma State (-3) outduels Texas at home, 45-41.
Arizona State (+9.5) vs. USC (-9.5) – 12:00 NN ET
LSU's Les Miles became the first major head coaching casualty of the season; will Clay Helton be next? USC is now 1-3 (0-2 in Pac-12 play) after back-to-back losses to Stanford and Utah, and undefeated Arizona State is next.
The Sun Devils can put up points with the best of them. They've already won high-scoring shootouts with Texas Tech (68-55) and Cal (51-41) at home. While the Trojans offense is good, the defense likely isn't good enough to keep Arizona State at bay.
Writer's Prediction: The Sun Devils (+9.5) manage to cover in another shootout.
North Carolina (+11) vs. #12 Florida State (-11) – 3:30 PM ET
The two defenses will be in for a long day in this matchup. UNC's run defense will have to go up against Dalvin Cook, who's coming off a 267-yard rushing explosion last week. Meanwhile, FSU's pass defense will have to contend with Mitch Trubiski, who completed 35-of-46 passes for 453 yards and 5 TDs.
The FSU pass defense looks like the lesser evil at this point. Despite struggling with deep balls against Ole Miss and Louisville, they still have the ability to rush the passer, and UNC has been unable to get its ground game going. The Tar Heels front remains pretty hopeless against the run, and Cook looks primed for another big game.
Writer's Prediction: Florida State (-11) slows Trubiski down just enough to cover in a 42-28 win.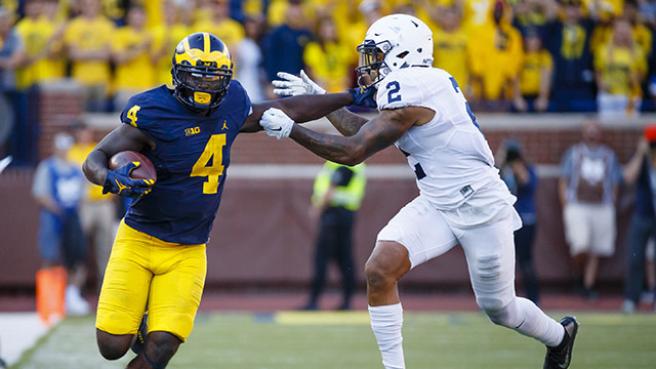 #8 Wisconsin (+10.5) vs. #4 Michigan (-10.5) – 3:30 PM ET
Wait, is Wisconsin for real? The defense probably is. It held LSU and Michigan State to a combined 20 total points, neutralized their running games, and forced a total of seven turnovers – both away from home.
But do the Badgers, with a banged up Corey Clement, have enough offense to hang with a Michigan team that has its own lockdown defense, as well as an offense that's consistently hanging 40-plus points on opponents in the Big House under Jim Harbaugh? Probably not.
Writer's Prediction: Michigan (-10.5) shuts down the Wisconsin offense en route to a 27-14 win.
#11 Tennessee (-3.5) vs. #25 Georgia (+3.5) – 3:30 PM ET
So, which SEC East contender to trust: the one that got smoked 42-0 by Ole Miss (Georgia) or the one that didn't get going until it got behind 21-0 to Florida (Tennessee)? Despite the Dawgs being at home, the Vols are still the play here. Nick Chubb got hurt again last week, and young Jacob Eason facing that frightening Tennessee front is not a promising matchup for Georgia.
Be forewarned, though: the Vols will not make things easy for themselves, so this game is not for the faint of heart.
Writer's Prediction: Tennessee (-3.5) has too much talent for Georgia and gets the big 27-21 road win.
Oklahoma (-3.5) vs. #21 TCU (+3.5) – 5:00 PM ET
The Sooners would love nothing more than to put their nightmarish non-conference schedule behind them. They should be fresh and ready to go after a week off. But can Baker Mayfield take advantage of a TCU pass defense which is slowly getting its act together?
The Horned Frogs are still without top wideout KaVontae Turpin, and Kenny Hill is liable to give away a possession or two. Their run defense is solid, though, and Hill can still take advantage of a Sooner secondary which is still suspect.
Writer's Prediction: TCU (+3.5) is certainly capable of taking this outright, but at the very least, the Horned Frogs keep it within a field goal at home.
#18 Utah (+1.5) vs. California (-1.5) – 6:00 PM ET
Utah's defense going up against Cal's Bear Raid offense is going to be fascinating. The Utes D is always solid, but Davis Webb has been able to put points up against whichever defense has been put in front of him (although that's not saying too much given how shaky Texas and Arizona State have been defensively).
The slight edge in that matchup, coupled with Cal's home-field advantage, should be enough to get the win. The home team has gone 3-1 in this matchup since 2009.
Writer's Prediction: Cal (-1.5) protects home field as it gets the better of Utah at home, 33-31.
#3 Louisville (-1) vs. #5 Clemson (+1) – 8:00 PM ET
So, Lamar Jackson remains ridiculous. He's on pace for an even 100 touchdowns for the regular season after another seven-score effort against Marshall. He has now accounted for 25 TDs through four games. Insane. The Cards are still 4-0 ATS, and the memory of their 63-20 evisceration of Florida State is still fresh in everyone's minds.
But that win was at home. Can they do it at Death Valley against an ever-improving Clemson defense which has given up seven points and 226 yards of total offense through the last two games? Not counting on it.
Jackson may be the flavor of the month – and rightly so – but Deshaun Watson (remember him?) is still pretty good, and he isn't about to take being considered an underdog in his own house lightly.
Writer's Prediction: Clemson (+1) corrals Jackson just enough as the Tigers win a tight one, 35-32.
Create a betting account now and cash in on all the exciting college football action this 2016 season.

2,746 total views, 2 views today
Comments
comments