---
And just like that, the 2016 NCAA college football regular season is now in its second half. Week 7 rolls along with some interesting matchups scattered across the Power 5 conferences, headlined by top-10 showdowns in the SEC and Big Ten. Let's take a look at 10 of the most high-profile games for Week 7, and offer our analysis and prediction for each.
---
College Football News and Previews
---
2016 NCAA Football Week 7 Picks
Friday, Oct. 14
Duke (+35.5) vs. #7 Louisville (-35.5) – 7:00 PM ET
Louisville is good, but blowing teams out by over five touchdowns is tough. The Cardinals could only win by 31 against Marshall in their last home game, and will now face an inconsistent but dangerous Duke team that managed to upset Notre Dame. The public is all over Lamar Jackson and co., and the line is a tad too inflated even for the Heisman favorite.
Writer's Prediction: Louisville wins big but Duke (+35.5) covers in a 49-17 loss.
Saturday, Oct. 15
Kansas State (+10.5) vs. #19 Oklahoma (-10.5) – 12:00 PM ET
Kansas State is one tough cookie. The Wildcats' front is third in the nation in rushing defense, giving up just 81 yards per game. That makes them well-equipped to at least slow down the Oklahoma running game, which is a key component of the Sooners offense.
And of course, Bill Snyder has a habit of covering in Norman. K-State is 5-1 ATS in its last six visits to Oklahoma, and even came away outright winners in their last two trips in 2012 and 2014.
Writer's Prediction: K-State (+10.5) loses, but hangs on to cover, 31-21.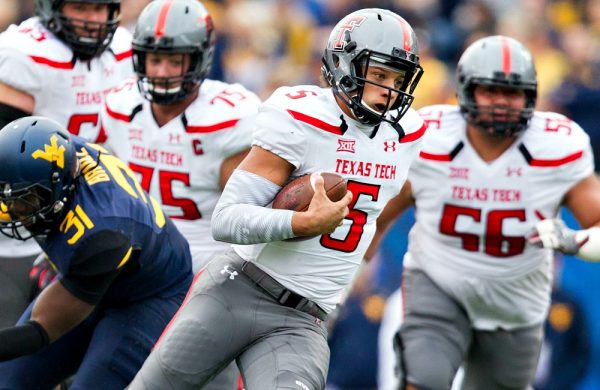 #20 West Virginia (-1) vs. Texas Tech (+1) – 12:00 PM ET
West Virginia is 4-0, but it's been a pretty unconvincing 4-0 with close home wins against BYU and Kansas State in its last two games. The Mountaineers are the much more balanced team, but as bad as Texas Tech's defense is, the offense remains as explosive as ever. Patrick Mahomes still threw for 500 yards on a very good K-State defense despite a sprained shoulder.
The Red Raiders have won all three of their games this season at home, and are 4-0 ATS all-time against West Virginia.
Writer's Prediction: Texas Tech (+1) gets another home win, 41-38.
NC State (+17.5) vs. #3 Clemson (-17.5) – 12:00 PM ET
After a slow start to the season, Clemson is finally rounding into form. The Tigers are 4-0 ATS in their last four games, which includes a 46-point beatdown of Boston College as an 18-point favorite last week.
NC State is good, but its 10-3 win over Notre Dame was a fluky game played in a rain-soaked field. Clemson has a much better defense, and the sun should be shining at Death Valley – but not on the Wolfpack.
Writer's Prediction: Clemson (-17.5) covers in a 35-17 home win.
# 10 Nebraska (-4) vs. Indiana (+4) – 3:30 PM ET
This Indiana team is legit. The Hoosiers have covered in back-to-back weeks over heavyweights Michigan State and Ohio State. However, you'd have to think those games may have taken something out of the Hoosiers both mentally and physically.
Nebraska is still a tough team that can pound the ball and put points on the board. The Cornhuskers will also be the much fresher team after coming off a bye. It just seems like a tough ask for the Hoosiers to get up for three-straight big games in three-straight weeks.
Writer's Prediction: Nebraska (-4) gets a big road win, 31-24.
North Carolina (+7) vs. #16 Miami (-7) – 3:30 PM ET
North Carolina probably isn't quite as bad as its 34-3 loss to Virginia Tech makes out. The Tar Heels' prolific passing attack was clearly hamstrung by the bad weather brought about by Hurricane Matthew, and the absence of Elijah Hood also affected their running game.
Miami should still have enough on both sides of the ball to bounce back from its home loss to Florida State. But the Tar Heels, who, you may recall, beat the Noles in Tallahassee, should also recover offensively and keep it close against the Canes.
Writer's Prediction: North Carolina (+7) puts up a fight and covers in a 35-31 loss.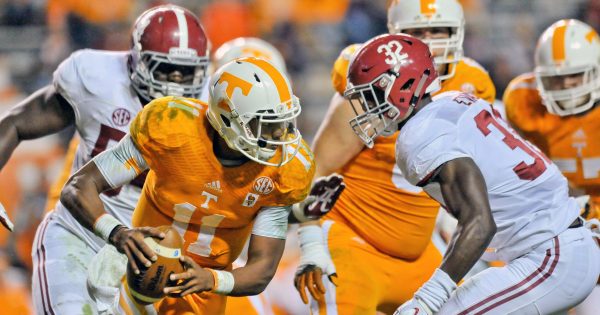 #1 Alabama (-13) vs. #9 Tennessee (+13) – 3:30 PM ET
Tennessee's luck finally ran out last week, but my, were the Vols oh-so-close to snatching victory from the jaws of defeat one more time. It's now happened one too many times to ignore. This Vols team may be fatally flawed and they're likely to keep digging themselves into holes, but they're also talented enough to keep digging themselves out – even against Alabama.
Tennessee, you may remember, gave Bama a good scare last year in Tuscaloosa. The Vols were two-touchdown underdogs then, and don't be surprised if they do it again.
Writer's Prediction: Alabama prevails, 34-24, but Tennessee (+13) covers.
#12 Ole Miss (-7.5) vs. #22 Arkansas (+7.5) – 7:00 PM ET
This Arkansas team may not be very good. The offensive line just can't protect Austin Allen capably enough, nor can it produce the bruising running game which Bret Bielema has been famous for. Meanwhile, the defense has given up 45 and 49 points in its first two SEC games – at home.
And what does Ole Miss do well? It racks up points in a hurry, and it can put pressure on the passer. The Rebs have gone 0-3 ATS in their last three games against Arkansas, but this is set up for them to finally break that skid.
Writer's Prediction: Ole Miss (-7.5) rolls to a 38-28 road win.
Stanford (+3) vs. Notre Dame (-3) – 7:30 PM ET
So, Stanford has scored just 22 points over its last two games – both losses. Normally, a matchup against Notre Dame's papier-mache defense would be a nice solution to those scoring woes. But the Cardinal's lone dependable offensive weapon, Christian McCaffrey, is now banged up.
With McCaffrey's status up in the air, the Irish get another edge in this matchup between struggling programs. Apart from Notre Dame being at home and Brian Kelly being under much more pressure, DeShone Kizer has the ability to be the best player on the field.
Writer's Prediction: Notre Dame (-3) gets a much-needed 24-17 win.
#2 Ohio State (-10.5) vs. #8 Wisconsin (+10.5) – 8:00 PM ET
Ohio State has a legitimate claim to being the best team in the country. They were slowed for the first time in the season against Indiana last weekend, but still came away with a comfortable 21-point win.
Wisconsin's defense is for real, and it did very well to limit Michigan's offense to just seven points. However, the Badgers really should've lost by more, and were bailed out by three missed Michigan field goals. The Buckeyes have a much more explosive offense than the Wolverines, and if they get ahead early, Wisconsin's offense will struggle to play catch-up.
Oh, and Ohio State is 7-1 SU and ATS in its last eight meetings with Wisconsin.
Writer's Prediction: Ohio State (-10.5) takes this game by two touchdowns, 28-14.
Create a betting account now and cash in on all the exciting college football action this 2016 season.

2,053 total views, 2 views today
Comments
comments