---
The long wait is finally over, as the 2017 French Open is ready to serve another thrilling installment of the only Grand Slam tournament held on clay.
For the past 12 years, only four men have emerged victorious from Roland Garros' timeless yet challenging terrain. Will we annoint one of those four standouts all over again, or will we crown a new French Open champion when all is said and done? Let's take a look at the names worth keeping an eye on in the tournament below.
---
2017 French Open Men's Singles Preview
Where: Stade Roland Garros, Paris, France
When: May 21 – June 10
Lines: view all 2017 French Open Men's Singles lines
TV Broadcast: ESPN, NBC Sports, TSN, Tennis Channel
---
Most Recent Articles
---
Favorites
Rafael Nadal (-140)
Did we really expect anybody else as the odds-on favorite to win this year's French Open other than the King of Clay himself?
Although 30-year-old Rafael Nadal has not tasted gold at the French Open over the past two seasons, something tells us that he'll be back on the summit of this particular Grand Slam mountain this 2017. Nadal enters Roland Garros with three wins from four appearances on clay courts this season, further improving his already unparalleled record on the surface to 52 lifetime wins along with his astounding 91.6 career-winning percentage.
Needless to say, Rafa's a nine-time French Open champion, having won three-fourths of the time he was in the tournament since 2005. And with 16 more matches won this season-to-date than his long-time nemesis and the next man on our list, we could very well find Spanish superstar back atop the world rankings sooner than later and for the first time since 2013.
Novak Djokovic (+350)
After kicking off the 2017 campaign with a win over top-ranked Andy Murray in Qatar, Novak Djokovic has somehow lost his magic. He's gone a mere 15-6 since that victory in January, leaving many critics baffled by the sudden power outage from the former World No. 1.
Nevertheless, we still can't ignore the fact that Djokovic is the reigning French Open champion, and his 13 titles and 80-percent winning percentage on clay is still no laughing matter.
To try and fix his recent woes, Djoker even enlisted the services of eight-time Grand Slam winner Andre Agassi as his new coach heading into Roland Garros. What this blockbuster pairing is capable of has yet to be seen, but the upheaval of Djokovic's supporting crew may very well be the change that the Serb desperately needs to snap out of his recent slump, beginning with his bid at winning back-to-back Parisian titles.
Sleepers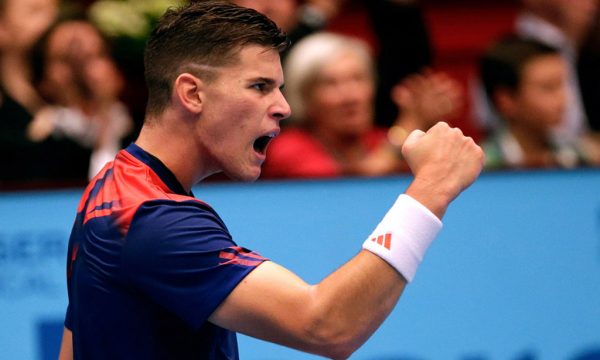 Dominic Thiem (+1,200)
We mentioned earlier that Nadal won three of his four tournaments on clay season. Care to guess who Rafa lost to in that one other affair? Yup, it's none other than 23-year-old wunderkind Dominic Thiem, who handed Nadal his first and only loss on clay this year in the quarterfinal round of the recently-concluded Italian Open.
For over half a decade, Thiem flew under the radar as an upstart professional tennis player that had a ton of promise. This 2017 season, however, has a different feel to it for the young Austrian. Thiem has made the quarterfinal round or better in nine of his 13 tournaments, which includes a win on the clay grounds of Rio back in February. His superb 17-4 record on clay this year further emphasizes his vast improvement on the surface.
If you're looking to bank on a non-Big Four contender from the field at Roland Garros, look no further than seventh-best male tennis player in the world himself.
Kei Nishikori (+2,200)
We haven't heard much glowing reviews from World No. 9 Kei Nishikori for quite some time now, but perhaps he's turning things around for the better as we speak.
For the season, the Japanese standout has two final-round appearances and has yet to lose to a top-10 opponent. Strangely enough, Nishikori also plays better on clay than on other surfaces, with his 67-27 record on terre battue (71.3 percent) trumping his winning percentages on both hard (68.4 percent) and grass (59.6 percent) turfs.
Long Shot
Roberto Bautista Agut (+8,000)
An early victory at Chennai followed by a solid run at the Australian Open apparently wasn't enough to garner more favorable odds for Roberto Bautista-Agut. Since his strong start from those two tournaments, Bautista Agut only made the semifinal round twice in 10 tries. And similar to the Chennai Open, those semifinal appearances were merely from ATP Tour 250 Series events.
Furthermore, and contrary to his fellow countryman Nadal, Bautista Agut hasn't been spectacular on clay throughout his career. In fact, the Castellon native's 50-34 record on clay (59.5 percent) actually pales in comparison to his 135-84 combined record on hard and grass courts (62.2 percent). A meager 7-4 lifetime record at Roland Garros isn't helping his cause, either.
Writer's Prediction
Make that 10 French Open victories for Nadal (-140).
Create a betting account now to win big from the second Grand Slam tournament of the year!

3,662 total views, 1 views today
Comments
comments