---
As the age-old saying goes: "expect the unexpected". That's exactly what we got from the thrilling return of NFL season in Week 1, as many preseason favorites failed to live up to the hype and with a handful of supposed middling teams pulling off surprising victories.
Now that we've had a few days to soak up all the action onscreen, here's our site's predictions for all 16 of Week 2's matchups to further guide you with your weekly football betting needs.
---
NFL News and Previews
---
Complete NFL Week 2 Picks and Predictions
Thursday, September 14
Houston Texans at Cincinnati Bengals (8:25 PM ET)
Writer's Pick: Texans +6.5

Both the Texans and the Bengals are coming off of miserable losses in Week 1, but it's the latter having been shutout by the Ravens that worries us the most. Cincinnati did not appear to be in sync on offense, and now quarterback Andy Dalton will have to follow-up his lackluster performance in a primetime game, wherein he's gone a mere 5-11 in his career come nightfall.
Houston head coach Bill O'Brien subbed in Deshaun Watson after starting QB Tom Savage failed to generate points, so a better day in the passing game is to be expected of this team. The Texans also have the edge in defensive talent, so count on them to bounce back from their let-down effort in front of their home fans last week in search of optimism in the wake of Hurricane Harvey.
Sunday, September 17
Arizona Cardinals at Indianapolis Colts (1:00 PM ET)
Writer's Pick: Colts +7

The Colts, much like the Texans, learned the hard way that perhaps their backup QB is actually better than their starter. Jacoby Brissett, who'd shown flashes of brilliance as a New England Patriot last season, should lead the offense towards better results while his team waits for the return of Andrew Luck from injury.
The Cardinals, meanwhile, lost their best player on the roster in David Johnson (broken wrist) and have no dependable running back to step into his role. It might take another week or two for the Cards to get used to their running-back-by-committee gameplan and take the pressure off of Carson Palmer and the passing game.
Buffalo Bills at Carolina Panthers (1:00 PM ET)
Writer's Pick: Bills +7

We expect the Bills to lose this road contest, but not by more than a touchdown. They might not be able to overcome Cam Newton in his season debut in Carolina, but they did have a rather solid outing on defense by limiting the Jets to just 12 points in Week 1.
Do note that Newton also found little help from his running backs in the win against the Niners, which led to the Panthers putting up just 287 offensive yards against a San Francisco defense that was dead-last in the league on defense.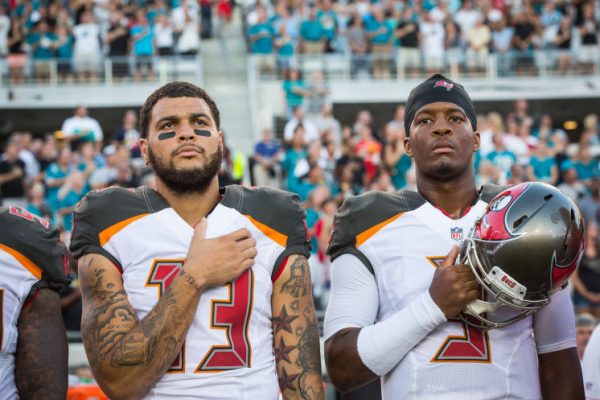 Chicago Bears at Tampa Bay Buccaneers (1:00 PM ET)
Writer's Pick: Buccaneers -7

Although the Bears put up a valiant fight at home against the Falcons still reeling from their Super Bowl defeat, they might be in for an even tougher outing against a Buccaneers Squad that's itching to get back to the field after Hurricane Irma delayed their season opener by a week.
Tampa Bay QB Jameis Winston also has even more weapons in his receiving corps this season (DeSean Jackson, O.J. Howard), so count on the Bucs to plunder a decisive win with their newfound aerial attack.
Cleveland Browns at Baltimore Ravens (1:00 PM ET)
Writer's Pick: Browns +9

This AFC North clash should be a grind-it-out affair, with the Browns and Ravens both having stellar defensive performances in Week 1. The Browns limited the vaunted Steelers offense to just 22 points, and the Ravens are hot off a five-turnover shutout of the Bengals.
What could be the deciding factor is the absence of Baltimore's Danny Woodhead (hamstring), who is crucial to his team's game plan of volume passing with a heavy involvement from its pass-catching running backs. If Cleveland doesn't win this game outright, the plodding pace of the contest itself may just be enough for them to cover the nine-point spread.
Minnesota Vikings at Pittsburgh Steelers (1:00 PM ET)
Writer's Pick: Steelers -5.5

Yes, the Minnesota Vikings looked very impressive in their home win over the Saints on Monday night, but we're talking about the Steelers at home here. It's also worth noting that the Vikes have lost their last two trips to Pittsburgh.
Ben Roethlisberger's expected to come to life in Heinz Field after another one of his relatively lackluster outings on the road. The same should go for stud back Le'Veon Bell, who might've been held to limited action last Sunday by downplaying to the Browns.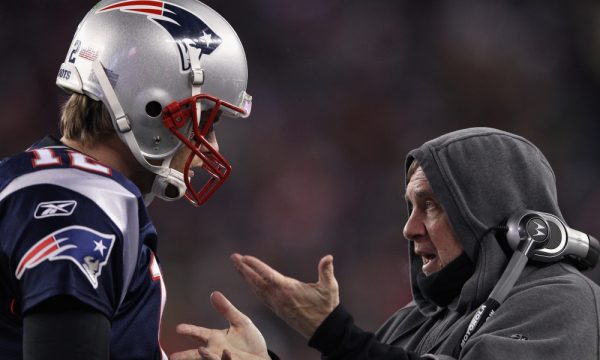 New England Patriots at New Orleans Saints (1:00 PM ET)
Writer's Pick: Patriots -7

It's possible that the Patriots will be without linebacker D'onta Hightower (knee sprain) and wide receiver Danny Amendola (concussion) for their trip to The Bayou, but it's still too early to gauge whether or not their upset defeat at the hands of the Chiefs was a mere anomaly or not. This is still Tom Brady and Belichick's team, and they know better than any team in the league how to cope up with major roster subtractions.
Couple that with a supposedly potent New Orleans offense that looked even more lost in their defeat to the Vikings, and we might have a recipe for disaster. Adrian Peterson caught briefly bickering with Sean Payton on the sidelines is not what the Saints had in mind when they acquired the former league MVP.
Philadelphia Eagles at Kansas City Chiefs (1:00 PM ET)
Writer's Pick: Chiefs -6

Philly and KC turned a lot of heads with their respective victories in Week 1, but the Chiefs faced a much more daunting opponent in the Patriots and blew the defending champs away in stunning fashion.
The Chiefs also have one key advantage over the Eagles: an every-down back in rookie Kareem Hunt, who torched the Pats D for 246 all-purpose yards and three scores. Even Alex Smith (368 passing yards, four TDs) showed that he has greatly improved his downfield-passing accuracy to cast a bigger shadow over Eagles QB Carson Wentz's 307-yard, two-touchdown outing in a win over Washington.
Tennessee Titans at Jacksonville Jaguars (1:00 PM ET)
Writer's Pick: Titans -2.5

Is this Jaguars defense for real? Can they get something close to their 10-sack performance in a win over the Texans against Tennessee this week? The Titans have one of the best offensive lines in the NFL, so the Jacksonville front seven may just meet its match.
Blake Bortles still doesn't look right, and now he won't have top wideout Allen Robinson (torn ACL) to bail him out this entire season. And as disappointing as the Titans were in their loss to the Raiders last Sunday, we'll need at least another game to figure out how the Jags cope up with their improved D along with their dicey offensive weaponry.
Miami Dolphins at Los Angeles Chargers (4:05 PM ET)
Writer's Pick: Chargers -4.5

The Chargers displayed a never-say-die attitude in their last-minute defeat in Mile High, only having been denied of a huge comeback due to the Broncos blocking what should've been a game-tying field goal.
Los Angeles appeared sound on both sides of the ball, and we have yet to see what Miami is capable of this season. And unlike the Buccaneers, the Dolphins begin their delayed 2017 campaign on the road, where the Bolts are looking to put on a better show in front of their new hometown fans.
New York Jets at Oakland Raiders (4:05 PM ET)
Writer's Pick: Raiders -14

We all thought the Jets were going to be bad this season, and there was nothing from their loss to the Bills last Sunday that could change our opinion on that. The exact opposite could be said of the Raiders, though, who faced a tough road game in Music City in Week 1 and came out as 10-point victors.
This should be an easy blowout for the Silver and Black in their home opener.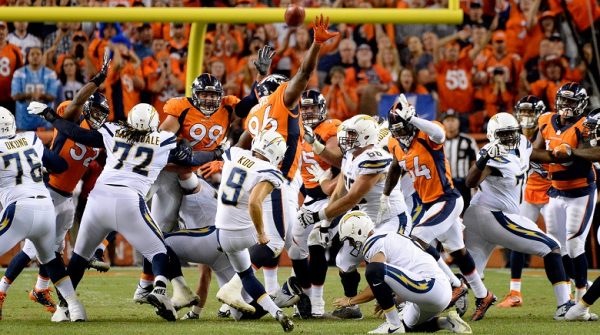 Dallas Cowboys at Denver Broncos (4:25 PM ET)
Writer's Pick: Broncos +2.5

These two storied franchises hardly face off against one another, so this should be a very compelling matchup. Dallas has the offensive power to match that of Denver's imposing D, but this will be star running back Ezekiel Elliott's first NFL game playing in Mile High altitude.
Also, the Broncos, despite nearly blowing a huge lead against the Chargers late down the stretch, showed exactly why their defense and special teams cannot be counted out just yet. They're also 7-3 at home in the post-Manning era, with their three losses only having come against the Falcons, Chiefs and Patriots.
San Francisco 49ers at Seattle Seahawks (4:25 PM ET)
Writer's Pick: 49ers +14

The 49ers may have the same double-digit underdog odds as the Jets this week, but there's something strangely disturbing about the Seahawks' performance in their loss to the Packers. While Lambeau Field is no walk in the park by any measure, coming up with just 12 first downs in Green Bay is not a good sign for the reigning NFC West champs.
When Russell Wilson leads his run-first team in rushing yards (40), all the while going just 14-of-27 for 158 passing yards and failing to find the end zone, this perceived cake walk over the Niners smells more like that one trap game that the Seahawks have fallen victim to from early in their previous seasons.
Washington Redskins at Los Angeles Rams (4:25 PM ET)
Writer's Pick: Rams -2.5

The Rams won't come close to repeating their 46-9 demolition of the Colts last Sunday, but head coach Sean McVay has great knowledge of how the Washington's offense operates during his seven-year tenure in D.C.
On the opposite end, Kirk Cousins and the Redskins were rattled hard by the Eagles defense to the tune of four sacks and three forced fumbles. Guess what? That's the same number of sacks and fumbles that the Rams dealt unto Indy as well. Oh, and mammoth defensive tackle Aaron Donald appears set to make his season debut in L.A. as well, recently ending his five-week long contract holdout.
Green Bay Packers at Atlanta Falcons (8:30 PM ET)
Writer's Pick: Falcons -2.5

Something's gotta give in this rematch of last year's NFC title game, and we're more inclined to the defending conference champs again.
Green Bay's 17 points in the home win over Seattle doesn't inspire much confidence in us yet, and neither does the Falcons' near heart attack against the Bears. Then again, the Packers are just 2-4 in Atlanta since 1991, and we strongly believe that reigning league MVP Matt Ryan will do whatever it takes to prevent an upset in the Mercedes-Benz Stadium's grand opening from happening.
Monday, September 18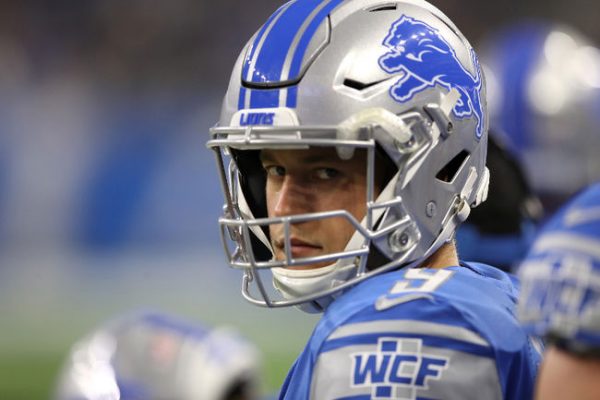 Detroit Lions at New York Giants (8:30 PM ET)
Writer's Pick: Lions +3

What a huge difference the absence of Odell Beckham Jr. makes for the Giants. As it stands, Beckham is still-day-to-day, so we'll have to side with the visiting team for this Monday night showdown.
Expect this to be another closely-contested bout for the Lions, who've had a penchant for staging late-game comebacks with Matthew Stafford's clutch drives. In Week 1, though, Detroit's defense made the Stafford's work a little easier, creating four Arizona turnovers. An OBJ-less New York team could see this unit putting up an encore akin to Dallas' showing against Eli Manning and Co., which saw the Cowboys limit the G-Men to just 13 first downs and a dismal 35 rushing yards.
Create a betting account now to place your stakes on all the hard-hitting NFL action this instant!

1,967 total views, 2 views today
Comments
comments