---
Although the Kentucky Wildcats and the Florida Gators are the leading picks to win this season's SEC title, a good number of teams from the conference have made sound cases to go deep in this week's tournament and possibly stun the two front-runners. In fact, we might even see six teams from this group make it to the Big Dance.
As such, let's take a closer look below at what the outlook is for the Wildcats, Gators and a few other hopefuls as they all make their respective bids for SEC supremacy.
---
College Basketball News and Previews
---
2017 SEC Basketball Tournament Preview
Favorites
Kentucky Wildcats (EVEN)
SEC record: 16-2
After suffering their worst loss of the season to Florida on February 4, the Wildcats got back on the right track and reeled of eight-consecutive wins to close out the regular season and claim their third-straight SEC regular-season title.
Kentucky's offense, which ranks fifth in the country at 86.8 points per game, is simply hard to contain. Star freshman Malik Monk failed to tally a double-digit scoring performance for the first time this season in the regular-season finale versus Texas A&M, and yet the Wildcats still ran away with an eight-point victory over the Aggies.
Even with Monk not at his finest, Kentucky still has a couple of young weapons that can lead the school to the top of the SEC Mountain once more. Monk's backcourt running mate De'Aaron Fox has been on fire of late since coming off a knee injury, and fellow freshman Edrice "Bam" Adebayo has averaged a double-double line in the last four games (17.3 points, 10.5 rebounds).
Florida Gators (+140)
SEC record: 14-4
The 22-point blowout over Kentucky speaks volumes of Florida's chances at denying the Wildcats from seizing the SEC crown. The Gators were one of only two teams in the conference to have beaten John Calipari's boys, and they ended their regular season with 11 wins in their last 13, which includes that drubbing of the Wildcats along with convincing victories over South Carolina and Arkansas – both of whom are on the bubble to make the Big Dance as we speak.
Florida's play style is the total opposite to that of Kentucky's, boasting a suffocating defense that has held opponents to just 40-percent field-goal shooting and 30-percent from the free-throw line this season. The Gators even held the Wildcats to just 37.7-percent shooting from the floor during the aforementioned win, and there's no reason to doubt right now that they'll continue to clamp down on their opposition ahead en route to a title-game victory.
Sleepers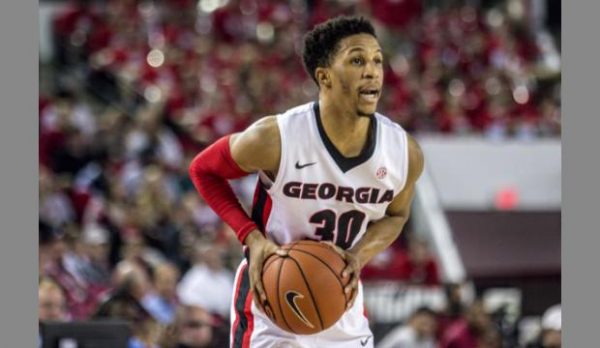 Georgia Bulldogs (+1,400)
SEC record: 9-9
Although the Bulldogs virtually need to win the title in order to make it to the Big Dance, they've won five of their last seven contests for some sense of positive momentum heading into the SEC tournament. One of the losses during that stretch was a mere five-point defeat to Kentucky, and that was with standout forward Yante Maten spraining his knee in the early going of the contest.
Maten might not be able to to return to action until the actual NCAA Tournament begins, and Georgia, again, is not even a lock to make it to the tourney. Then again, senior J.J. Frazier has put up NBA superstar-like scoring numbers to make up for Maten's loss with a whopping average of 30 points per game. Frazier's unwavering drive to leave the program with a bang in his final year may just be enough for the Bulldogs to run the table and shock the entire SEC at that.
Mississippi Rebels (+2,500)
SEC record: 10-8
Winners of seven of their last 10, the Rebels are the last bunch of guys you'd want hanging around late in contests. Ole Miss knew how to deliver in the clutch this season, going a solid 9-3 in games decided by less than six points. It's also fitting that the team has hung tough in such games behind its NCAA-best 621 free-throws made.
However, we should still keep close tabs on junior guard Deandre Burnett's in the tournament. Burnett, the team's leading scorer with 16.5 points per game, sat out the season finale against South Carolina with a leg injury and his status for the opening bout of this week's tournament is still up in the air. Still, the Rebels' first opponent will likely be Auburn, whom they've swept this regular season with an average of 89 points scored.
Long Shot
Missouri Tigers (+6,000)
SEC record: 2-16
Speaking of Auburn, there's just too much dysfunction in Missouri to give the Midwest-based Tigers any chance of escaping their first-round match against the bigger and better cats from Alabama. The team is still smarting from its self-imposed ban from SEC title contention from the previous campaign, and now head coach Kim Anderson is on his way out as well. Talk about lack of motivation…
To top it all off, Mizzou has a conference-worst 7-23 overall record and is entering the tournament with six-straight defeats, which includes an 11-point loss to Auburn in the regular-season finale. By the way, the team lost both of its meetings against Auburn and had an even lengthier 13-game skid to put their campaign in the dumps right from the onset.
Complete SEC Tournament Odds
| | |
| --- | --- |
| Kentucky – EVEN | Florida – +140 |
| South Carolina – +1000 | Georgia – +1,400 |
| Arkansas – +1,500 | Ole Miss – +2,500 |
| Tennessee – +2,500 | Vanderbilt – +3,000 |
| Alabama – +3,300 | Texas A&M – +3,300 |
| Auburn – +5,000 | Mississippi State – +6,000 |
| Missouri – +12,500 | LSU – +15,000 |
Writer's Prediction: 
Kentucky (EVEN) wins its 30th conference title in school history.
Create a betting account now to win big from all the heart-stopping March Madness action!

2,186 total views, 1 views today
Comments
comments