It's arguably the most anticipated match-up in all of college football this season. The two-time defending BCS champions Alabama Crimson Tide square off against the Johnny Football-led Texas A&M Aggies on September 14 in a game that figures to have ramifications both within the SEC and possibly the BCS Championship.
The Aggies came into Bama's house in Tuscaloosa last season and upset the eventual champions, 29-24. Johnny Manziel put Texas A&M football back in the national spotlight that game, passing for 253 and rushing for 92 more. The Crimson Tide now travel to Texas to avenge their lone defeat last year.
Game Preview: #1 Alabama (-7.5) vs. #6 Texas A&M (+7.5)
(1) Alabama Crimson Tide (-7.5) (1-0, 0-0)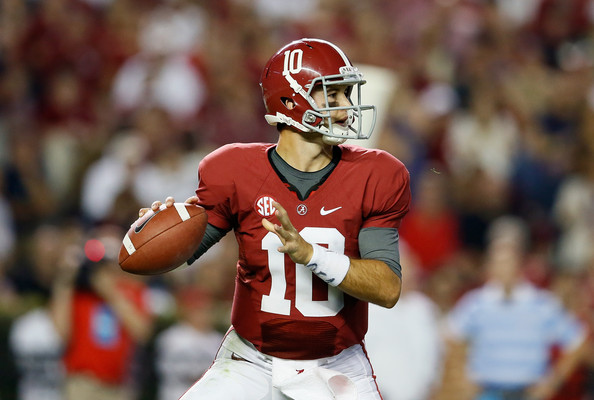 Top ranked Alabama cruised to an easy 35-10 win over Virginia Tech on opening week, but their performance was not particularly great. QB AJ McCarron was far from his sharpest, going just 10-of-23 for 110 yards, the lowest output of his career as a starter. The running game was also off as the duo of TJ Yeldon and Altee Tenpenny produced only 96 yards on the ground.
Luckily, Christion Jones was on hand to bail out their rusty offense. The junior wide receiver returned both a punt and a kickoff for a touchdown; he also caught the lone touchdown McCarron threw on the day.
Alabama has a bye next week, which gives them two full weeks to get their sputtering offense into gear before the big game. Their vaunted defense will also use the extra time to set up their game plan to contain the threat of Johnny Manziel and the high-octane Aggies offense.
If you think the Tide will get their revenge on Johnny Football, bet on Alabama at the Top Bet sportsbook.
(6) Texas A&M Aggies (+7.5) (2-0, 0-0)
After his drawn out off-season saga, Johnny Football is back.
The reigning Heisman trophy winner served out his NCAA-mandated 30 minute suspension during the first half of Texas A&M's opening game win over Rice 51-32. He returned in the second half looking sharp as ever,completing 6 of his 8 throws for 94 yards and 3 TDs before getting benched again for an unsportsmanlike penalty.
Manziel lead his Aggies to a decisive 65-28 victory over Sam Houston State on Saturday, throwing for 403 yards and 3 TDs, and running it in for one more.
While their offense is off to a good start, their defense was not particularly impressive against Rice. The Aggies, who were without five defensive starters due to suspensions, surrendered 32 points on 509 yards of offense.
But if its defense is still out of sorts by Sept. 14, Texas A&M doesn't figure to have much of a chance to upset Alabama a second time around. Of course, Johnny Football will have something to say about that. Can the Aggies do it again? Bet on Texas A&M now at the Top Bet sportsbook.
2,770 total views, 2 views today
Comments
comments