Great Britain finally had its first Wimbledon champion last year when Andy Murray defeated Novak Djokovic in straight sets to win the 2012 championship. Now, Murray faces the difficult task of defending his title against a pool of dangerous challengers. You can read about the who's who of Men's Singles Tennis gunning for the Wimbledon trophy here.
Murray shouldn't get ahead of himself in anticipation of drawing the top names later on. Before he can even think of challenging the top draws, Murray has to get past the powerful, fast serve of Kevin Anderson in the fourth round.
Tennis is a beautiful yet unpredictable sport. Women's Singles favorite Serena Williams fell in the third round against 25th seed Alize Cornet. Will the Men's Singles spring a similar surprise? Read on for everything you need to know about the fourth round match between defending champion Murray and the ever-dangerous Anderson.
[sc:MultiSportArticles ]
Andy Murray vs. Kevin Anderson, 2014 Wimbledon Men's Singles Fourth Round Match Preview
Where: Centre Court, All England Lawn Tennis and Croquet Club, Wimbledon, London
When: June 30, 10:00 AM ET
Line: Andy Murray (-2,000) vs. Kevin Anderson (+1,000) – view all Men's Singles Wimbledon Lines
Betting on Andy Murray
Andy Murray has looked stellar in Wimbledon. He's on a 16-match win streak at the All England Club since the London Olympics, and has not dropped a set in the three rounds that passed in this year's Wimbledon Championship. Murray is also the first British champion in 77 years. Not only did he win the title last year, Murray's success on the Grand Slam has translated to 40 wins, four semi-finals, two finals, one championship and only seven defeats.
[sc:Other240banner ]However, Murray's Wimbledon success comes at a great price as pressure will be heavier now than ever before. The defending champion has to go through a stellar cast of former champions who have completed their career grand slams if he hopes to win it all again. Nevertheless, Murray is at his best when the stakes are high; where normal players crumble, Murray shines like a diamond.
Murray's success at the All England Club tells us of one thing: he is very proficient on the grass court. Aside from his Wimbledon accolades, he has five singles titles and an Olympic medal all played on grass. The fast bounce of the surface pays dividends to his excellent return game. Murray possesses one of the best two-handed backhands in men's singles giving him enough power for returns on both sides.
Against a power server like his fourth round opponent, Murray has the ability to return fast serves due to his reach and ability to anticipate attacks. His anticipation and counter-attack ability makes it hard to score an ace against him. In three rounds of tennis, Murray has won 20 return games out of 74 total games played, boasting of 235 return points. This feat will be put to test against the powerful serving potential of Kevin Anderson.
Betting on Kevin Anderson
South Africa's Anderson stands at 6'8" tall. His towering physique makes it no surprise that his most powerful weapon is a dangerous first serve. In the three matches played prior to this match, Anderson has scored with 63 aces. He also has won most of his games while on serve collecting 226 total points. Aside from scoring bunches with aces, he can move and return as well.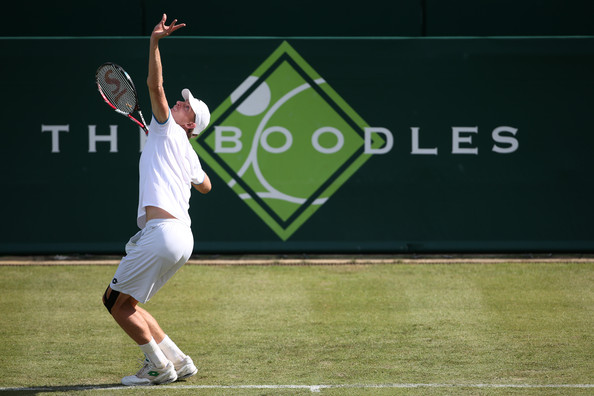 Being a veteran of 11 years has failed to give Anderson the mindset needed to play at this level. For his third round match against Italy's Fabio Fogini, nerves played a big role in his struggles. Apprehension got the better of him as evidenced when his number of aces dropped to 16 after averaging 23.5 in the past two rounds. Anderson also committed the most unforced errors he has in the tournament, giving out 28 in just one match.
If his disappointing game wasn't uninspiring enough, two injuries also manifested themselves in the less-than-stellar game. The combination of blunder and nerves led Anderson to feel a nagging knee problem as well as picking up a fresh back injury.
Anderson has now reached the fourth round of a major tournament for the third time in a row. The signs all point to him making another exit at this stage of the competition. However, if his body and mind permit it, he can serve up enough aces to cause an upset. Anderson has a 2011 Canadian Masters win against Murray to give him a boost of confidence against the defending champion.
Writer's Prediction
Murray will be too much, too talented to struggle against Anderson. Expect Murray to win in straight sets. Murray's too big of a favorite to earn you a hefty payout at -2,000. However a parlay with potential quarterfinal opponent Grigor Dimitrov (-1,200) can still give a decent payout. Create a betting account now to capitalize as the 2014 Wimbledon Championship heats up.
[sc:Other490banner ]
1,982 total views, 2 views today
Comments
comments