Week 12's Monday Night Football game could pass for a Thursday night contest with the severely banged up Baltimore Ravens going up against perennial AFC North doormats, the Cleveland Browns. Still, it should be intriguing to see how the Ravens will fare with Matt Schaub directing their offense, with Josh McCown making another cameo for Cleveland once again.
For more Week 12 game previews, you can also read our breakdown of Rams vs. Bengals.
[sc:Football ]
Baltimore Ravens vs. Cleveland Browns Preview and Prediction
Where: FirstEnergy Stadium, Cleveland
When: Monday, November 30, 8:30 PM ET
Line: Baltimore Ravens vs. Cleveland Browns – see all NFL lines
TV Broadcast: CBS
Betting on the Baltimore Ravens (3-7)
[sc:NFL240banner ]The Ravens haven't been successful with Joe Flacco under center this season. They're about to find how far they can go with backup quarterback Matt Schaub replacing the Super Bowl-winning quarterback for the rest of the year.
Baltimore lost Flacco to a season-ending knee injury on Sunday, when the Ravens beat St. Louis at home, 16-13. As if that wasn't enough misery for Baltimore, the Ravens also saw Justin Forsett go down with a right forearm injury that will cost him the season, too. With Flacco and Forsett gone, the attention now shifts to their respective backups, namely Schaub and Buck Allen.
Schaub's best days are now behind him, but the Ravens will have to rely on the 12-year veteran's arm to lead Baltimore's passing attack that has been averaging 263.6 yards per game thus far this season. That doesn't sound encouraging for the Ravens, as Schaub has apparently transformed from being a Pro Bowl-caliber quarterback into a complete master of disaster.
Dating back to 2012, Schaub has thrown 30 picks against 32 touchdowns. Furthermore, Schaub hasn't scored a passing touchdown since 2013. If it's any consolation, Schaub will face a rotten Cleveland defense that allows 268.5 passing yards per contest for his first start of the season.
It would have been easier for Baltimore to deal with Flacco's absence if the Ravens' backfield was healthy, but with Forsett and Lorenzo Taliaferro both out, Allen would have to carry a big load moving forward. Allen, who rushed for 67 yards on 22 carries in the Rams game, however, can expect a better performance next week against Cleveland's league-worst run defense. Allen had 58 rushing yards on eight carries as Forsett's backup in the Ravens' 33-30 loss to Cleveland back in Week 5.
Baltimore is 6-1 ATS in its last seven games in Cleveland.
Create a betting account now and cash in on all the NFL regular season action.
Betting on the Cleveland Browns (2-8)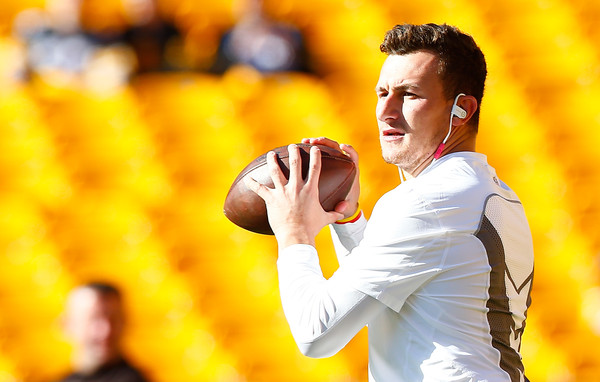 It's Johnny Football time in Cleveland. Oh wait…not it aint!
Johnny Manziel allegedly lied to his team about being in Austin, Texas during the bye week and drinking champagne with his friends. Not only is this a problem because:
A) Manziel told the team he was going to relax and take it easy
B) He's only a few months removed from a stint in rehab
but also C) He was just named the starting quarterback by head coach Mike Pettine!
Manziel wasn't only demoted from his starting role, he surpassed the second-string position and fell to third-string. So this means that he won't even get a chance to suit up! Rather than holding a clip board and the ball for extra points and field goals, Johnny Football will be Johnny Press Box on Monday night.
In his place will be former starter-turned new starter Josh McCown, who actually holds the record in this team's illustrious head to head history for QB performances. On October 11th of this year, McCown threw for 457 yards and two touchdowns. He'll be back and firing away yet again, to two of his favorite targets – Gary Barnidge and Travis Benjamin.
Tight End Barnidge had 139 receiving yards and a touchdown on eight receptions against Baltimore in Week 5, while Benjamin caught six passes for 83 yards.
Cleveland's backfield in that game, meanwhile, was a bit less productive, as Isaiah Crowell and company only managed to rush for 83 yards with a touchdown. Baltimore is ninth in the NFL in defense against the run, but Crowell and Duke Johnson will have to try and take away some pressure off McCown.
The over is 4-0 in the last four home games of Cleveland, which allows 27.7 points per game.
Writer's Prediction
Cleveland wins, 28-24.
Create a betting account now and create a winning NFL parlay.
[sc:NFL490Banner ]
2,240 total views, 2 views today
Comments
comments