The Cougars remain undefeated against the spread. But they're not the only team on our radar that has been performing very well for those bettors who've been keeping a sharp eye on the trends. UCLA, for one, is poised to continue down a familiar path, which we'll delve deeper into below.
Top Bet's Best College Teams To Bet for Week 10
| Team | Trend |
| --- | --- |
| Houston Cougars | 7-0 ATS |
| Northern Illinois Huskies | 4-1 ATS Away |
| Florida State Seminoles | 7-0 Over |
| UCLA Bruins | 3-0 ATS as Home Favorites |
| Colorado State Rams | 3-0 ATS as Underdogs |
[sc:NCAA490banner ]
1. Houston Cougars
Trend:  7-0 ATS
Next Game: vs. South Florida Bulls — October 31 | 7:00 PM ET
For the seventh straight time this season, the Cougars put the spread in the trash bin after passing their first true test of the season, walloping the 6.5-point favorite Rutgers to the tune of a 49-14 victory. QB John O' Konnor threw for 364 yards, his best so far in his young career, and Houston's defense reinforced his performance with a splendid job of limiting the Scarlet Knights to a scoreless second half.
2. Northern Illinois Huskies
Trend: 4-1 ATS Away
Next Game: @ Massachusetts Minutemen — November 2 | 12:00 PM ET
The Huskies hardly broke sweat in their recent 59-20 home win over Eastern Michigan for their eighth win of the season overall and their fourth consecutive against a fellow Mid-American team. They head to Massachusetts for their next game to face the lowly 1-7 SU Minutemen. Northern Illinois doesn't mind playing away from home and neither do their bettors. The school is 5-0 SU and 4-1 ATS on the road this season.
3. Florida State Seminoles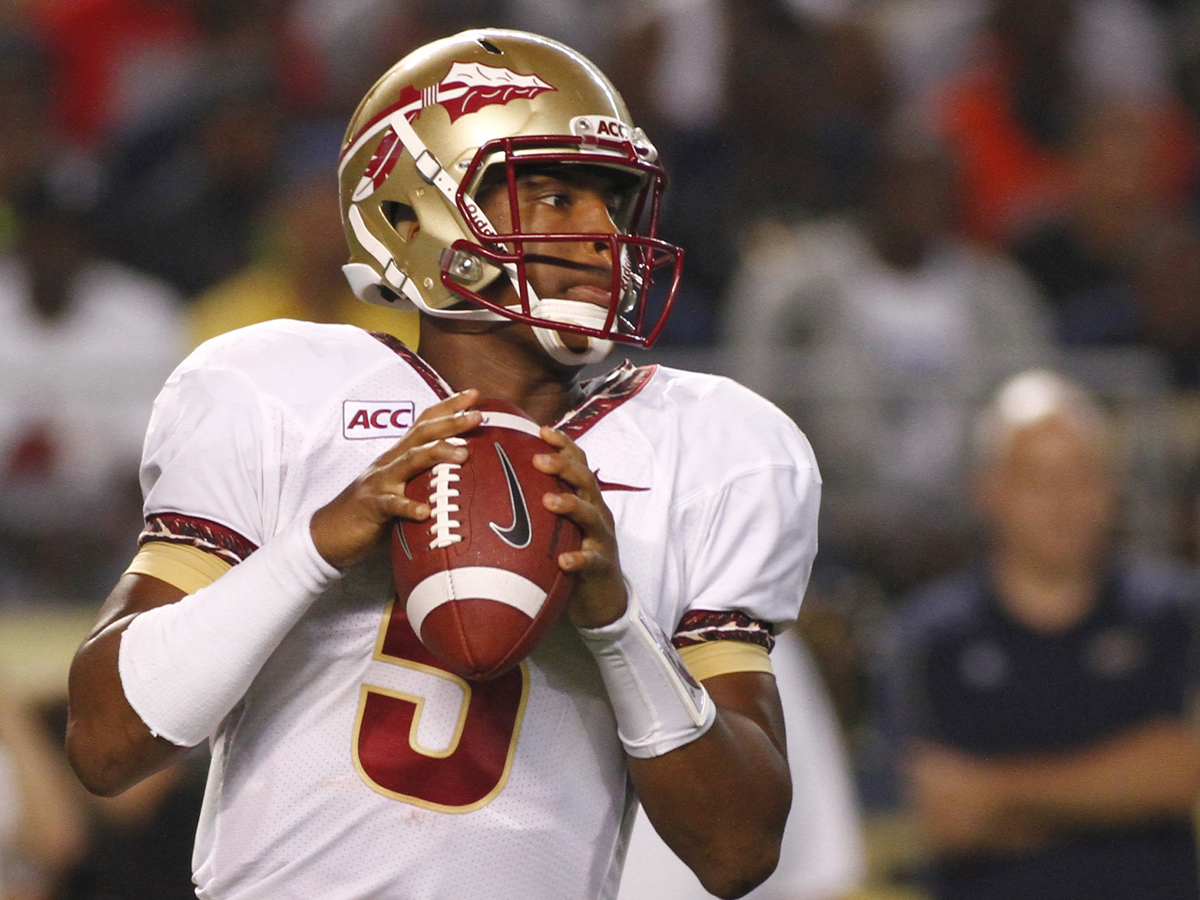 Trend: 7-0 Over
Next Game:  vs. Miami Hurricanes — November 2 | 8:00 PM ET
Jameis Winston is quickly becoming the hands-down favorite to win the Heisman Trophy for his impeccable quarterbacking that has the Seminoles' offense (52.7 PPG – 3rd in FBS) smoking opponents one by one. But it was Florida State's defense that prevented those teams from clawing out of those holes by limiting them to just 13.0 PPG, good for the FBS' 4th best. To better illustrate how good in both departments the team is, Florida State outscored their three most recent adversaries, 163-31. The Seminoles amazingly have yet to go Under in the Totals, going 7-0 Over so far this season.
4. UCLA Bruins
Trend: 3-0 ATS as Home Favorites
Next Game: vs. Colorado Buffaloes — November 2 | 8:00 PM ET
It's been two weeks since the Bruins last tasted victory when they beat California, 37-10 in Week 5. Incidentally, that was also the last time they were the favorites after following that win with two successive defeats, both as underdogs — first, to Stanford (24-10), then to Oregon (42-14). Now that the hellacious pair of road games is over, they head back to Pasadena to host Colorado as massive 27-point favorites. Note that UCLA is 4-0 SU and ATS in their last four games as favorites.
5. Colorado State Rams
Trend: 3-0 ATS as Underdogs
Next Game: vs. Boise State Broncos — November 2 | 8:00 PM ET
If UCLA has the magical talisman for home favorites, then the Rams seem to be in possession of the type that helps ATS underdogs. Colorado is 5-0 ATS in their last five games as underdogs, including their 52-22 blowout of the Wyoming Cowboys last October 19 when the Rams were 6.5-point dogs.
[sc:NCAA490banner ]
Head over to the sportsbook and place your bets on these teams or their adversaries — depending on whether or not you trust the recent trends.
1,711 total views, 1 views today
Comments
comments