The road to the NBA Finals continues with a pair of critical Game 2 matchups. First off, the Chicago Bulls continue their battle with the Cleveland Cavaliers. Following that game, we move on to the Western Conference matchup between the Los Angeles Clippers and the Houston Rockets.
Check out our preview of these games below. If you're in need of more postseason coverage, head on over to our NHL previews for Game 4 of New York Rangers vs. Washington Capitals.
[sc:NBAArticles ]
Chicago Bulls vs. Cleveland Cavaliers (8:00 PM ET)
Line: Chicago Bulls (+6) at Cleveland Cavaliers (-6); total: 194.5 – view all NBA lines
The Bulls are peaking at the right time.
Chicago stole Game 1 from the Cleveland Cavaliers' homecourt in Game 1 of their Eastern Conference semifinals matchup with a final score of 99-92. Derrick Rose returned to his MVP form by scoring 25 points, and Pau Gasol tallied another double-double with 21 points and 10 rebounds. With a healthy roster (especially with Rose finally back in the playoff picture), the Bulls are certainly a formidable opponent for LeBron James and the Cleveland Cavaliers to try and conquer.
[sc:NBA240banner ]James nearly got a triple-double for the Cavaliers, finishing with 19 points, 15 rebounds and nine assists. He did however commit 6 turnovers, and only shot 9-22 from the field. Kyrie Irving lead all scorers with 30 points; making all nine of his free throws. With Kevin Love still out due to his shoulder injury, and J.R. Smith serving the last of his two-game suspension, The Cavs would need much more offensive production from their roles players. Can Iman Shumpert (22 points) replicate his Game 1 performance?
The Cavaliers are 8-2 ATS in their last 10 games at home.
Writer's Prediction
Cleveland cannot overcome the loss of Love and Smith, as Chicago wins another close one 95-90.
Los Angeles Clippers vs. Houston Rockets (10:30 PM ET)
Line: Los Angeles Clippers (+6.5) at Houston Rockets (-6.5); total: 214.0 – view all NBA lines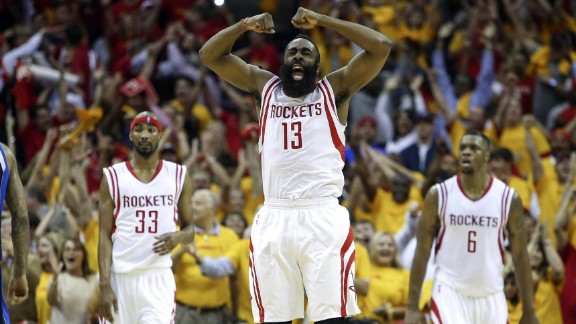 Against all odds, the Los Angeles Clippers bagged a Game 1 victory on the road over the Houston Rockets 117-101. The Clippers, playing without Chris Paul due to a nagging hamstring injury, got a stellar performance from fellow Lob City running mate Blake Griffin. Griffin finished with yet another triple-double: scoring 26 points, 14 rebounds and 13 assists.
MVP runner-up James Harden finished with 20 points and 12 assists for the Rockets, but did also end up with 9 of the team's 23 turnovers. Dwight Howard had 22 points, 10 rebounds and five blocks, which should be a good sign for game 2 as his contributions on both ends of the floor will take less responsibility from Harden.
If Chris Paul isn't back for Game 2 for the Clippers, look for the Rockets to make adjustments, take advantage of this situation, and salvage a game in their homecourt before taking the series to Staples Center.
For the past 10 games, the Clippers are 9-1 ATS on the road, while the Rockets are 6-4 at home.
Writer's Prediction
James Harden returns to form, evening the series with a 107-115 victory for the Rockets.
[sc:NBA490banner ]
1,972 total views, 1 views today
Comments
comments