It's time for an MLB double-header coming this Friday night. It's all about divisional rivalries; AL Central's the Tigers and Royals contest the second of a four-game set at Kansas City; and the Los Angeles Angels and Oakland Athletics open their own three-game set at O.co Coliseum.
Don't miss out on a big night of baseball action. For more on MLB, check out our complete previews for the Brewers vs. Dodgers and Pirates vs. Cubs.
Cash In on the Best Online Sportsbook Offers Now at TopBet!
Detroit Tigers vs. Kansas City Royals (8:15 PM ET)
Line: Detroit Tigers at Kansas City Royals – view all MLB lines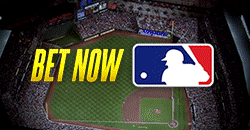 It's always exciting to have Kansas City's Yordano Ventura (5-4, 4.93 ERA) involved in a ball game. He could spark some interesting drama with his tendency to deliver fast balls right at his opponents' rib cages. Just ask Manny Machado what one of those feels like. Nevertheless, Ventura is back on the mound and will start against Detroit, against whom he's won his last three starts.
The Tigers will start Michael Fulmer (7-1, 2.52 ERA) who has been a blessing recently, winning his last five starts. He hasn't allowed a run in four straight games. The Tigers have won nine of Fulmer's last 10 starts, but the righty will meet Kansas City for the first time tonight.
Writer's Prediction
The Tigers keep rolling with Fulmer on the mound, beating Kansas City 5-2.
Los Angeles Angels vs. Oakland Athletics (9:35 PM ET)
Line: Los Angeles Angels at Oakland Athletics – view all MLB lines
Matt Shoemaker (3-7, 4.76 ERA) takes the mound for the Los Angeles Angels when they open a three-game set at Oakland tonight. The 29-year-old righty has been inconsistent this season but did show some good stuff in his last outing, limiting Cleveland to just three hits over eight innings on June 11. He gets to start in Oakland once again, where he allowed just one hit over six innings for his first victory of the season April 13.
Kendall Graveman (2-6, 5.28 ERA) takes the mound for Oakland, but he doesn't really instil a lot of confidence with the A's losing nine of his last 12 starts. Nevertheless, Graveman could be up for a big game against the Halos. He limited Los Angeles to just one earned run over six innings starting at home on April 12. The A's lost that game 5-4 with Graveman not figuring in the decision.
Writer's Prediction
The A's take a well-earned victory over their AL West rivals.
Create a betting account now and get all the MLB action you want day-in and day-out.

Comments
comments