After their London trip, the Nets head back to the boroughs  of New York to meet the Knicks while the Blazers and Rockets both aim to have the upper hand in their regular season series match-up.
[sc:BettingArticlesShortcoder ]
Sports Betting Preview for January 20
Top Stories in Sports Today
NFL – Broncos Take Down Patriots, To Play in Super Bowl XLVIII
The Broncos reached the Super Bowl for the first time since 1999 after crushing the Patriots, 26-16, Saturday night in the AFC title game. Peyton Manning flashed his MVP form by throwing for 400 yards and 2 touchdowns.
NFL – Seahawks Secure Super Berth With Win Over 49ers
Seahawks CB Richard Sherman deflected Colin Kaepernick's intended TD pass late in the game to spoil the 49ers' comeback bid and seal Seattle's 23-17 win over San Francisco in the NFC Championship game.
NBA – Lakers Win Second in a Row
Nick Young tallied 29 points in his return from suspension to lead the Lakers in a 112-106 win over the Raptors.
Top Bet Games to Bet On
NBA
Brooklyn Nets vs. New York Knicks (January 20, 2:30 PM ET)
Even without star point guard Deron Williams and center Brook Lopez, the Nets are enjoying the best stretch of their season thus far. Brooklyn is 6-1 SU in its last 6 games and 7-3 SU in the last 10 to inch closer to the top of the Atlantic division. The Nets are now only 3.5 games behind Toronto. The Nets are also 6-1 ATS in their last six games.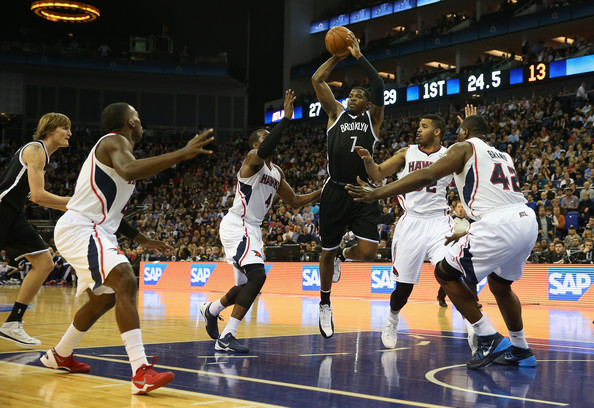 Brooklyn won its last game against the Hawks in London, 127-110. In that game, Joe Johnson exploded for 29 points, 18 of which came from behind the three-point line. It was the fourth straight game that Johnson scored in double digits and the third in four games in which he had at least 23 points.
Odds: Nets (TBA) vs. Knicks (TBA), O/U: TBA
Just when their fans were beginning to believe that the Knicks had finally turned the corner after going 5-1 SU in their first 6 games of the month, Mike Woodson's squad sent their hopes back to the ground hard by following it with three consecutive losses in which they lost each game by at least 10 points. Nevertheless, the Knicks are 3-1 SU in their last four home games.[sc:NBA240banner ]
The Knicks, who are under the microscope all season long, will be scrutinized even more closely by their supporters as they are currently on an eight-game home stand. The team already lost the first game of this series to the Clippers last Friday, 109-95. Carmelo Anthony had a herculean 26 points, 20 rebounds performance but his shooting percentage in that game was only 17.4%.
NBA
Portland Trail Blazers vs. Houston Rockets (January 20, 8:00 PM ET)
With Oklahoma City breathing down their necks in the Northwest division, the Trail Blazers prevented the Thunder from displacing them atop the division by winning five games in a row. They'll be gunning for their sixth straight against Houston tonight.
The Blazers and Rockets had met twice this season and split both games with Portland winning the last one at home, 111-104. In that game, LaMarcus Aldridge produced monstrous numbers of 31 points and 25 rebounds. The Blazers big man enters tonight's contest carrying a streak of four consecutive games of registering double-double figures.  Portland is 5-0 SU and 4-1 ATS in its last 5 games.
Odds: Trail Blazers (+2.5) vs. Rockets (-2.5), O/U: 218.5
Terrence Jones continues to be a revelation this season after scoring 36 points in the Rockets' 114-104 win against the Bucks on Saturday. The win was Houston's fourth in its last five games. Jones averaged only 4.6 PPG and 7.5 RPG in only 19 games during his rookie year but saw his numbers jump to 11.6 PPG and 7.7 RPG this season, mainly due to a major increase in minutes.
Houston is a relentless scoring team that puts up an average of 105.1 points a game. With Jones and Dwight Howard forming a solid duo beneath the boards, the Rockets are able to begin their high-octane offense often with their rebounding – 45 boards per game. In the two games where the Rockets and Portland met, the team that has more rebounds won the game.  They are 8-2 SU in their last 10 games against the Blazers.
For the most comprehensive list of NFL, NCAAF, MLB, and NHL game odds and betting lines, plus other sports, visit Top Bet's sportsbook.
[sc:NFL490Banner ]
1,452 total views, 1 views today
Comments
comments