What better way to cap off the weekend than with some top-bill NFL action. This Sunday, we've got a pair of division rivalries on tap over in the East Coast to sate our pigskin betting and viewing cravings.
First off, the New York Jets travel to Foxborough to take on the still undefeated New England Patriots. Then, following that game shortly after is the late-afternoon clash between the Dallas Cowboys and the New York Giants at MetLife Stadium.
Let's take a quick glimpse of what's in store for these two marquee matches that will surely spice up your weekend wagers. And why not go all in instead with your predictions for the entire day's schedule while you're at it? Check out our complete preview for Week 7 to get an upper hand on all the matchups on the slate.
[sc:Football ]
New York Jets vs. New England Patriots (1:00 PM ET)
Line: New York Jets (+8) vs. New England Patriots (-8); total: 48.0 – view all NFL lines
[sc:NFL240banner ]The NFL's top score-stifling defense will take on the league's top-scoring offense when the New York Jets square off against the New England Patriots this Sunday afternoon. With a win, the Jets will be tied with the Patriots for the AFC East division lead. However, recent history has not been kind to New York, who has lost seven of the last eight meetings against its rivals from Beantown.
Cornerback Darelle Revis will play his first game against his former team from last season – one that he helped win a Super Bowl title – and will look to draw some takeaways from New England's high-powered offense. Revis has three interceptions and a career-high three fumble recoveries for the season already. With Revis locked in this campaign, the Jets defense as a whole is allowing just 269.2 yards per contest – best in the league.
Meanwhile, the Patriots will continue to ride quarterback Tom Brady's scorching start to the season. Brady is off another sizzling performance in a Week 6 win over the Indianapolis Colts (23-of-37 for 312 yards and three touchdowns), and will look to pile on points against the tough-as-nails New York D. New England is averaging 36.6 points per game – the best mark in the NFL right now.
The total has gone over in eight of the past ten meetings between these two teams.
Writer's Prediction
New England decodes the Jets' D, 31-20.
Dallas Cowboys vs. New York Giants (4:25 PM ET)           
Line: Dallas Cowboys (+3.5) at New York Giants (-3.5); total: 45.5 – view all NFL lines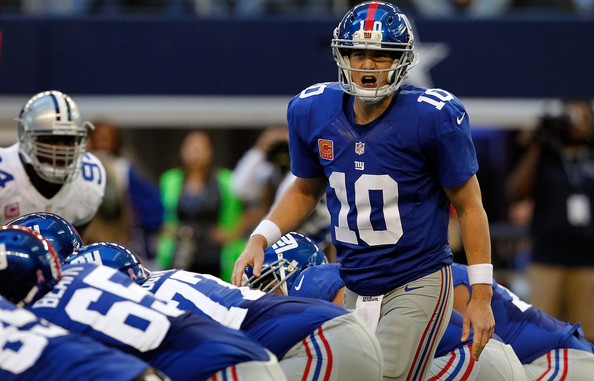 A bye week and a new starting quarterback should have the Dallas Cowboys rebooted to get their season back on track.
Sunday will mark the fourth game that quarterback Tony Romo will miss this season, and Dallas will now hand the starting duties to Matt Cassel in place of Brandon Weeden, who went 0-3 filling in for the injured Romo. The Cowboys have lost five-straight contests without Romo as their starting QB, and are 5-11 overall when he's out. Still, the team has won seven straight road games against their rivals from the NFC East.
On the other hand, the Giants are in quite a slump themselves, falling to another division rival in Philadelphia this past week. A sloppy outing saw the team turn the ball over thrice and commit 12 penalties, which the Eagles converted to 14 points en route to a 27-7 win. New York will need to take better advantage of those takeaways (the team's plus-6 turnover margin leads the NFL) against the careless Cowboys (minus-5 turnover ratio) to remain at the top of the division's standings.
Dallas has won the last five games against the Giants, with the total going over in all of those meetings.
Writer's Prediction
Cassel surprisingly leads the Cowboys to a well-deserved victory, 21-16.
Create a betting account now before Week 7's hard-hitting action kicks-off.
[sc:NFL490Banner ]
2,064 total views, 1 views today
Comments
comments