Buckle up for a wild Thursday night baseball fans! The MLB will be serving up two pivotal Game 4 matchups that will heavily determine the outcome of the National League Division Series. Our first game will feature the St. Louis Cardinals looking to even their series up to two games apiece against the Chicago Cubs  at Wrigley Field.  Following after, the Los Angeles Dodgers will attempt to balance things up as well in their series opposite New York Mets at MetLife Stadium.
Read on below for a quick analysis of these two crucial postseason clashes, and if you're yearning for other sports action, check out our NFL Week 6 Game Previes: Redskins at Jets, Dolphins at Titans and Panthers at Seahawks.
[sc:MLBArticles ]
Chicago Cubs vs. St. Louis Cardinals (4:37 PM ET)
Line: St. Louis Cardinals vs. Chicago Cubs– view all MLB lines
[sc:MLB240banner ]Toeing the rubber in this all-important Game 4 for the Cardinals will be veteran John Lackey (13-10, 2.77 ERA). Lackey got the start on Friday's Game 1, during which he logged in 7 1/3 scoreless innings and added five strikeouts to capture the resounding 5-0 win.The 36-year-old righty will look to do the same thing to help his team send the series back to Busch Stadium for Game 5. Against the Cubs, he is 3-1 with a staggering 1.94 ERA and 1.22 WHIP across six career starts.
As for the Cubs, they'll be countering with Jason Hammel, who is 10-7 with a 3.74 ERA. Hammel finished the 2015 regular season on a good note, pitching five scoreless innings to pick up the 5-3 triumph at Cincinnati on October 1. He'll need all the support he can get tonight, though, as he's only 2-3 with a miserable 5.97 ERA and .289 opponents' batting average through seven career starts versus the Cardinals.
St. Louis is 3-3 in its past six road games with Lynn starting. Chicago, meanwhile, is 2-3 in Hammel's previous five home starts.
Writer's Prediction
The Cards' tie the series with a crucial win, 5-3.
Los Angeles Dodgers vs. New York Mets (8:07 PM ET)
Line: Los Angeles Dodgers vs. New York Mets– view all MLB lines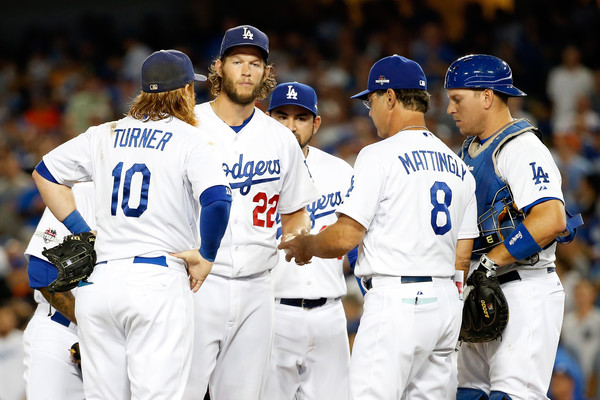 Once again, the Dodgers will put their trust on Clayton Kershaw (16-7, 2.13 ERA) in this series. Kershaw ended up on the losing end of a spectacular pitching duel between him in Jacob deGrom during their NLDS opener. He yielded four hits and three earned runs in over 6 2/3 innings of work and registered 11 strikeouts to his name despite the 0-2 setback.
The three-time Cy Young Award winner will definitely have his sights on redemption when he goes on the mound later opposite the Mets. On the road this season, Kershaw is 5-4 with a 2.60 ERA, a .94 WHIP and .204 opponents' batting average throughout 16 starts.
Speaking of the Mets, they'll be opposing with their own lefty in Steven Matz (4-0, 2.27 ERA), who becomes the fourth rookie in franchise history to start a postseason game. Matz pitched extremely well in his lone career start opposite the Dodgers on July 5 by tossing six scoreless innings to capture the commanding 8-0 victory. At home this season, he's been sensational as well with a 2-0 record and a 1.98 ERA in over two starts.
Los Angeles is 5-2 in its last seven contests with Kershaw starting. New York, on the other hand, is 5-1 overall with Matz starting.
Writer's Prediction
Dodgers even the series up with a close win.
Create a betting account now, and start cashing in for the MLB postseason.
[sc:MLB490banner ]
1,847 total views, 1 views today
Comments
comments