After winning their first game of the 2015 season, the Miami Dolphins have been on a downward spiral since then. They've lost their next three games with an aggregate score of 91-48 and are looking to avoid putting themselves in a much deeper hole. The Dolphins will have another chance to put an end to their current struggles when they travel to Nashville and square off with the Tennessee Titans this coming Sunday. Can they finally pull out the much-needed win?
Read on below for a full breakdown of this intriguing clash. And while you're at it, check out our other Week 6 previews: Bears vs. Lions and Patriots vs. Colts. Enjoy.
[sc:Football ]
Miami Dolphins vs. Tennessee Titans Betting Preview and Prediction
Where: Nissan Stadium, Nashville, Tennessee
When: Sunday, October 18, 1:00 PM ET
Line: Miami Dolphins vs. Tennessee Titans– see all NFL lines
TV Broadcast: CBS
Betting on the Miami Dolphins (1-3)
Losing is never a good feeling and the Miami Dolphins can definitely attest to this. The Dolphins' losing woes continued as the Jets handed them their third-consecutive defeat, 27-14, during their Week 4 showdown on October 4. That marked their second home loss of their 2015 campaign.
[sc:NFL240banner ]The Dolphins basically couldn't find a rhythm and lacked the aggressiveness in both sides of the field. They allowed their opponents to gain 425 yards of total offense, which included a career-high of 166 rushing yards for Chris Ivory—and only managed to garner 226 yards of their own, while going 0-for-12 on third-down opportunities.
It's worth noting, though, that Miami was lucky enough to stay in striking distance with the Jets incurring 14 penalties that led to 163 yards.  Their quarterback, Ryan Tannehill, tried his best to lead his team to a win with 198 yards and two touchdowns on 19-of-44 passing. But he also had two interceptions and three sacks under his name.
This kind of consecutive poor performances from the Dolphins have put them at the very bottom of their division with a 1-3 record. They'll be hoping that a week of rest and training did them some good when they return to the field this coming Sunday opposite the Tennessee Titans at Nissan Stadium.
In order to accomplish this, Miami's offense—that's averaging a fifth-worst 314.8 total yards per contest through four games this year—needs to wake up from it slumber and take advantage of the Titan's unstable front seven (4.4 yards allowed per carry).
The key into doing so will greatly depend on their best running back in Lamar Miller. Miller has yet to find his 2014 self that exploded for a career-high of 1,066 rushing yard but can definitely have an offensive outburst at any given moment. He has accumulated a team-high of 131 yards on 37 carries with zero touchdowns thus far this season.
As for the defense, the pressure is on tackle Ndamukong Suh, the highest-paid defensive player in NFL history, to lead the charge in neutralizing the Titan's solid ground attack which garners a respectable 4.1 yards per carry.
Miami is 5-5 SU and ATS in its past 10 road games.
Create a betting account now and cash in on all the NFL regular season action.
Betting on the Tennessee Titans (1-3)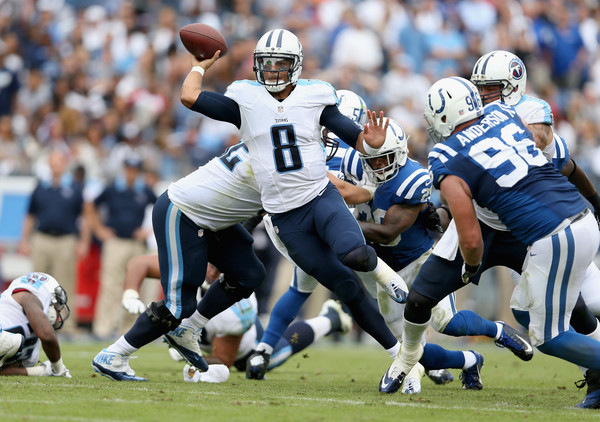 Here we go again. The Tennessee Titans found a way to lose a game which they should have won. They squandered a second-straight double-digit lead at home against a depleted Bills team, who are missing a few of its key players, on Sunday.
The Bills were led by a modest performance from their rookie signal-caller in Tyrod Taylor. Taylor engineered a pair of 80-yard second-half touchdown drives to complete the comeback and help his team snap a five-game skid to the Titans with a 14-13 victory. He finished the game 10-of-17 for 109 passing yards and rumbled for a game-high 76 rushing yards on eight carries.
Although, Marcus Mariota provided fans another a pretty solid outing of his own, completing 21-of-32 passes for 187 yards and rushed five times for 47 yards to finish the game. But the 2014 Heisman Trophy winner couldn't find a way to hold off their resilient division rivals even with a 10-point cushion in the third quarter. The Titans' have now lost three-straight games but are still at second place in their division standings.
Heading towards their Week 6 matchup, the Titans have to feel good about going against a Miami Dolphins squad that is currently third-worst in the league with 399.5 total yards allowed per contest through four games this season.
Expect RB Bishop Sankey and WR Kendall Wright to help Mariota carry the offensive load against the Dolphins. Sankey was held to a mere 20 yards on seven carries in the loss to the Bills but he is still the Titans' most dangerous threat on the ground, averaging 4.3 yards per carry in the first four games. Wright, meanwhile, has been a bright spot as well, owning a team-high of 213 receiving yards along with a pair of touchdowns in the same stretch.
Tennessee is 1-9 SU and 2-7-1 ATS in its previous 10 home games.
Writer's Prediction
The Titans end their losing skid with a thrilling 20-17 triumph thanks to a pair of bounce back performances from Sankey and Wright.
[sc:NFL490Banner ]
2,080 total views, 1 views today
Comments
comments