---
For the past couple of seasons, the Oklahoma Sooners have lorded over the Big 12 with their brand of smash-mouth football. but with plenty of key departures, can the Sooners still make it three-straight years as conference champs?
Head on over below to see how we see each of the Big 12 teams will pan out this upcoming season in terms of their respective win totals.
---
Most Recent Articles
---
Big 12 Regular Season Win Total Predictions
1. Oklahoma Sooners
Last season: 11-2 (9-0)
Apart from losing the outstanding running back duo of Joe Mixon and Samaje Perine to this year's NFL Draft, the Sooners also bid farewell to esteemed head coach Bob Stoops, who announced his retirement in June.
Still, Oklahoma boasts the most complete football program in the conference, with standout quarterback Baker Mayfield in line for a Heisman-worthy campaign and with the team's secondary on defense ready to clamp down on the opposition once more.
Writer's Prediction: Another sweep of their Big 12 showdowns is very much a possibility, so take the Sooners to go OVER 9.5 wins this season with confidence.
2. Oklahoma State Cowboys
Last season: 10-3 (7-2)
One thing's for certain: the electric pass-catching tandem of quarterback Mason Rudolph and wideout James Washington will provide a brunt of the firepower for Oklahoma State's offense.
On the other hand, the lack of a dependable ground game and a rather questionable defense may be the team's undoing. A defense that gave up over 440 yards per game last season won't cut it if the Cowboys really want to challenge their neighboring rivals from Norman for the Big 12 crown.
Writer's Prediction: OSU finishes with a winning record, but one that falls UNDER 8.5 wins in total.
3. West Virginia Mountaineers
Last season: 10-3 (7-2)
The switch from quarterback Skyler Howard to Florida transfer Will Grier has its pros and cons. Grier is definitely a better option at QB, but his lengthy suspension due to PEDs and a shaky offensive line makes West Virginia's offense a wild card.
There's not much to admire from the Mountaineers' defense as well, especially since this unit couldn't contain a good number of Division I's more prolific offenses last season. Having said that, WVU's best shot at the Big 12 title came and passed last year, and this season should see the team wallow in the middle of the conference standings all over again.
Writer's Prediction: The Mountaineers will struggle to get to the .500 mark, so take them to go UNDER 6.5 wins.
4. Kansas State Wildcats
Last season: 9-4 (6-3)
Kansas State's special teams will be special, and the team's running game will be fun to watch again. Dual-threat QB Jesse Ertz along with fullback Winston Dimel will pose all sorts of problems as the team will have great control of the clock all season long.
Then again, the Wildcats don't have a viable passing game that can match most of the Big 12's aerial attack. Their defense wasn't able to stop opposing receivers either, having allowed the Sooners and the Cowboys to complete over three-fourths of their passing attempts during their regular-season meetings last season.
Writer's Prediction: UNDER 8.5 wins for the Wildcats is more likely to happen in their upcoming campaign.
5. TCU Horned Frogs
Last season: 6-7 (4-5)
With veterans Travin Howard and Ty Summers back to man the middle of the D, TCU arguably has the best linebacking crew in the entire conference that is ready for a bounce-back effort after last season's uncharacteristic downturn.
Meanwhile, the Horned Frogs need to be more consistent on offense. Quarterback Kenny Hill is no Trevone Boykin, but he does have a similar skill set to the school's previous celebrated play-caller. Hill just needs to work on limiting his turnovers as to not keep his team's defense on the field too often.
Writer's Prediction: It's a much safer bet that the Horned Frogs will make a leap of OVER 7.5 wins this 2017.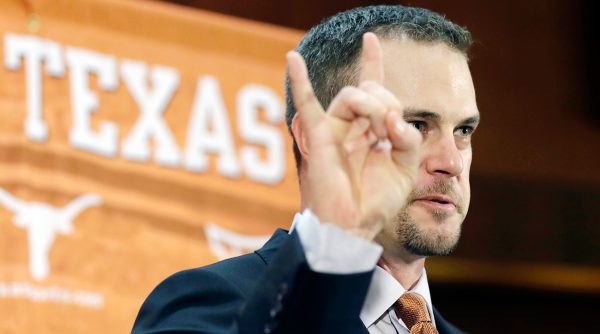 6. Texas Longhorns
Last season: 5-7 (3-6)
The Tom Herman era in Austin should signal a return to form for the Longhorns. Herman, who lost only four out of 26 games as a head coach in Houston and was a key member of Ohio State's coaching staff earlier this decade, should right Texas' offensive ship.
There are experienced pieces aplenty on both offense and defense with this Longhorns squad. The D, in particular, should see a significant improvement as well following the subpar job by previous skipper and supposed defensive mastermind, Charlie Strong.
Writer's Prediction: Texas may be the next best program behind Oklahoma this season, so take them to go OVER 7.5 victories.
7. Texas Tech Red Raiders
Last season: 5-7 (3-6)
Even with first-round NFL draft pick Patrick Mahomes leading the team's explosive passing game last season, Texas Tech still failed to secure a winning record.
Relatively unproven Nic Shimonek will take over the play-calling duties for Mahomes, and that's only the beginning of the Red Raiders' concerns. Their defense, which was one of the worst in the entire nation in 2016, will inevitably hurt the team's chances of winning ball games this season, let alone in just its Big 12 showdowns.
Writer's Prediction: Another five-win season might actually be Texas Tech's ceiling. Take the team to go UNDER 5.5.
8. Baylor Bears
Last season: 7-6 (3-6)
There are way too many questions surrounding Baylor entering this season that it's hard to believe that the program will succeed with its new pro-style offensive system. The team has yet to determine who its starting QB will be between Zach Smith, Anu Solomon and Charlie Brewer, and there's not much depth in the offensive line to make the running game a decent alternative option to the pass.
The Bears are also notorious for their lack of discipline, having averaged over nine penalties per game for the past four seasons. Having said that, we wouldn't be surprised if they end up with another winning record all the while getting swept by their conference rivals in regular-season play all over again.
Writer's Prediction: There are some gimme matchups outside of the Big 12 on Baylor's schedule, and that should be enough for the team to breach at least six victories this season.
9. Iowa State Cyclones
Last season: 3-9 (2-7)
The Cyclones are top-heavy in key positions on offense, with quarterback Jacob Park finally locked in as the starting QB, wide receiver Allen Lazard as their solid lynchpin in the passing game, and running back Mike Warren eager to bounce back from his lackluster 2016 campaign.
However, Iowa State's offensive triad still pales in comparison to the rest of their Big 12 opposition. The same could also be said about its defense, which hasn't been able to stop the run for so long and lost the turnover battle one too many times last season.
Writer's Prediction: A one-game improvement from last year's three-win campaign could be considered a moral victory in and of its own for the Cyclones.
10. Kansas Jayhawks
Last season: 2-10 (1-8)
Speaking of turnovers, that was the Kansas' call to fame last season. The team turned the ball over no less than twice in each of their games last season, which leaves new offensive coordinator Doug Meacham more problem than answers to work with.
There's nothing worth noting about the Jayhawks' leaky defense either, which has been terrible against the run for the past couple of seasons. In turn, the fans from Lawrence might just be waiting for the basketball season to start instead, as that's where the school's strengths really shines.
Writer's Prediction: Another pair victories for Kansas this season, at best, sounds just about right.
Create a betting account now to start placing stakes on some college football futures action before the regular season officially kicks off!

1,611 total views, 2 views today
Comments
comments