[sc:NHL250 ]It was a rather uneventful weekend for both the Boston Bruins and New York Rangers. The Bruins lost 2-1 at Ottawa in overtime, while the Rangers picked up just one point at home in a 4-3 overtime loss to the Eastern Conference-leading Washington Capitals. With both teams hungry for wins, what we have now should be a much more exciting Original Six matchup. Read on as we breakdown the action to come.
Get some more hockey action with our complete preview for the Red Wings vs. Kings.
[sc:NHLArticles ]
Boston Bruins vs. New York Rangers Preview
Where: Madison Square Garden, New York
When: Monday, January 11, 7:00 PM ET
Line: Boston Bruins at New York Rangers – view all NHL lines
Betting on the Boston Bruins (21-14-5)
The Boston Bruins have struggled recently, dropping six of their last eight games. They haven't looked dominant in scoring at all, having been held to one goal or none at all in four of those eight games. Seven of the Bruins' 19 goals in that same that span came in just one game, too.
[sc:NHL240 ]Part of the Bruins' struggles on offense is the absence of David Krejci, who has missed the last five games with an upper body injury. Meanwhile, Brad Marchand returned against Ottawa from a three-game suspension. Krejci and Marchand are two of the Bruins top scorers, ranking in the top five of the league with 33 and 26 points, respectively. Marchand, by the way. is tied with Patrice Bergeron for first on the team with 15 goals this season.
The Bruins could get a boost in offense with Marchand back in the frontline. They'll also have some help from Loui Eriksson and Ryan Spooner. Eriksson and Spooner are two of the best playmakers on the team with 20 and 19 assists, respectively. Of the two, Eriksson is also a solid scorer with 14 goals.
Having so many scoring options should help the Bruins light the lamp against a struggling New York defense, which has allowed 3.57 goals per game in their last seven outings. But the Bruins also need to get their defense in order if they are to win this game. Tuukka Rask (14-11-4, 2.51 GAA) has struggled to keep opponents out of the net. He's allowed three goals or more in three of his last four starts.
Rask could have a much better outing against the Rangers. He's brought out his best when playing New York, going 6-1 with a 1.90 GAA in the past seven matchups.
The Bruins have won four of their last six on the road.
Betting on the New York Rangers (22-14-5)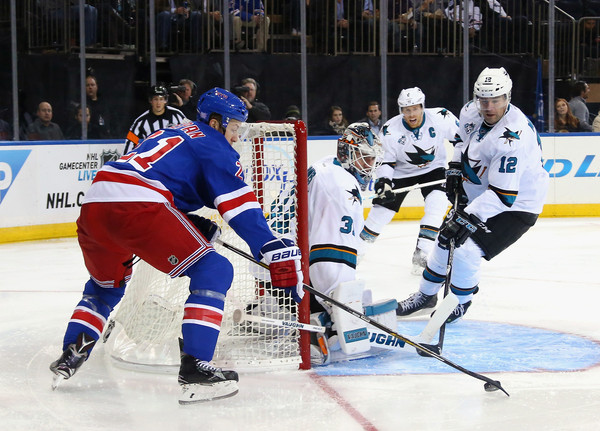 Just like the Bruins, the New York Rangers have recently struggled, going 2-6 in their last eight games. While the Rangers have scored plenty of goals during that span (3.38 goals per game), their goaltending has been horrendous.
Goaltender Henrik Lundqvist (18-11-4, 2.54 GAA) isn't looking like a former Vezina Trophy winner. He's given up at least two goals in 11 straight games. He's also gone 4-5-1 with a 3.78 goals against average. Lundqvist may continue to struggle in this game; he's lost his last five games against the Bruins with a 3.85 GAA.
If the Rangers are to win this game with sketchy goaltending from Lundqvist, then they'll need their offense to be firing on all cylinders. While the Rangers are coming off a 4-3 loss against Washington on Saturday, they did show some mettle. Down by two in the third period, the Rangers scored three-straight goals against one of the best defensive teams in the league. However, they gave up a tying goal with six seconds left in regulation before losing in overtime.
The Rangers have plenty of scoring talent that could take the ice. Mats Zuccarello leads the team with 31 points and 16 goals. Derick Brassard is second on the team with 30 points and 14 goals. Star winger Rick Nash has also been solid with 29 points. New York has also been able to bank on rookie sensation Oscar Lindberg, who has 11 goals this season.
Aside from the Rangers' stars, Viktor Stalberg has been hot with four points in his last four games. There's also Derek Stepan, who is just one game removed from an excellent two-goal performance at home. Expect the Rangers to come out firing in this game against their Original Six rivals.
The Rangers are 4-2 in their last six home games.
Writer's Prediction
Lundqvist picks up the slack in a vintage performance as the Rangers shutout Boston. New York wins 3-0.
Create a betting account now and win big in a busy NHL season.
[sc:NHL620 ]
1,892 total views, 1 views today
Comments
comments