Watch out, Atlantic: the Detroit Red Wings have now strung together four-straight wins to leapfrog over the Montreal Canadiens for second place in the division's standings.
[sc:NHL250 ]The Red Wings even handled their last two opponents from the Pacific with relative ease, but can they stop the Los Angeles Kings – the current division leader way out West? Let's take a closer look at this compelling showdown below.
Afterwards, have another healthy dose of exciting hockey betting action with our preview for Bruins vs. Rangers.
[sc:NHLArticles ]
Detroit Red Wings vs. Los Angeles Kings Preview
Where: Staples Center, Los Angeles
When: Monday, January 11, 10:30 PM ET
Line: Detroit Red Wings (+160) at Los Angeles Kings (-190); total: 5.0 – view all NHL lines
Betting on the Detroit Red Wings (22-13-7)
[sc:NHL240 ]The Detroit Red Wings' start this 2016 is still rolling along just fine after a 2-1 win over the Anaheim Ducks on Sunday for the team's fourth-straight victory of their current six-game road trip to kick-off the year.
While all four of those wins away from home have been one-point decisions, there's still no denying that the Detroit has been impressive throughout that span. Sensational rookie Dylan Larkin tied his season-best five-game points streak by dishing out an assist on Sunday, and is the Wings' main catalyst in gunning for the two-game season sweep of Los Angeles this Monday (they defeated the Kings in the Motor City, 3-2, on November 20).
Apart from Larkin, the Red Wings have also gotten stellar outings from their dependable goalie in Petr Mrazek. He started in all four contests during this road trip, having allowed just two goals over the last three games.
Mrazek also got plenty of help from Detroit's short-handed team defense, having shut down all seven of their opponents' power play opportunities during that same three-game stretch. Their much-improved play on penalty kill situations will go a long way towards containing Los Angeles' 11th-best power play offense.
All things considered, it seems as if the Red Wings' winning ways on the road will likely continue. And as a coup-de-grace, Detroit has even won five of its last six meetings against the Kings.
Create a betting account now to get in on all the fast-paced action from the NHL.
Betting on the Los Angeles Kings (26-12-3)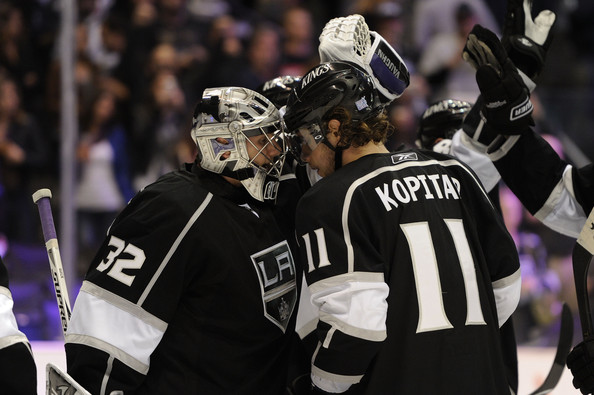 A heart-breaking 2-1 overtime defeat via shootout to the St. Louis Blues on Saturday snapped what could've been a solid four-game homestand for the Los Angeles Kings.
Nevertheless, the team has still won eight of their last ten games played in Staples, and will need star center Anze Kopitar to continue playing at a high level. Kopitar scored the lone goal for Los Angeles in the loss to the Blues, and now has 11 points over his last eight games.
While the three-time All-Star has been superb, the same cannot be said of his fellow forward, Tyler Toffoli. The 23-year-old Toffoli currently leads all Kings with 19 goals for the season, but has found the back of the net just once over the last five contests.
Still, should Los Angeles' offense stall once more, at least the team is still in good hands with decorate goalie Jonathan Quick. In his last seven starts, Quick posted a dazzling record of 6-0-1, allowing just two goals or less in five of those seven outings.
Writer's Prediction
The Red Wings come off with another one-point victory on the road, 3-2.
[sc:NHL620 ]
1,738 total views, 1 views today
Comments
comments