The Toronto Raptors are starting to pull away in the Atlantic. Led by their All-Star-caliber backcourt, the two-time defending division champs have won five in a row to extend their lead over the Boston Celtics to 4.5 games.
The young Celtics have struggled of late, but they've shown that they can keep it close against just about any team. Can they overcome their end-of-game problems when they pay the Raps a visit at Air Canda Centre?
[sc:NBA250 ]Read on below for our preview of this Atlantic Division showdown. And for more top Wednesday hoops action, check out our previews of the Warriors vs. Bulls and Jazz vs. Knicks.
[sc:NBAArticles ]
Boston Celtics vs. Toronto Raptors Betting Preview
Where: Air Canada Centre, Toronto
When: Wednesday, January 20, 7:30 PM ET
Line: Boston Celtics (+3.5) at Toronto Raptors (-3.5); total 201.0 – view all NBA lines
Betting on the Boston Celtics (22-20)
The Boston Celtics lost another heart-breaker on Monday as they fell 118-113 to the Dallas Mavericks in overtime. The loss snapped the Celtics' three-game winning streak snapped and dropped them to 4-7 (3-7-1 ATS) in their last 11 games.
[sc:NBA240banner ]The Celtics have consistently been involved in some very tight contests of late. Their last nine losses have all come by single digits, and nine of their first 10 games of 2016 have all been decided by nine points or fewer. However, their big Achilles heel – the lack of a go-to guy in crunch time – has kept them from turning more of those close games into wins.
Promisingly for Boston, though, its previously struggling offense has perked up over the past week. The Celts have topped 110 points in four of their past five games, and should have the firepower to remain within reach of the Raptors on the road.
Marcus Smart is finally getting back to his best after a long injury layoff. The second-year guard is averaging just over 14 points, 7.7 rebounds and 5.7 assists per game in his last three. But more importantly, his hounding defense will be a big asset against the Raptors' guard-oriented attack.
Create a betting account now and cash in on all the best NBA hoops action.
Betting on the Toronto Raptors (26-15)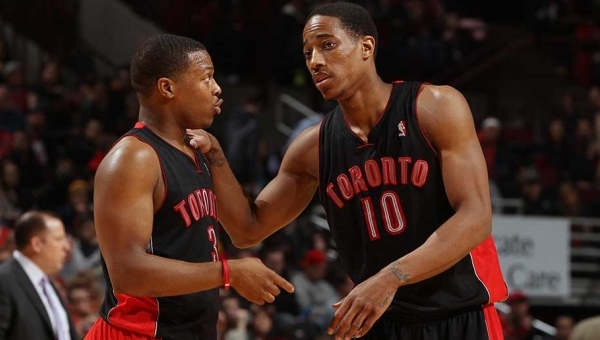 The Toronto Raptors are rolling. The team from up north has reeled off five-straight wins, and is now 9-3 (6-6 ATS) in its last 12 games.
The Raps have ratcheted up their defense during those dozen games, as they've given up an average of just 97.9 points. That good stretch also coincided with the return of center Jonas Valanciunas, who added that much-needed big body to impact both ends of the court.
Meanwhile, their terrific backcourt tandem of DeMar DeRozan and Kyle Lowry is making a very strong case to be part of the All-Star festivities in Toronto next month. DeRozan is leading the team with 23.4 points, 4.9 rebounds and 4.5 assists per game in the last 12, while Lowry is putting up 21.1/5.8/7.6 during that same stretch.
The two are coming off 30-point performances to lead the Raps to a 112-100 win over the Brooklyn Nets on Monday. Lowry, who had 13 of his team-high 31 in the fourth quarter, and DeRozan will provide the Raptors with the decided edge in terms of the late-game playmaking which Boston has been sorely lacking this season.
DeRozan led the Raptors with 23 points in Toronto's 113-103 win over Boston in the second game of the season. He's averaging 28.5 points in his last four versus the Celtics. The Raptors are 7-3 (5-5 ATS) in their last 10 home games against Boston.
Writer's Prediction
The Raptors (-3.5) extend their win streak to six with a 105-98 win over Boston.
[sc:NBA620 ]
2,141 total views, 1 views today
Comments
comments