The Chicago Bulls took advantage of a strong start to beat the Cleveland Cavaliers, 99-92, in Game 1 of their much-anticipated best-of-seven series encounter on Monday. Derrick Rose turned back the hands of time to lead the Bulls, who now set their sights on erecting a commanding 2-0 series edge against the Cavs this coming Wednesday.
Who will prevail in this pivotal matchup? Read on for a breakdown of this critical clash and while you're at it you can check out our preview of Game 2 between the Los Angeles Clippers and the Houston Rockets here.
[sc:NBAArticles ]
Chicago Bulls vs. Cleveland Cavaliers Game 2 Preview
Series Scores & Schedule
Game 1 – May 4, 7:00 PM ET – Chicago Bulls 99 at Cleveland Cavaliers 92
Game 2 – May 6, 7:00 PM ET – Chicago Bulls at Cleveland Cavaliers  – view all NBA lines
Game 3 – May 8, 8:00 PM ET – Cleveland Cavaliers at Chicago Bulls
Game 4 – May 10, 3:30 PM ET – Cleveland Cavaliers at Chicago Bulls
Game 5* – May 12, TBD – Chicago Bulls at Cleveland Cavaliers
Game 6*– May 14, TBD – Cleveland Cavaliers at Chicago Bulls
Game 7* – May 17, TBD – Chicago Bulls at Cleveland Cavaliers
* if necessary
Betting on the Chicago Bulls
Bad news, Cleveland! Looks like the old Derrick Rose is really back for good.
[sc:NBA240banner ]The 2011 Most Valuable Player produced a tour-de-force performance on Sunday to lead the Bulls to a critical Game 1 victory over the Cavs. Rose had 25 points, five rebounds and five assists in the series opener to help the Bulls steal homecourt advantage away from the second-seeded Cavaliers.
Rose has been a revelation in this year's playoffs, averaging 19.9 points, 4.4 rebounds and 6.3 assists per game this postseason. He's averaging 24.3 points per game on 48 percent shooting in four games these playoffs with at least two days of rest.
The question now for the Bulls is can Rose repeat this exceptional performance in Game 2. He has struggled this postseason with only a day of rest, averaging just 14 points per game on 30 percent shooting from the field in such a scenario.
With that being said, the Bulls will fancy their chances of extending their advantage in Game 2. Entering the series against the Cavs, the Bulls were only 3-12 in the postseason against LeBron James-led teams. They didn't look intimidated one bit by James in Game 1, though, as the Bulls became the first opponent of a James-led team to never trail in a postseason game on the road.
For the Bulls to grab a 2-0 series edge this coming Wednesday, they need to keep lighting it up from deep. The Bulls shot 10-of-18 from beyond the arc in Game 1 for an incredible 55.6% clip. Mike Dunleavy, Derrick Rose and Jimmy Butler were on fire from the three-point area, combining 8-for-16 with the long ball in Game 1.
The Bulls are 5-1 SU and ATS in their last six road games.
The NBA Playoffs are finally here. Create a betting account now and cash in on all the exciting basketball action.
Betting on the Cleveland Cavaliers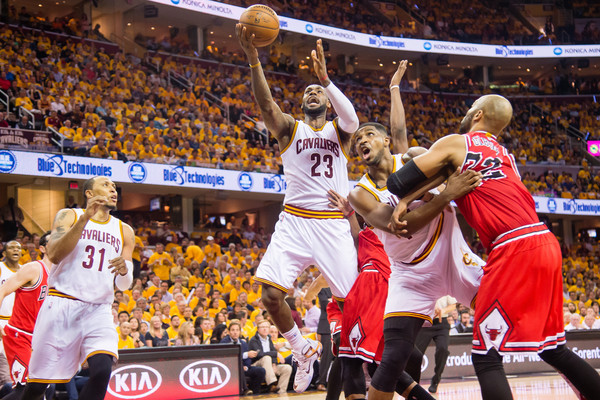 The Cleveland Cavaliers stumbled in their first game without All-Star Kevin Love, trailing the entire time in a seven-point loss to the Bulls. It was the first defeat in this year's playoffs for the Cavs, who will need to regroup quickly for their Game 2 showdown with Chicago.
For the Cavs to level the series, they will need LeBron James to step up big time on the offensive end. The four-time league MVP was disappointing in Game 1, scoring just 19 points on 9-of-22 field goal shooting. Although he had 15 rebounds and nine assists on Monday, he also committed a game-high six turnovers.
That may be a good stat line for others but for the injury-plagued Cavs that simply isn't enough. He had difficulty solving Jimmy Butler's defense in Game 1. James shot just 7 of 18 from the field when guarded by Butler with five turnovers against him.
It wasn't just James, though, that was the problem for the Cavs. Cleveland struggled mightily with its outside shot, nailing just 26.9% (7-of-26) of their three-pointers. James and Kyrie Irving were woeful from deep, combining for just 1-of-8 from beyond the arc. The Cavs need to knock their outside jumpers to stretch a Chicago defense whose main strategy is to clog the paint.
The Cavaliers also had problems with their defensive rotations in Game 1. They allowed the Bulls to attempt 26 uncontested shots on Monday with Chicago draining 22 of them. Pau Gasol was the main beneficiary of such poor defensive coverage, going 8-of-8 on uncontested shots for the game. Gasol finished with 21 points and 10 rebounds, his sixth double-double in seven playoff games this postseason.
The Cavs are 8-2 SU and 3-7 ATS in their last 10 home games.
Writer's Prediction
Cleveland wins, 102-98, to level the series at 1-1.
[sc:NBA490banner ]
1,972 total views, 1 views today
Comments
comments