After two-straight dominant victories in the first two games, it seemed like the Cleveland Cavaliers were going to cruise to the NBA Finals. But Game 3 proved to be a reminder to them and to everyone else that the Toronto Raptors had no plans of going down without a fight. They defeated the reigning conference champions, 99-84.
Now, the Raps will look to build on their newfound confidence with another win in tonight's Game 4. Will they succeed in doing so? Or will the Cavs respond in a big way? Read on below for an in-depth breakdown of this showdown.
If you're yearning for some tennis action as well, click here to view our preview of the first-round clash between Andy Murray and Randek Stepanek in the 2016 French Open.
---
Cavaliers vs. Raptors Game Four Preview
Where: Air Canada Centre, Toronto, Ontario
When: Monday, May 23, 2016, 8:30 PM ET
Line: Cleveland Cavaliers (-6.0) vs. Toronto Raptors (+6.0); total: 197.0 – view all NBA lines
TV Broadcast: ESPN
---
Betting on the Cleveland Cavaliers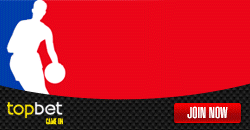 For the first time in this postseason, the Cleveland Cavaliers are looking to bounce back. And you can bet that LeBron James, who's arguably the best player in the league right now, will make sure that his team does so in tonight's Game 4.
James is no stranger to this situation. He boasts career numbers of 27.9 points, 8.7 rebounds and 6.7 assists in the playoffs. What's more, the four-time league MVP is posting almost the same averages opposite the Raptors. James is averaging 27.6 points, 7.1 boards and 7.6 dimes in this matchup.
To be fair, James's still going to need some help to secure the win. He needs Kyrie Irving and Kevin Love, in particular, to get it going again. The two stars combined for just 16 points on 4-of-28 shooting from the field in Game 3.
Apart from this, the Cavs also need to flex their muscle down low. They were outrebounded by the Raptors in the third game, 54-40. That being said, the onus is on Love and Tristan Thompson to clog the lanes consistently and hustle for those live balls and extra possessions. Both big men have done a solid job in controlling the boards, gobbling up 10.3 and 8.5 rebounds, respectively, this postseason.
Cleveland is 5-2 ATS in its last seven Conference Finals games.
Betting on the Toronto Raptors
It's too early for the Toronto Raptors to start celebrating. Yes, they displayed a superb performance in Game 3, but the team's still behind in this series, 2-1. A win tonight in Game 4 is going to be almost just as crucial as the previous game.
Surely, the pair of Kyle Lowry and DeMar DeRozan knows that. The two All-Stars registered 20 and 32 points, respectively, in leading the Raptors towards their first ever Conference Finals victory. And needless to say, both will need to bring their A-game again later.
Lowry is averaging 17.6 points, 4.9 rebounds and 6.2 assists this postseason, while DeRozan leads the team with 20.7 points per game.
Other than the mentioned pair, Bismack Biyombo, who grabbed a franchise-record 26 rebounds in the third game, needs to continue being the unexpected X-Factor for the Raps. His presence alone seems to be just enough to intimidate some Cleveland players from penetrating towards the cup. Biyombo is averaging 2.0 blocks per game in the last five games.
Speaking of which, the Raps defense ought to continue playing as physical as possible. They can't allow LeBron James, Kyrie Irving or Kevin Love to find their rhythm at the same time. Both Irving and Love shot below 20 percent from the field in Game 3.
Toronto is 6-1 SU and 3-4 ATS in its previous 10 home games.
Writer's Prediction
The Cavs (-6) win, but they don't manage to cover the spread.
Create a betting account now, and cash in on all the action in the 2016 NBA Playoffs.

Comments
comments