After a strong 3-1 start to the season, the Florida Panthers are struggling to gain ground with three straight losses. It doesn't help that they face one of the hottest teams in the league on the road at Dallas. The Stars continue rolling with their fifth straight win at Pittsburgh on Thursday night, ending their four-game road trip a perfect 4-0.
Can the Stars remain hot? Or will the Panthers drag them back to earth? Read on as we take a look at this primetime matchup. Get some more of Saturday's big games. Check out our complete previews for the Rangers vs. Flyers and Blue Jackets vs. Avalanche.
[sc:NHLArticles ]
Florida Panthers vs. Dallas Stars Preview
Where: American Airlines Center, Dallas
When: Saturday, October 24, 8:00 PM ET
Line: Florida Panthers at Dallas Stars – view all NHL lines
Betting on the Florida Panthers
Jaromir Jagr and Vincent Trocheck each scored a goal, but they were not enough to lift the Florida Panthers in a 3-2 loss to defending Stanley Cup champion Chicago on Thursday night. Jagr now has team-highs of five goals and eight points to lead Florida's offense.
[sc:NHL240 ]Jagr will remain the focal point of Florida's attack heading into this matchup. The Czech has been absolutely stellar in his career against Dallas, scoring 26 points (11 goals and 15 assists) in 25 career matchups. But if he gets shut down, then expect Jagr to set up his teammates as he also shares a team-high three assists with Brandon Pirri, Trocheck and Aleksander Barkov.
Barkov would likely be one of Jagr's outlets for his passes. Barkov has three goals this season, the second-most in the team, as he skates alongside Jagr in the top line. If the scoring duo can't put pucks into the net, then the defense could have a solid outing from sophomore blue liner Aaron Ekblad and goalie Roberto Luongo (2-3-1, 2.17 GAA).
Ekblad is one of the league's elite young defensemen. He has a plus/minus of three thus far this season. Meanwhile, Luongo has been mostly solid with a .934 save percentage. He's 14-8-3 with a 2.16 GAA in 26 career matchups against the Stars.
The Panthers have won four of the past five matchups at American Airlines Center.
Betting on the Dallas Stars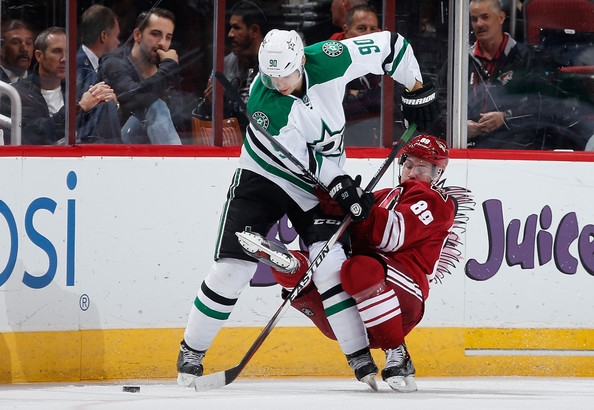 Jamie Benn and Tyler Seguin, Dallas' dynamic scoring duo, have combined for 10 goals and 20 points during the Stars' hot start to the season. But they didn't factor in a dominant 4-1 victory at Pittsburgh on Thursday night.
The other Stars made sure to remind everyone that the team no longer over relies on the scoring of Benn and Seguin. Johnny Oduya, acquired from Chicago, scored his first goal of the season. Mattias Janmark and John Klinberg also added their first goals of this campaign. Jason Spezza is also scorching hot right now with scoring his fifth goal of the season against Pittsburgh.
Don't expect Seguin and Benn to remain quiet against the Panthers, though. Seguin has been lights out against Florida in his career with 13 points and a plus-nine in 15 regular season games against the Panthers. Benn has scored four goals and assisted in five others in eight career matchups.
The Stars also happen to be solid when it comes to goaltending. Kari Lehtonen has won all three of his starts this season, albeit with a 2.35 GAA. Antti Niemi has also been solid, going 3-1 with a 2.00 GAA in four starts. The two haven't been particularly dominant against the Panthers. Lehtonen is 15-8-4 with a 2.50 GAA in 29 games against Florida, while Niemi is 1-3-1 with a 2.39 GAA.
Dallas has won three straight against the Panthers, two with Lehtonen between the pipes.
Writer's Prediction
The Stars continue rolling with a tight 4-3 victory over visiting Florida. Create a betting account now and watch as the stars of the NHL entertain you with goals galore.
[sc:NHL490 ]
1,433 total views, 1 views today
Comments
comments