Most of the WTA's brightest stars have seemingly escaped the first round of action at Wimbledon 2016 without a hitch. One such standout in Garbine Muguruza, however, found it much tougher than others to get rid of her preliminary opponent.
Can Muguruza make quicker and cleaner work of her next foe, Jana Cepelova, this Wednesday?  Let's find out below. And for some even more enticing betting options that same day – this time from the ATP Tour's side of things – check out our previews for Djokovic vs. Mannarino and Federer vs. Willis right after this.
Cash In on the Best Online Sportsbook Offers Now at TopBet!
---
Garbine Muguruza vs. Jana Cepelova Betting Preview
Where: All England Lawn Tennis and Croquet Club – London, England
When: Wednesday, June 29, 2016, 10:30 AM ET
Line: Garbine Muguruza (-900) vs. Jana Cepelova (+550) – view all Wimbledon Women's Singles lines
---
Betting on Garbine Muguruza (-900)
While Garbine Muguruza can't help but feel like a million bucks after winning her first Grand Slam singles title at the French Open this year, it also appears that the added distractions that come with being a champion have also taken a toll on her performances on-court.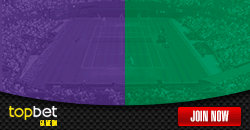 Just this past Monday, Muguruza needed two-and-and-half hours to beat lowly Camila Giorgi from Italy (6-2, 5-7, 6-4) in her first-round match at Wimbledon. Luckily for the right-handed Spaniard, she managed to put in 73 percent of her first serves into play and edged Giorgi in aces, 7-1.
And yet in spite of her woes on grass surfaces of late – she also surprisingly lost in the opening round of the Mallorca Open to un-seeded Kirsten Flipkens two weeks ago – the oddsmakers still consider Muguruza as a solid +500 favorite to win back-to-back major titles this season. Because apart from her exceptional quest at Roland Garros, where she defeated almighty Serena Williams in the final, she also made it to the finale at the All England Club last year, and she'd love to avenge her crushing loss to Serena this time around.
We can only hope that Muguruza finds her proper footing on grass, where she's a rather subpar 16-8 lifetime on the lush surface. But as a truly elite contender on the WTA, you can still count on the 22-year-old Spanish sensation to handle her opponent on Wednesday by any means necessary.
Betting on Jana Cepelova (+550)
Ready to disrupt Muguruza's plans of going deep in Wimbledon this Wednesday is World No. 124 Jana Cepelova, who won her first-round, too-close-for-comfort match on Monday versus 75th-ranked Mariana Duque-Marino (7-5, 7-5).
In that match, Cepelova had to overcome seven aces smashed in by Duque-Marino to her zero, and she also committed four double faults to just one by her Colombian opponent. Thankfully, converting 71 percent of her chances at net points compared to just 56 percent from Duque-Marino proved to be huge in pulling off the relative upset.
Cepelova's no slouch when it comes to duels on grassy turf. In last year's installment of Wimbledon, it was she who upended third-seeded Simona Halep in the very first round of the event. The 23-year-old righty is also currently undefeated in her last four matches on the lawns, albeit that three of them were her qualifying matches for the tournament.
Then again, Muguruza is a different kind of beast herself, and the huge uptick in level of difficulty for Slovakian this Wednesday is apparent. While Wimbledon is the only Grand Slam tournament that Cepelova has qualified for in all five of her attempts as a pro, she has also failed to regain the magic that she had in her tourney debut in 2012, where she bowed out of the third round at the All England Club. She's had disappointing first-round and second-round exits in the years that followed.
Writer's Prediction
Muguruza (-900) needs three sets yet again to eliminate a feisty Cepelova from the tournament.
Create a betting account now to cash in from the exciting men's and women's first-round matches at Wimbledon 2016.

Comments
comments