The Golden State Warriors failed to win the NBA title in front of their home crowd in Game 5. They get another chance to cap their historic season with a championship later at the Quicken Loans Arena, where LeBron James and the Cleveland Cavaliers will be holding court. Read on for a preview of this game.
NBA News & Predictions
---
Warriors vs. Cavaliers Game Six Preview
Where: Quicken Loans Arena, Cleveland
When: Thursday, June 15, 2016, 9:00 PM ET
Line: Golden State Warriors (+2.5) vs. Cleveland Cavaliers (-2.5); total: 208.0 – view all NBA lines
TV Broadcast: ABC
---
Betting on the Golden State Warriors (+2.5)

The Warriors are going in for the kill. They will have to do that, however, minus center Andrew Bogut, whose knee injury he suffered in Game 5 has forced him to miss the rest of the series. While the Warriors lost one piece, they'll get back another one in the form of Draymond Green, who served a one-game suspension following a flagrant foul on LeBron James in Game 4.
Bogut's absence would make Steve Kerr's rotation strategy a bit trickier, but Green's presence should outweigh all the negatives that comes with the Australian being sidelined. With Green on the floor, the Warriors' offensive rating in these playoffs is at 113.7, while the team scores just 103.9 points per 100 possessions when the versatile forward is off the court.
Stephen Curry also has to show why he's a two-time MVP later tonight. He scored a relatively quiet 25 points on an inefficient 8-for-21 shooting from the field in Golden State's 112-97 loss on Monday. Along Klay Thompson's still smoldering hands—Thompson scored 37 points in Game 5 with six threes—a Curry hot-shooting night would be too much to handle for Cleveland, which is on the wrong side of history.
Dating back to 1991, teams on the verge of elimination in the NBA Finals are just 9-21 SU and 10-20 ATS.
Betting on the Cleveland Cavaliers (-2.5)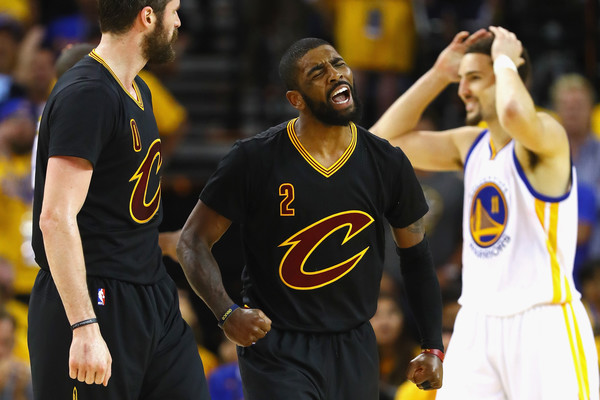 Can the Cavaliers do it again? Can LeBron James and Kyrie Irving pound out another pair of stellar performances? Will Kevin Love realize he's a basketball player, too? So many questions surrounding Cleveland but all these will have to be answered positively by Cleveland if it wants to see a Game 7.
James and Irving had borderline cartoonish numbers in Game 6. James muscled his way to a 41-point night, while Irving also had 41 points on 17-for-24 from the field. As great as those two players are, the rest of the Cavs shouldn't pin all their hopes on James and Irving later tonight. Hopefully, Love knows this, as the stretch big managed just two points in 33 minutes of action on Monday.
With Green back for the Warriors, James will have a harder time carving out space on offense and Love has to step up to help cover for any regression on the four-time MVP's scoring production. Thus far in the series, Love is averaging just 8.8 points and 6.0 rebounds per game.
Just to paint a clearer picture of how bad Love has been of late, Tristan Thompson averages more points (9.6 PPG) and rebounds (10.4 RPG) than the three-time All Star in the Finals.
The Cavs perform better on offense at home, as they are putting up 110.7 points per game in Quicken Loans Arena in the postseason. (They muster 99.6 PPG on the road.)
Cleveland is 8-2 SU and 7-3 ATS in its last 10 home games.
Writer's Prediction
Golden State (+2.5) wins, 115-111.
Create a betting account now and cash in on the NBA Playoffs action.

Comments
comments