Finding a Cinderella team in the NCAA Tournament can be just as tricky as in the fairy tale: sure, you might find someone whose foot fits the glass slipper, but that doesn't mean their a princess nor that they're worth banking on through tournament time.
The truth is there's no fool-proof formula to determine who this year's Cinderella in the NCAA Tournament will be. But that doesn't stop Prince Charming (in this case, everyone armed with a bracket) from desperately continuing to search for Cinderella, even if the little minx ultimately eludes his grasp.
However, some very recent Cinderellas – '08 Davidson, '10 Butler, '11 VCU and '13 Wichita State and FGCU – have given some clues, which at the very least could just point poor Prince Charming in the right direction to great tournament picks and betting riches.
How to Spot a March Madness Cinderella Team
A Low Seed
The first and most obvious criterion a would-be Cinderella has to pass is that it needs to be a low seed. There's a reason the runs of double-digit seeds like VCU, FGCU and George Mason are so memorable: they don't come around very often. Only 20 double-digit seeds have made it past the Sweet Sixteen since 1985, and no team ranked below 8th has ever won the National Championship.[sc:NCAAB240banner ]
Usually, the low seeds are reserved for teams outside the so-called "power conferences" (Big 10, Big 12, ACC, Pac-12, etc). But according to the latest version of Joe Lunardi's bracket, the ever popular North Carolina Tar Heels – currently +7,000 to win the National Championship – could possibly end up a double-digit seed and a Cinderella candidate despite toppling two top 3-ranked schools already this year.
NBA-calibre talent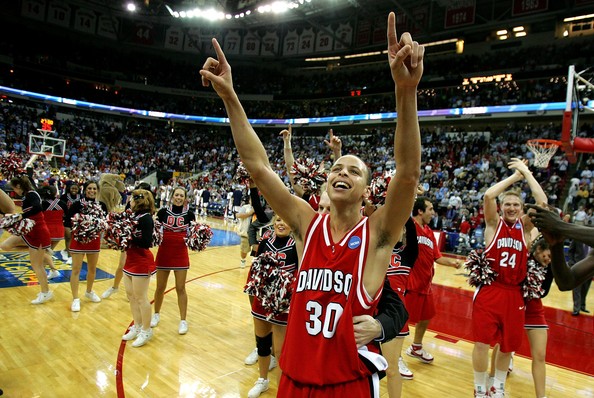 It's definitely a major plus for any college team to be able to call on the services of an NBA-level player, especially in clutch situations. '08 Davidson famously rode the hot hand of the precocious Stephen Curry all the way to the Elite Eight, while the incredible '10 Butler team with a future NBA backcourt, Gordon Hayward and Shelvin Mack almost defeated Duke in the Final.
Baylor – +20,000 to win it all and estimated as a 10-seed – possesses a potential NBA frontcourt of Cory Jefferson and Isaiah Austin, both projected 2nd round picks by NBADraft.net. Likewise, the Tar Heels have the combination of future NBA wings James McAdoo and Marcus Paige who have the potential to explode on any given night.
Do Something Very Well
The key to success for any prospective Cinderella team is to excel in one thing, and impose that style on any opponent – even to a no. 1 seed.
Davidson relied on Curry's prodigious three-point shooting to defeat the #7, #2, and #3 seeds. '11 VCU also excelled at shooting threes (they were 2nd in the nation in both makes and attempts), but they were also 4th in steals, a combination they used to down #1 Kansas.
Last year's darlings FGCU were 5th in the nation in steals, which fed their fast-breaking, alley-oop brand of basketball. This year, Belmont could be a dangerous team for any higher seed because of their ability to score anywhere on the court. The Bruins are 6th in overall FG % (they rose to 3rd on two-pointers) and 4th in three-pointers made. Similar to 2011, VCU could make noise again in the tournament by forcing turnovers (the Rams are 1st in the nation in steals).
Who will emerge as this year's latest Cinderella story? Visit Top Bet sportsbook's NCAA Tournament Futures and you too might live happily ever after. [sc:NCAAB490Banner ]
1,965 total views, 1 views today
Comments
comments