---
At TopBet Casino, there's more to it than simply hitting the virtual casino floor and having a crack at your favorite casino fixtures. The site offers a bevy of free tournaments for your games of choice to spice up your playing experience, at the same time providing bigger and better opportunities to win even more money.
Here's a brief overview of what you can expect from those free tournaments and how you can join in on the action instantly.
---
Cash In on the Best Online Sportsbook Offers Now at TopBet!
---
How to Play in TopBet's Free Casino Tournaments

Why play in a free casino tournament? It's totally free, and you can win real money!
Not only is TopBet Casino one of the most beloved online casinos around with its user-friendly interface and simple gaming instructions, it also offers plenty of free buy-in casino tournaments for even greater chances of winning the big bucks.
Interested in knowing more about and joining these tournaments? Read on as we tackle the basics to get you stared.
Top Bet Casino Tournaments
Just what exactly are casino tournaments? In essence, casino tournaments are free- and real-money events for TopBet casino games with a kick. Instead of simply playing your favorite casino game as you normally would, these tournaments enhance your gaming experience by having you compete with other players' progress at the same game for an even larger prize pool at stake by way of freerolls or reasonable buy-ins.
There are freeroll tournaments in TopBet Casino aplenty, with weekly and even daily tournaments being dished out constantly. Having said that, you'll be given even more opportunities to increase your bankroll at any given time!
Feel free to check out TopBet's free-money and real-money tournament schedules on the links provided here. Take note: slots for these tournaments fill-up quickly, so make sure you register early!
Where to Find Them
As of the moment, TopBet Casino has eight (8) regular tournaments being held for the year: the Weekly $500 MNF Blackjack, five (5) Daily Cash Grab tournaments, the Wednesday Welcome Wagon and the MVP Lounge — all of which have FREE buy-ins.
And when big sporting events come around (Super Bowl; College Bowl Games; March Madness), the site will have new thrilling tournaments to commemorate such occasions.
Just click the "ENTER NOW" button from the casino's tournament pages and you'll be redirected to TopBet's casino lobby. Then, click the "TOURNAMENTS" icon as such:
This will then take you to the casino tournament lobby:
From the casino tournament lobby, select the tournament you want to join (in this example, it's the "Daily Blackjack Tournament"), then click the "ENTER TOURNAMENT" button to register and join that tournament.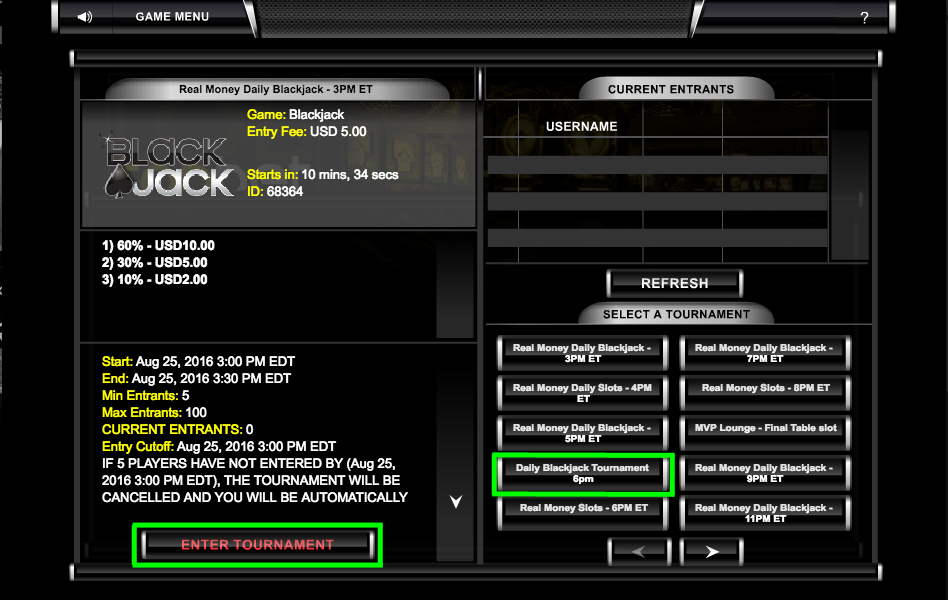 There are other pertinent information about the tournament on this page, including your Entry Fee (which is free in this example), Type of Game (Blackjack), Start and End Time of said tournament, and the potential payout for your order of finish on the tournament's leaderboard.
Make the most out of the site's freeroll tournaments right now to win even more money than your usual day of wheeling and dealing! If you don't have a TopBet Casino account yet, sign-up for one today!

2,236 total views, 3 views today
Comments
comments