Tom Brady has long been regarded as one of those "clutch" quarterbacks, capable of leading his team to miraculous comebacks (see: Pats-Broncos, 2013). But is the up-and-coming Andrew Luck ready to out-clutch Brady and the Patriots right out of the playoffs?
NFL Football Betting Preview: Colts vs. Patriots
Game Details:
When: 8:15 PM ET, January 11, 2014 [sc:NFL240banner ]
Where: Gillette Stadium, Foxborough, MA
Odds:
*As of January 6, 2014
Spread: Colts (+7) vs. Patriots (-7)
Money: OFF
Totals: 53.0
Betting on the Indianapolis Colts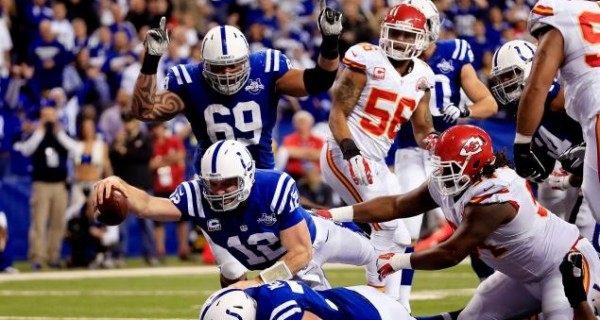 Andrew Luck continues to amaze, especially in crunch time. In just his second year, Luck has already led eight 4th quarter comebacks and 11-game winning drives, the latest (and greatest one yet) coming in last week's historic 28-point comeback over the Chiefs in Kansas City.
Even without MVP candidate Jamaal Charles, the Colts still surrendered 31 first half points to the Chiefs and 150 yards rushing for the game. Luck didn't help his cause either, tying a career-high three INTs, while Trent Richardson fumbled his only carry of the game.
Luckily for the Colts, Luck went to work in the 2nd half, where he had a hand in four of their five touchdowns. Luck finished with 443 yards and 4 passing TDs, almost half of which (224 yards and 2 TDs) went to T.Y. Hilton, who has stepped up as the primary receiver in the absence of Reggie Wayne. Hilton's chops as a true #1 receiver will be tested when he gets matched up with the Pats' Aqib Talib.
Despite the Colts' troubles defensively last week, they still have arguably the most game-changing defender in the contest with Robert Mathis (19.5 sacks, 1st in NFL), whose strip-sack of Alex Smith was key in the Colts comeback against KC. However, he might not have a chance to affect the game much if the Colts run defense (125 yards/game, 26th in NFL) fails to stop the Patriots' flourishing ground game.
Bet now on the Indianapolis Colts.
Betting on the New England Patriots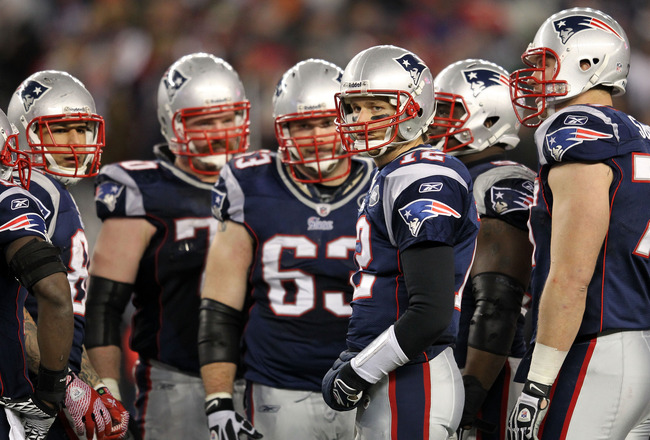 Coming off their bye, the New England Patriots will once again begin another playoff run at home, where they went an undefeated 8-0 SU (6-2 ATS) this season. The Pats bounced back from a Week 15 loss at Miami with two big wins over the Ravens and Bills to end the regular season 5-1 SU. [sc:NFL240banner ]
Tom Brady only threw for 294 yards combined in the two games, but the running game more than compensated. LeGarrette Blount – now the featured back due to Stevan Ridley's fumbling issues – accounted for 189 of New England's 267 rushing yards in the finale against Buffalo. He's also scored 2 TDs in each of his last two games.
Brady could find more success against a Colts secondary that got burned by Alex Smith for 378 yards and 4 TDs, two of which came from over 60 yards out. The Colts also gave up 150 yards rushing to a Chiefs team that lost Jamaal Charles early in the game.
The Pats are 2-0 SU in their two previous home meetings against the Colts in the playoffs and are 3-0 SU in their last 3 regular season games. They met last season in Gillette Stadium when Indy was annihilated, 59-24. Luck had 334 yards and 2 TDs, but threw a career-high 3 INTs, tying that number against the Chiefs last week.
Bet now on the New England Patriots.
1,665 total views, 1 views today
Comments
comments