Time to bring out the strawberries and cream as we get set for an exciting first round match to kick-off Wimbledon 2015. Coming off of an impressive showing at the French Open, Jo-Wilfried Tsonga looks to make another good run in the ATP's third Majors event of the season. His opponent, Gilles Muller, is also playing some inspired tennis as of late.
Read on as we preview a clash between these two tested veterans set to battle at the All England Club. Stay on top of all the Wimbledon action by checking out the event's complete schedule, as well as our early predictions and picks.
[sc:TennisArticles ]
Jo-Wilfried Tsonga  vs. Gilles Muller Betting Preview
Where: All England Lawn Tennis and Croquet Club, London
When: Monday, June 29, 4:00 PM ET
Line: Jo-Wilfried Tsonga (-200) vs. Gilles Muller (+160) – view all Wimbledon lines
Betting on Jo-Wilfried Tsonga
France's very own Jo-Wilfried Tsonga was two wins away from taking home his first ever Grand Slam title earlier this month at Roland Garros, but eventually lost in the semifinals round to the eventual French Open champion, Stan Wawrinka. Still, Tsonga has a lot going his way heading into his first round match at Wimbledon.
[sc:Other240banner ]The 30-year old Frenchman is well-rested entering London's prestigious tournament with his last event being the French Open itself which ended on the first week of June. He has a 22-7 record at Wimbledon with career-best finishes in the semifinal rounds of the event back in 2011 and 2012.
And while Tsonga is still seeking his first Grand Slam title, he has fared well in such marquee events. He boasts an 89-29 record at Majors tournaments in his career, and has not lost in the first round of any Grand Slam event since the 2007 Australian Open.
Tsonga has got to be thrilled as well to be back at playing on his favorite surface. The World No. 12 has won 71 percent of his matches played on grass with his 38-15 record.
What Tsonga could have done in preparation for Wimbledon, though, was take part in either the Queens Club Championships or the Gerry Weber Open earlier this month – two tournaments played on grass – to get his rhythm set for Wimbledon's turf. It will be interesting to see how Tsonga performs at the All England Club by opting to take about three weeks off instead of tuning up at a tournament played on the lawn.
Win big from all the Wimbledon action, and create a betting account now.
Betting on Gilles Muller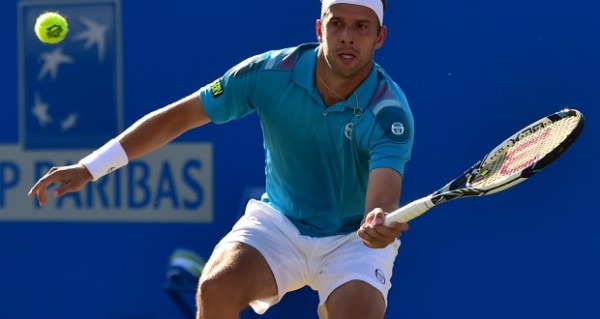 Not one to shy away from a challenge, Luxembourg's Gilles Muller plans to become the dark horse at Wimbledon this year. He has a 20-13 record this season, and has reached the quarterfinal round or better in six out of the 13 events that he participated in. Most recently, he gave third-ranked Andy Murray quite a handful by going three sets in a loss at the quarterfinals of the Queen's Club Championships earlier this month.
However, Muller has not been known to excel at Grand Slam events. He is only 6-7 at Wimbledon in his career, and 25-28 in the four Grand Slam tournaments overall. The 32-year old has reached no better than the third round at the All England Club, and those happened back in 2005 and 2011. Furthermore, he has five first round exits in his past 10 Grand Slam tournaments.
The World No. 44's first round Grand Slam woes could very well end this Monday, as he has a 2-1 record against Tsonga. The last match where they faced off against each other was last year at the Moselle Open in Metz. Even though Muller lost that match 7-6(7), 6-4, he out-aced Tsonga 15-10, and won 84 percent of his chances at points on first serve.
Muller's victories over Tsonga also have to be taken with a grain of salt, as those two victories were from way back in 2005 and 2007 – back when Tsonga was still earning his brass at the ATP Challenger levels.
Writer's Prediction
Tsonga (-200) coasts his way to the next round with a straight-sets victory over Muller.
[sc:Other490banner ]
2,836 total views, 1 views today
Comments
comments