"Manziel declares for the NFL Draft! Manziel declares for the NFL Draft!"
The inevitable became official when it was announced Wednesday that Johnny Football had filed the necessary paperwork to declare himself eligible for the 2014 NFL Entry Draft. [sc:Other240banner ]
The 2012 Heisman winner — and first ever freshman recipient of the award — put up 7,820 yards passing and a behemoth 2,169 rushing yards over his two-year career at Texas A&M. He also accounted for 63 TDs through the air and 30 on the ground as he scrambled his way to becoming a household name across the nation.
Though any NFL team would salivate at the chance to draft this playmaking machine, Louisville QB Teddy Bridgewater is still widely considered the best quarterback prospect in the draft class. UCF's Blake Bortles and Fresno State's Derek Carr are also in the upper echelon of quarterback prospects in this year's draft, and all possess a frame better-suited than Manziel's for the pro game.
Wednesday's announcement has football fans everywhere wondering the same thing: Where will this human highlight reel end up playing NFL ball?
Johnny Manziel NFL Draft Day Scenarios
1) Manziel is Drafted by the Houston Texans First Overall
This first scenario is highly unlikely, but still a possibility. Houston's need for a franchise QB is undeniable after Matt Schaub's meltdown in 2013, but Teddy Bridgewater is still the consensus top prospect at the position, and there would have to be something extremely appealing to the Texans brass about Johnny Football's game to convince them to take him over the Louisville gunslinger.
Outstanding playmaking ability? A history of defying the odds and limitless wild card potential?
Who wouldn't love to see Johnny play some more football in the state of Texas?
2) St. Louis Bails on Bradford, Takes Manziel with the Second Pick
A former Heisman winner himself, Rams' QB Sam Bradford went down in Week 7 with a knee injury and missed the rest of the season. There's an outside chance that the Rams could be questioning Bradford's abilities as a starter, and they may be interested in taking a chance on a QB with the pick that they got from the Washington Redskins.
What's more likely is that they add Jadeveon Clowney to their already formidable pass rush, or trade down with a team that's gone bananas over a player and absolutely must have him at number two.
Which brings us to prediction number three…
3) Jerry Meets Johnny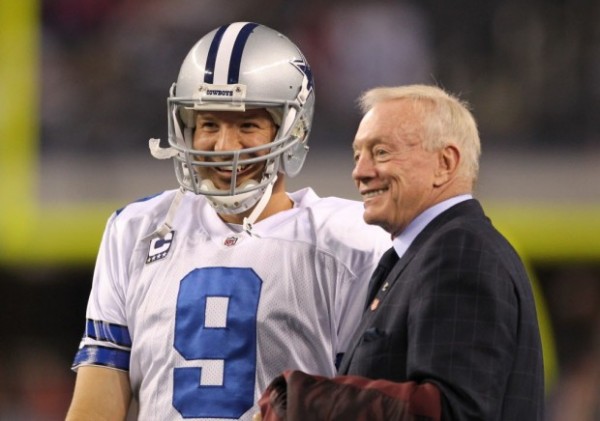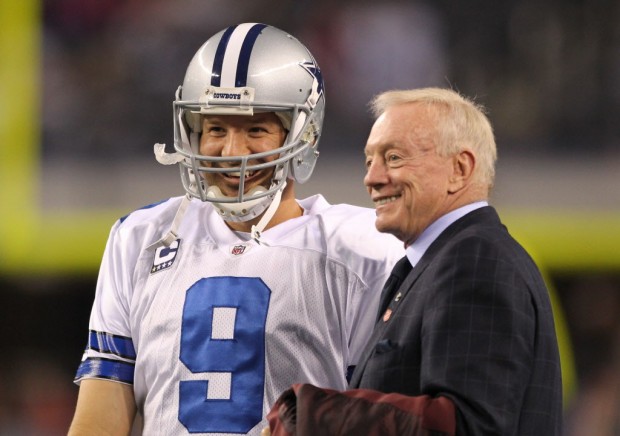 Johnny Football is a marketing department's dream, having already achieved celebrity status and national recognition in his two years at Texas A&M. Jerry Jones loves money, and Manziel would make it rain for a team with a following as massive as that of the Cowboys.
Many believe that the Cowboys would have done good drafting a replacement for Romo years ago, grooming and preparing that player to take the job when Romo's body started to age and wear — as it appears to be now with his back issues.
If the Romo era is over in Dallas, then Johnny Manziel is the perfect fit to take the reigns of America's Team. There are a few scenarios that would allow this to happen, two of them being:
Dallas trades up to take Manziel (possibly working a deal with St. Louis?).
Johnny slips to 16th or 17th due to concerns about his lack of size and/or off-the-field issues and Cowboys fans rejoice (this is highly unlikely, we think).
4) Johnny Takes His Act to Jacksonville or Cleveland
Both of these teams need a franchise quarterback, but some might think Jacksonville would be better suited to take a guy like Buffalo's Khalil Mack, who currently holds the all time NCAA record for forced fumbles.
Another side of the argument is that either team could be convinced to take UCF's Blake Bortles, who is coming off an impressive win in the Fiesta Bowl. Some people, like CBS' Dan Brugler, have Bortles going as high as number one (not us, of course).
All that said, both teams need an elite playmaker who can make them a more dangerous team from day one of the 2014 season, and many believe that Johnny Manziel is perhaps the best fit for that profile.
5) Johnny Manziel, Minnesota Viking?
Would love to see Johnny Manziel in a @Vikings uniform. This guy is the real deal. He will be a big time player on Sundays. #NFL @jmanziel2

— Fran Tarkenton (@Fran_Tarkenton) January 8, 2014
Heard @MelKiperESPN on @sportscenter comparing @jmanziel to me. I agree- #Manziel is a football savant. Can't teach what he does. #TAMU

— Fran Tarkenton (@Fran_Tarkenton) January 8, 2014

Ex-Viking Fran Tarkenton seems to think that Manziel would be a good fit in Minnesota, and why not? Their need for a franchise QB is also dire, and if Manziel happens to be around at number eight, then we doubt the Vikings would hesitate to take him.
The more difficult decision, perhaps, is whether or not the Vikings want to pay the price to trade up and grab one of the top tier QBs in this year's draft. The Texans, Jaguars, Browns and Raiders all have a justifiable need to improve at the quarterback position, and the Vikings will either have to bank on players from other positions swaying the teams ahead of them, or another team being willing to deal their high pick.
Imagine Adrian Peterson and Johnny Manziel running show for the same offense.
Just think about it.
While you wait for draft day, and for next fall when Johnny Football suits up for one lucky NFL team, you can head over to the sportsbook and check out lines and futures odds for the NFL and NCAA.
2,332 total views, 1 views today
Comments
comments