[sc:NFL250 ]The Kansas City Chiefs ended their postseason draught in style, taking a dominant road victory against the Houston Texans. The Chiefs scored a touchdown on the opening kickoff and never looked back en route to a 30-0 victory. The Chiefs now face the New England Patriots, who will be well-rested ahead of Sunday's Divisional Round showdown.
The Patriots missed out on taking the No. 1 seed with an upset against Miami in Week 17. But they may be ready to roll especially with top receiver Julian Edelman possibly suiting up for the first time since Week 10.
Who will join the winner of this matchup in the AFC Championship game? Check out our complete preview for the Steelers vs. Broncos game pegged for Sunday afternoon.
[sc:Football ]
Kansas City Chiefs vs. New England Patriots Preview
Where: Gillette Stadium, Foxboro
When: Saturday, January 16, 4:45 PM ET
Line: Kansas City Chiefs (+5) at New England Patriots (-5); total: 43.0 – view all NFL lines
TV Broadcast: CBS
Betting on the Kansas City Chiefs
The Kansas City Chiefs had gone 22 years without a playoff victory ahead of their Wild Card game against the Houston Texans. They poured everything they had to end that draught as they totally demolished Houston, 30-0, to set up a date against the New England Patriots in the Divisional Round.
[sc:NFL240banner ]The last time the Chiefs faced New England, they had a rude welcome for Tom Brady at Arrowhead Stadium. They beat up the Patriots 41-14 on the strength of Jamaal Charles. But the circumstances surrounding this game are much different. The Chiefs will play on the road, and they'll be without Charles (torn ACL).
Nevertheless, the Chiefs' rushing offense remains solid. They torched the Texans with 141 yards and a score in their Wild Card matchup on the strength of running back Spencer Ware. Ware had 67 yards and a score on 16 carries. Meanwhile, quarterback Alex Smith was solid with his scrambling, adding 27 yards on five carries.
Don't expect to have Smith running all around the field, though. He's been pretty effective throwing the ball recently. Smith has 11 touchdowns and five interceptions in his last seven games dating back to Week 12 of the regular season. He completed 77.3 percent of his passes for 190 yards with a touchdown and an interception against the Texans on Saturday.
Tight end Travis Kelce was Smith's prime target, hauling in team-highs of 128 yards and eight receptions. Kelce had a big game against the Patriots in the teams' last meeting last regular season with 93 yards and a score. He could explode for another huge outing considering that the Patriots' passing defense has looked lackluster the past three games, allowing 296 yards per game.
Kansas City's defense has also looked amazing recently. They've allowed just 11.6 points per game in their last 11, including Saturday's Wild Card shutout. The Chiefs forced five turnovers (four interceptions and one fumble recovery) against Houston. Kansas City could be up for another dominant defensive performance if they can catch a New England team looking to play through an early deficit.
The Chiefs are 8-3 ATS in their 11 game win streak.
Betting on the New England Patriots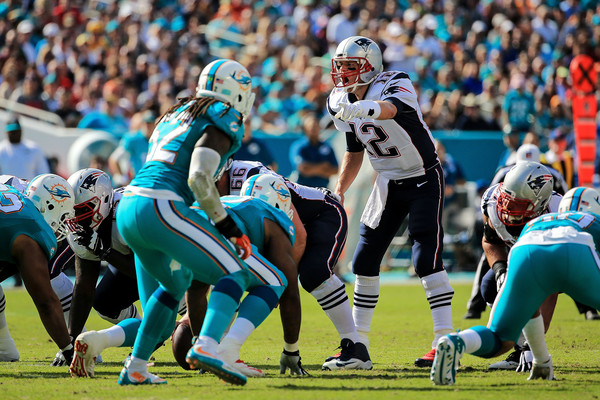 The New England Patriots ended the regular season on a bad note, dropping four of their last six games. But they still finished with a first-round bye for some much needed rest with all their injury issues. Quarterback Tom Brady injured his ankle in the regular season finale against Miami, while wide receiver Julian Edelman, offensive lineman Sebastian Vollmer, linebacker Dont'a Hightower and defensive end Chandler Jones should all be back for the playoffs after missing time.
One player the Patriots won't get back is No. 1 running back LeGarrette Blount, who's on injured reserve due to complications with his hip. Without Blount powering the backfield against a rock solid Kansas City defensive line, expect New England to use Brady's strong arm as their primary weapon.
Brady is arguably the best quarterback in the AFC, finishing the regular season with a conference-high 35 touchdown passes. He'll likely have Edelman back to power the receiving corps. Edelman finished the regular season with 692 yards and seven scores in nine games. But even if Edelman is rusty, the Patriots could rely on Danny Amendola as the No. 2 option. Amendola had 648 yards receiving in the regular season.
The Patriots' wide receivers are capable to get off some big gains. But tight end Rob Gronkowski has been a dominant player downfield. He leads the Patriots with 1,176 yards and 11 touchdowns. He also leads all New England receivers with 16.3 yards per catch (minimum of 10 catches). Gronkowski will need to work overtime, though, to get open for Brady. The Chiefs have one of the best passing defenses in the league, ranking ninth in the regular season allowing just 231 yards per game.
New England could get so much more dangerous on the other side of the ball with Hightower and Jones back to power the front seven. Jones is the best pass-rusher on the team with 12.5 sacks. Hightower has also had his moments getting to opposing quarterbacks with 3.5 sacks in the regular season. Assuming they haven't lost a step, they should have their moments against a vulnerable Kansas City offensive line which gave up three sacks in the Wild Card game.
The Patriots are 4-1-2 ATS in their last seven games at home.
Writer's Prediction
The Patriots halt Kansas City's hot streak with a dominant home victory. Create a betting account now and catch the best NFL Playoff action around.
[sc:NFL620 ]
3,472 total views, 2 views today
Comments
comments