Following another close game against old rivals Florida, the Kentucky Wildcats are still undefeated at 23-0 in the season. They face another tough test on the road when they take on the LSU Tigers. Does LSU, with its new starting lineup, have what it takes to hand the Wildcats their first loss this season? Read on as we give you a complete preview of this intriguing SEC game.
Looking for more college hoops action to keep you occupied? Check our previews for the Notre Dame vs. Clemson and Villanova vs. Providence games.
[sc:MarchMadness ]
Kentucky Wildcats vs. LSU Tigers Preview
Where: Pete Maravich Assembly Center, Louisiana
When: Tuesday, February 10, 7:00 PM ET
Line: Kentucky Wildcat at LSU Tigers – view all NCAA Basketball lines
Betting on the Kentucky Wildcats
No. 1 Kentucky had another scare on the road against SEC rivals, the Florida Gators. Aaron Harrison scored 23 points and Karl-Anthony Towns had 19 to edge Florida 68-61, failing to cover the eight-point spread.
[sc:NCAAB240banner ]The Wildcats struggled from three-point range at Florida. Only Harrison managed to sink in his three pointers (he went 3-for-6) as the rest of the team combined to go 0-for-5. Kentucky may once again struggle from downtown on the road. LSU has held opponents to shoot 32 percent from three-point range in its home games this season.
But Kentucky can also do a lot of damage inside. Kentucky's big men in Willie Cauley-Stein and Towns have dominated in the paint recently. Towns has averaged 15.3 points over his last three games, while Cauley-Stein has averaged 10.3. LSU has allowed 38 points per game from two-point range this season.
What could give Kentucky the edge in this game is the team's ability to score off turnovers. The Wildcats scored 17 points off turnovers against Florida. Prior to that game, Kentucky had outscored opponents by 9.5 points per game off turnovers, the second-best mark among major conference teams. Expect Kentucky to dominate this aspect of the game, especially with LSU ranking 331st in the nation with 15.3 turnovers per game.
The Wildcats are undefeated over their last four games, but have gone 0-4 ATS in those games.
Want to ride the Kentucky hype-train? Create a betting account now and back the hottest team in college basketball.
Betting on the LSU Tigers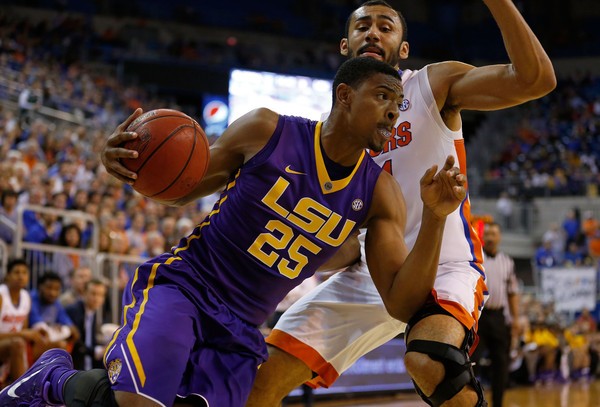 A change in the LSU Tigers' starters proved to be the catalyst to get them out of a two-game hole. Tim Quarterman and Jalyn Patterson were inserted into the starting lineup to help LSU to a fast start in their 71-60 win ove Alabama. Quarterman scored 15 points, while Patterson had six points, four assists, seven rebounds and two steals for contributions across the court.
Two familiar faces did most of the damage for the Tigers as Jordan Mickey and Jarell Martin combined to 40 points. Mickey had 24 points and 12 rebounds for his 14th double-double of the season. He went 7-for-11 from the field and added a season-high 10 foul shots. Martin also had a good night from the field going 6-for-10 for 16 points.
If the Tigers can once again get to a fast start, then they may be able to put Kentucky into a deep hole. They also have the a good defense that can help maintain any lead by forcing the Wildcats to some turnovers. LSU has averaged eight blocks (third in the nation) and 8.2 steals (34th in the nation) per home game this season.
LSU is 4-1 ATS in its last five games against Kentucky.
Writer's Prediction
Kentucky's excellent run comes to an end. Take LSU to cover.
[sc:NCAAB490Banner ]
1,666 total views, 1 views today
Comments
comments