With the Selection Sunday only a couple of weeks away, bettors are digging into the odds and lines to pick their March Madness winners. Today we look at some of the most interesting teams to bet on to win the Big Dance in our weekly odds update.
March Madness Odds Update
The Unlikely Underdog: Kentucky Wildcats
With a hoard of top college recruits, the Kentucky Wildcats were installed as the overwhelming favorites to win the NCAA Tournament even before the regular season started. John Calipari's squad was then priced +380 and was the AP poll's preseason No. 1-ranked team. Sixteen weeks later, the Wildcats are ranked No. 18 in the same poll, and the value for bettors has improved dramatically, up to +1,800.
The Favorite: Florida Gators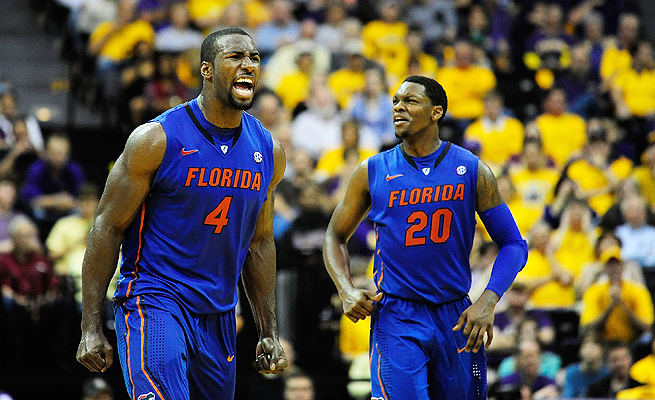 In each of the past three tournaments, the Gators have fallen in the Elite Eight. This season, Florida is once again a legitimate contender. After being ranked No. 10 in the preseason AP poll, Florida has climbed back into the driver seat with 21 straight wins and is now the favorite to win it all at +500.
The Best Value: Syracuse Orange
[sc:NCAA240banner ]It took a while but the Orange finally lost their first game of the season in February, and then twice more over their next three games, including a major loss to Virginia on Sunday. Still, Syracuse remains a solid bet for the tourney, boasting one of the nation's best defenses and two of its best clutch shooters in C.J. Fair and Tyler Ennis. Cold streak and all, the Orange were still the No. 1-ranked team for most of the season and are now available at +1,200.
2014 NCAA Basketball Tournament Odds to Win Round Up:
| Rank | School | Odds to Win NCAA Title |
| --- | --- | --- |
| 1 | Florida | +500 |
| 2 | Wichita State | +800 |
| 3 | Arizona | +800 |
| 4 | Duke | +1,000 |
| 5 | Virginia | +1,200 |
| 6 | Villanova | +2,500 |
| 7 | Syracuse | +1,200 |
| 8 | Kansas | +600 |
| 9 | Wisconsin | +2,000 |
| 10 | San Diego State | +5,000 |
Got a favorite in mind? Bet the NCAA Championship now while the prices are where you want them. And don't forget to check back regularly for all things March Madness as we continue to preview all the action at Top Bet, America's best online sportsbook.
[sc:NCAA490banner ]
1,548 total views, 2 views today
Comments
comments