Betting Preview: Monday Night Football
Pittsburgh Steelers at Cincinnati Bengals
When: 6:55 PM ET, September 16, 2013
Where: Paul Brown Stadium, Cincinnati, Ohio
Odds:
Money: Steelers (+250) vs. Bengals (-300)
Spread: Steelers (+7.0) vs. Bengals (-7.0)
Over/Under: 40.5
Betting on the Pittsburgh Steelers:
Things could not have gone any worse for the Pittsburgh Steelers in Week 1.
Already without Heath Miller and rookie La'Veon Bell on offense to begin the season, the Steelers received even more bad news when Pro Bowl center Maurkice Pouncey went down with a season-ending knee injury in their 16-9 home loss to the Tennessee Titans.
Three other Steelers left the game due to injuries, including veteran LB Larry Foote, who ruptured his biceps and is also gone for the season.
The key loss, however, is Pouncey. He was expected to lead a young and inexperienced offensive line to protect Roethlisberger and create lanes for their underwhelming running backs. With him gone plus Miller and Bell still missing, the banged up Steelers offense will suffer.
With the Steelers hurting in the injury department, their defense will need to keep them in games. They allowed an NFL-best 275.8 yards per game last season and limited the Titans to just 229 total yards, giving up only one touchdown and three field goals. But the competition will get markedly tougher in the coming weeks, beginning with the Bengals.
Injuries aside, Pittsburgh should still be confident going into Cincinnati. The Steelers are unbeaten in their last three trips to their AFC North rivals. Bet now on the Pittsburgh Steelers.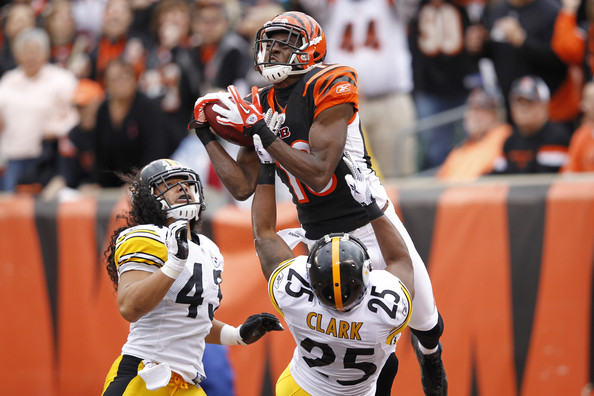 Betting on the Cincinnati Bengals:
Many picked the Bengals to be good this year; some even picked them to win the Super Bowl. But that hype got somewhat tempered by their 24-21 Week 1 loss to the Bears.
Andy Dalton (282 yards) and AJ Green (9 receptions, 162 yards) already looked to be in midseason form, hooking up for two touchdowns. But Geno Atkins, James Harrison and the Bengals defense were unable to record a single sack on Jay Cutler in Week 1.
Monday Night's main storyline will undoubtedly be Harrison's reunion with his former club since leaving in the offseason. The Steelers opted against re-signing the former stalwart linebacker, who promptly jumped ship to their division rivals.
Harrison has stated that he harbors no hard feelings toward his former team, but the Bengals should hope that he won't have any problems sacking his old buddy Ben Roethlisberger. With the Steelers' offensive line significantly weakened, the former Steeler could have an easier time reacquainting himself with Big Ben.
If the Bengals have any hopes of living up to those Super Bowl predictions, they must beat their ailing divisional rivals at home on Monday Night. Bet now on the Cincinnati Bengals.
2,312 total views, 2 views today
Comments
comments