Seeing as we all had our NCCA March Madness brackets busted by some bat-eating bastard overseas, the sports betting world is desperate for a tournament. Filling out a bracket and making picks is one of America's favorite pastimes, but with an extremely lean schedule there's little in place to fill this void. Yes, you can complete your 2020 NFL Mock Draft first round bracket here, but you still have to wait until April 23rd to get the results and reap the financial rewards for making savvy picks. Fret not, because the NBA has stepped up in the regular season absence to offer a unique tournament that you can bet on.
That's right, this Friday night on ESPN is the first live airing of the NBA 2K Players Tournament. The eSports affair features 16 NBA players, including some household names, going head to head from the comforts of their respective homes. The tournament is complete with a seeded First Round so you'll enjoy an entirely new version of the Sweet Sixteen, NBA 2K style. We have provided the bracket below, but don't forget to sign up to make picks that may result in a serious payday.
Click here to make your NBA 2K20 picks

First Round Bracket for the NBA 2K Players Tournament on April 3 2020
Where: Virtual (online)
When: Friday, April 3, 7:00 PM ET
Live Broadcast: ESPN and ESPN2
---
NBA 2K Players Tournament Bracket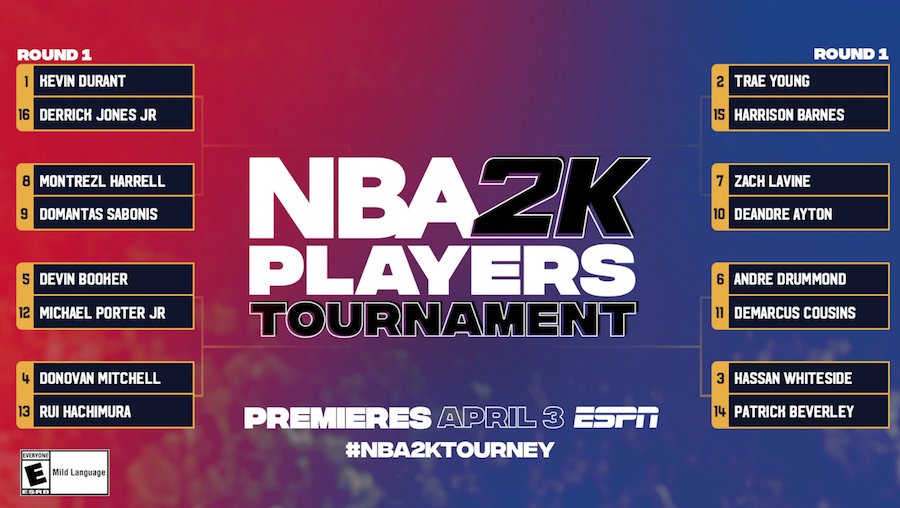 ---
Now that you have access to the bracket, you're going to need some help making your picks. Sure, you could go with personal player and team favorites, but betting with your heart rarely results in a successful run. Instead, you need to make more educated picks on this exciting (all things considered) NBA tournament. Below we have laid out full and FREE access to official betting odds in addition to our editorial team's pick for the tournament winner, along with predictions for some of the more highly anticipated (based on trending online search) matchups for this Friday's big event.
NBA 2K Players Tournament Winner Odds (here)
NBA 2K Players Tournament First Round Player Matchup Odds (here)
NBA 2K Players Tournament Picks and Predictions (here)
Kevin Durant vs Derrick Jones Jr. Prediction (here)
Trae Young vs Harrison Barnes Prediction (here)
Andre Drummond vs DeMarcus Cousins Prediction (here)
---
Be sure to watch and wager on this event. The more viewers on ESPN and more Vegas action the more likely this will maintain as a weekly thing until the NBA season finally resumes. Get started by registering to claim an industry leading 150% sign-up bonus.
Click here to make your NBA 2K20 picks

1,374 total views, 1 views today
Comments
comments