NCAA's "power conference" hasn't been all too powerful in recent years. Will this be the season the Pac-12 reasserts its authority in college hoops?
Top 5 NCAA Basketball Predictions for the Pac-12
1. The National Champion won't come from the Pac-12 – again
The Pac-12 has not provided an NCAA national champion in over 17 years, a drought that won't end this season. Arizona – the last team to win it all back in 1997 – looked like the team to beat this year, but Brandon Ashley's injury has put the Wildcats' status as elite contenders in doubt.
2. The Pac-12 will send its most March Madness bids since 2009
The last time the Pac-12 had more than five teams in the tournament was back in 2009.  The conference seems set to finally break that barrier this season, with as much as six teams in line to make it. Arizona and UCLA are locks, with Stanford, Arizona State, California and Colorado set to follow them.
3. Arizona will claim the regular season title
With the regular season winding down, Arizona will be tough to catch for its first regular season championship under the new Pac-12 alignment. Two of the Wildcats' remaining four games are at home, where they're undefeated this season, while their remaining road games will be against the two sub-.500 Oregon schools.
4. UCLA will be crowned Pac-12 tournament champions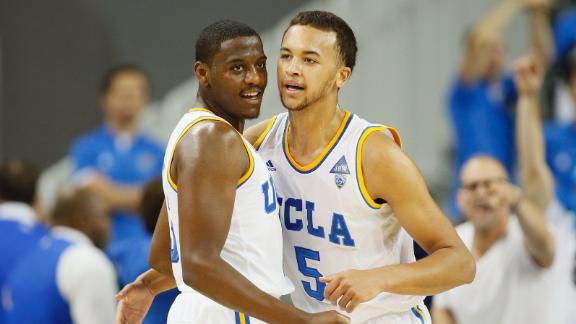 History dictates that the Pac-12 tournament champion will come from one of the top 3 seeds. Those teams have won the title 15 out of 16 years. Of the three contenders this year, UCLA is a great bet to come away victorious.
They lost to Arizona by just 4 points with Brandon Ashley still playing. Without Ashley, the Bruins and their top 10 offense in the nation look set to capitalize on the Wildcats' weakened scoring.
5. Only one Pac-12 team will reach the Sweet 16
Yes, the Pac-12 will once again have the quantity of bids, but it doesn't nearly have the quality for its teams to make significant runs. Of the six likely bids, only Arizona and UCLA are projected as the higher seeds. And should the Wildcats' depth issues creep up during the tournament, the conference will see its contingent dwindle to just a solitary team come the Sweet 16.
With March Madness and the conference tournaments approaching, it's a great time to bet on college basketball at Top Bet, America's best online sportsbook.
[sc:NCAA490banner ]
2,291 total views, 2 views today
Comments
comments