College football has already provided us with an exhilarating nine weeks full of explosive offense, budding superstars, powerhouse teams and stunning upsets.
Though the game is exciting and fun to watch, it can be just as sad and devastating when injuries occur, especially those that will potentially spell doom for a team or an athlete's career.
These following power conference teams are going through tough times now that their key players are down. For bettors, they must consider whether these teams, who have played well this year, either straight-up or against-the-spread, are still worth it to bet on in Week 9 and beyond.
College Football Injury Updates and Outlooks:
1. Oregon
Oregon has fared amazingly well without their ace running back De'Anthony Thomas, who has not played since injuring his ankle on September 29.
With Marcus Mariota and that explosive offense, imagine how much more unstoppable the offense will be now that Thomas is coming back?
It could be enough to cover even the biggest of spreads. The Ducks are 6-1 ATS this year as they have covered big spreads for their first six games until failing to do so as 40-point favorites last week. Depending on the Ducks' performances in the next few games, we could see a moderate raise, if not a huge one, in the spreads and the totals in their remaining games.
2. Texas
The Texas Longhorns will go into their game against the TCU Horned Frogs with a brim of confidence coming from their Golden Hat victory in the Red River Rivalry game two weeks ago. The bye week is crucial for Texas as they can plan for their next game without starting quarterback David Ash.
Ash won't suit up this week against TCU, the school announced late Sunday. Ash has been ruled out due to the "lingering effects" of the concussion he suffered in Texas' loss to Brigham Young on September 7.
Case McCoy will continue starting in place of Ash, who has not played in either of Texas' last two games.
The Longhorns are on a three-game winning streak and barring any disaster with McCoy and more importantly, Ash, expect Texas to gain more wins with a relatively easy next three games before drawing top-25 Oklahoma State.
3. Ole Miss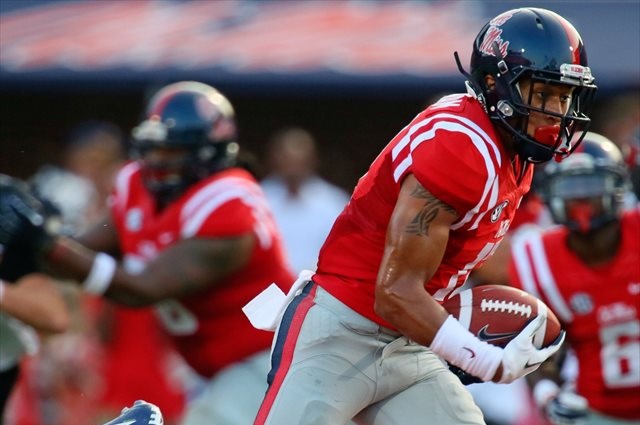 Ole Miss lost another key player when tight end Evan Engram chose to undergo season-ending ankle surgery. Engram was injured during the second half of their 27-24 win against No. 6 LSU.
Engram, a freshman, had been the biggest surprise in the class of 2013. He was fourth on the team in catches (20), third in receiving yards (265) and second in touchdowns (three) after joining Ole Miss as a 3-star prospect considered too light to play immediately.
The Rebels will have an easy three weeks before a match-up against No.5 Missouri and Mississippi State in their last two weeks, which will likely determine their BCS bid.
4. Florida
The Florida Gators are the college football version of the NFL's Houston Texans.
Already struggling this season despite high expectations, they lost another player to season-ending injury.
Quarterback Jeff Driskel (broken leg), defensive tackle Dominique Easley (knee), right tackle Chaz Green (labrum) and running back Matt Jones (knee), receiver/kick returner Andre Debose (knee), freshman linebacker Matt Rolin (knee) and freshman defensive back Nick Washington (shoulder) — and now, linebacker Jeremi Powell is added to the list of eight players lost for the season.
The team, expected to compete for a bowl game, is 4-3 SU and 2-5 ATS. They are currently on a two-game losing streak. Hopefully, the bye week will give ample time to devise a plan on how to compete in a gauntlet of tough teams as four of their next five games are against the SEC.
5. Georgia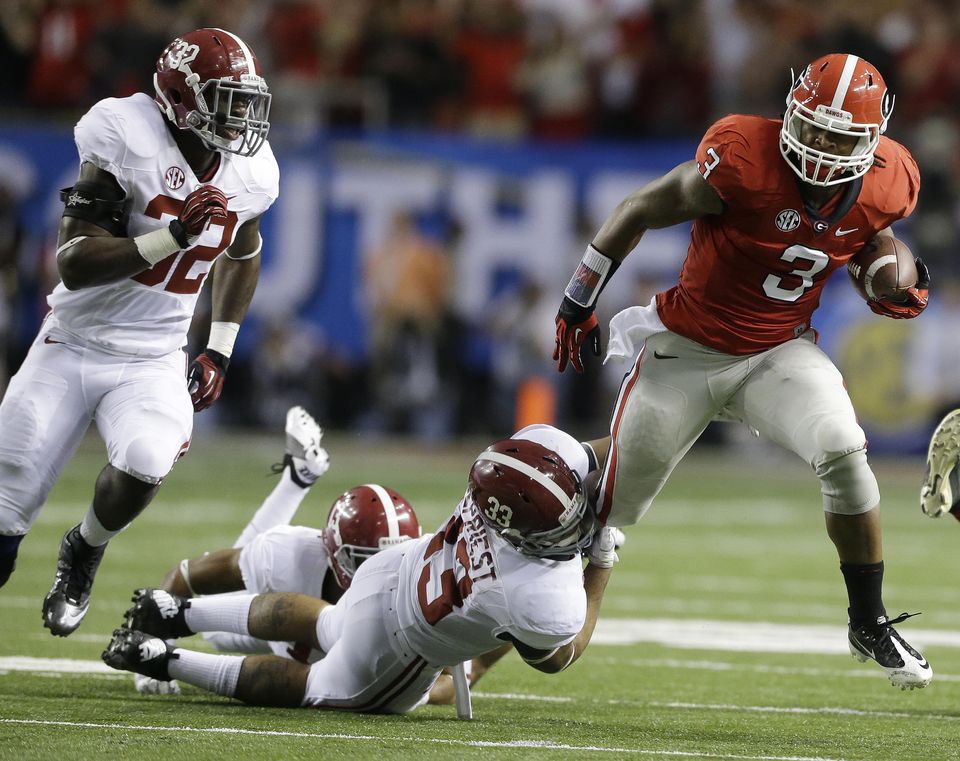 Good news for Georgia Bulldogs fans.
Running back Todd Gurley II is resuming practice and looks to be ready for the Bulldogs' match-up against the Gators next week.
Gurley is the Bulldogs' leading rusher despite missing the last three games. Without Gurley, Georgia lost back-to-back games against Missouri and Vanderbilt, dropped out of the Top 25, and now possess a 4-3 SU record and a poor 1-5-1 ATS record.
And what better time for them to get back up than their last five games of the regular season? After they are through with Florida, only the much-improved Auburn will provide them with a challenge in Week 12. The rest should be easy pickings, and having an explosive runner back will certainly boost Georgia's offense as well as their chances to cover the spread.
6. Miami
Stephen Morris must now continue quarterbacking without one of his favorite targets. Starting receiver Phillip Dorsett is out four to six weeks with a knee injury. The Miami Hurricanes will miss his 20.9 receiving yards-per-game for the rest of the season.
After getting a close win against North Carolina to save their undefeated record, two of their next three games will be daunting as they go up against top-25 teams Florida State and Virginia Tech.
7. Missouri
The Missouri Tigers are on an unexpected roll.
Still perfect at 7-0 SU and 7-0 ATS, Missouri has been busting out when least expected. A perfect season looked like a possibility until the team's starting quarterback, James Franklin, went down with a separated shoulder and is now out indefinitely.
Back-up QB Maty Mauk has played well in Franklin's absence, going 18-of-36 passes for 295 yards with one touchdown and one interception in a win against Florida. They will get a challenge from South Carolina next week, as they are 3-point favorites going into this weekend.
The Tigers are hopeful Mauk can do well in their next game and get their starter back in time for their final game against Johnny Manziel and Texas A&M.
[sc:NCAA490banner ]
Check out odds and lines for these teams going forward as they march on through the uncertainty of the college football season.
1,933 total views, 1 views today
Comments
comments