The Penguins-Rangers Eastern Conference Quarterfinal series got off to an explosive start Wednesday night. The Penguins took a 1-0 series lead with a 5-2 blowout of their Metropolitan Division rivals. They did so even with third string goalie Jeff Zatkoff between the pipes. Pittsburgh now hosts another game Saturday afternoon before the series switches to Madison Square Garden.
Can the Penguins take a commanding 2-0 series lead? Or will the Rangers even the score? Read on as we take a look at Game 2 of this big matchup.
For more on the Stanley Cup Playoffs, check out our complete previews for the Red Wings vs. Lightning and Blackhawks vs. Blues.
NHL News and Predictions
New York Rangers vs. Pittsburgh Penguins Game 2 Preview
Where: CONSOL Energy Center, Pittsburgh
When: Saturday, April 15, 3:00 PM ET
Line: New York Rangers at Pittsburgh Penguins – view all NHL lines
TV Broadcast: NBC
Betting on the New York Rangers
The New York Rangers played Pittsburgh really tight. They allowed just two goals entering the third period, both coming with just about a minute before intermission. They scored on a power play and added a full-strength goal in the third but a handful of miscues ultimately had them bowing down 5-2 in Game 1 against the Penguins.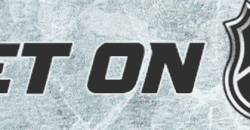 Derek Stepan scored both of the Rangers' goals, while Rick Nash, Derick Brassard and Mats Zuccarello each had an assist. If the Rangers are to figure out Pittsburgh's Jeff Zatkoff, then they'll need more production from this core of players. While some offense will be welcome, they'll need to do a much better job on defense.
Marc Staal didn't look like the defenseman the Rangers needed with Ryan McDonagh out due to a hand injury. He was on ice for Pittsburgh's two goals. He also unintentionally poked goalkeeper Henrik Lundqvist's eye toward the end of the first period. Marc's brother, Eric, didn't do much good in the forward line. He finished the game with a minus-three.
Missing Lundqvist could be a disaster for the Rangers. The Penguins have been an incredible offensive team with Sidney Crosby and Phil Kessel leading the first line. Lundqvist had been stellar against the Penguins in the playoffs with a 7-1-0 record, 1.34 GAA and .954 save percentage in his previous eight starts. He looked sharp before his eye injury late into the first period. On the plus side, the King gets two days of rest before Game 2.
Backup goalie Antti Raanta looked lost on the ice in Wednesday's loss. But he could do much better with tighter defense from the blue line. He allowed three goals, one of which came in a one-on-one breakaway by Crosby.
The Rangers have now lost five of their last six games against Pittsburgh dating back to the regular season.
Betting on the Pittsburgh Penguins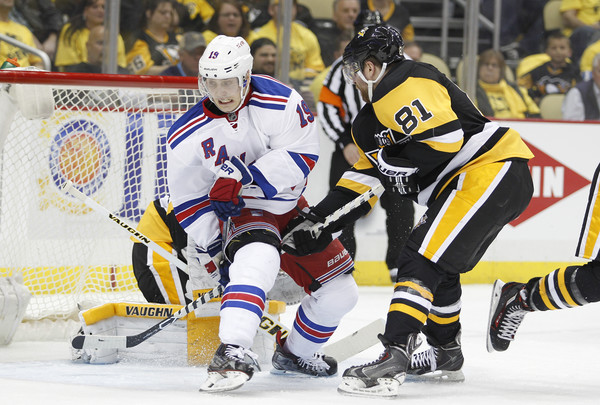 Patric Hornqvist had his first playoff hat trick and the Pittsburgh Penguins dominated New York 5-2 in Game 1 of their Eastern Conference Quarterfinal series. Hornqvist added an assist to finish with four points, while Sidney Crosby had a goal and two assists. Most importantly, third-string goaltender Jeff Zatkoff impressed in his first career start, stopping 35 of 37 shots for the win.
Crosby has now scored in four straight games dating back to the regular season. His point streak (six goals and four assists) is on an even longer nine-straight games. The Pittsburgh captain has been a thorn on the Rangers' side all season long. He scored four points in four regular season matchups and had three Wednesday night.
The Pens will be even dangerous if Phil Kessel can find himself open after finishing with just one assist Wednesday night. He scored two goals and two assists in four regular season games against New York. The Pens could keep up their hot scoring with Kris Letang continuing his excellent play. He recorded at least a point for the ninth-straight time in Game 1 against the Rangers with two assists.
It remains unclear when Marc-Andre Fleury or Matt Murray will return. The two are both dealing with their respective concussions as they sat out Game 1. But Zatkoff remained solid in his first ever playoff start. It remains to be seen whether Zatkoff can continue weathering the storm after the Rangers out-shot Pittsburgh 37-30 in Game 1.
The Penguins have won eight of their last 10 home games dating back to the regular season.
Writer's Prediction
Lundqvist returns and leads the Rangers to a Game 2 win.
It's time for playoff hockey! Create a betting account now and join in the chase for Lord Stanley's Cup.

Comments
comments