---
We're just a couple of days past the thrilling conclusion of the 2016-17 NHL season, with the Pittsburgh Penguins managing to pull off a rare repeat as Stanley Cup Champions.
Not long after the Penguins' title-clinching victory over the Nashville Predators, the oddsmakers were quick to release futures odds for the upcoming season. Read on below to see where your favorite team ranks in terms of chances at becoming the next franchise to host Lord Stanley's trophy in a year's time.
---
NHL News and Predictions
---
2017-18 NHL Season Early Stanley Cup Futures Odds
Favorites
Pittsburgh Penguins (+850)
To nobody's surprise, the newly-crowned, back-to-back champs are the current front-runners to make it a three-peat next season.
The Penguins are still going to be led by future Hall-of-Famers Sidney Crosby and Evgeni Malkin, who are just two of the cogs in Pittsburgh's well-oiled, championship-winning machine. The team also has a goaltending tandem in Matt Murray and Marc-Andre Fleury that can provide solid production in front of the net, regardless of which of the two gets the starting nod.
For as long as the key pieces remain intact upon entering the new campaign, a third-consecutive title parade in Steel City when all is said and done can very much become a reality.
Edmonton Oilers (+1,000)
Although the Washington Capitals and Tampa Bay Lightning share the same odds as the Edmonton Oilers, it's pretty clear that the battles over in the Eastern Conference will be just as heated as this past season.
Meanwhile, the Oilers exhibited great promise during their first playoff run in over a decade, going the full seven-game distance against the postseason-tested Anaheim Ducks before being eliminated from the West's conference semifinal. Connor McDavid is arguably going to be the best hockey player in the NHL for the foreseeable future. And if Edmonton builds a nice supporting cast for him during this offseason, the rest of the league best be frightened.
Sleepers
St. Louis Blues (+2,500)
Every year, it seems that the St. Louis Blues are in the postseason hunt and that's a fact. Since 2000, the Blues have only failed to make the playoffs five times. They've even finished no worse than third in the Central Division for the past six seasons.
St. Louis still has a tremendous weapon in their arsenal in Vladimir Tarasenko, plus a good mixture of upstarts and veterans that capable of extending the franchise's winning ways on a consistent basis. If the Blues strike up a solid deal or two in the offseason to bolster their roster, they might just have enough in the tank to make the Stanley Cup Final for the first time since 1970.
Ottawa Senators (+3,000)
Despite taking the Penguins to the limit in the Eastern Conference Finals, fans and pundits alike continue to underestimate the Ottawa Senators. Sure the Sens don't have any particular strengths, but they don't have any glaring weaknesses, either.
Two-time Norris Trophy recipient Erik Karlsson hasn't lost a step yet, and young center Jean-Gabriel Pageau had flashes of brilliance in the playoffs, showing that he could possibly become an outstanding offensive leader for the team. Let's not forget that goalie Craig Anderson quietly had a solid 2015-16 campaign, finishing second in the league in save percentage (.926). That being said, the Senators are possibly one proven scorer away from reaching their first-ever Stanley Cup Final.
Long Shot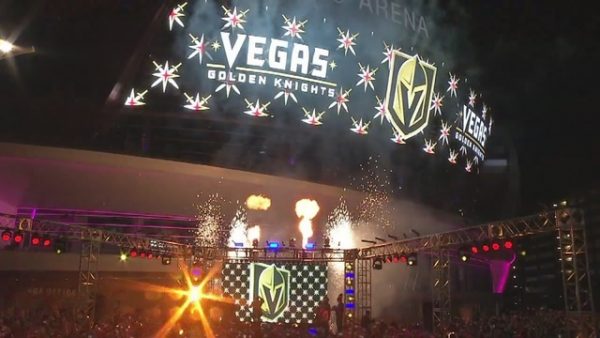 Vegas Golden Knights (+15,000)
It's quite ironic that the Vegas Golden Knights aren't getting any love from the bookies in Sin City. Then again, as with all expansion teams entering their first year in a particular league, the bar is set really low for them to make a convincing bid for the Stanley Cup in their maiden run, let alone make the playoffs.
No expansion team in American major sports history has ever won a championship title in its debut year. Although SKA Saint Petersburg's Vadim Shipachyov makes for a nice building block for the Golden Knights, he has yet to prove himself on the NHL stage. Vegas is still waiting to find out who'll make up the team's remaining cast via the expansion draft this June 18 as well, and don't count on some of the league's true standouts to suddenly be transferred to the desert at that.
Complete List of Odds
| Team | Odds | Team | Odds |
| --- | --- | --- | --- |
| Pittsburgh Penguins | +850 | Edmonton Oilers | +1,000 |
| Tampa Bay Lightning | +1,000 | Washington Capitals | +1,000 |
| Chicago Blackhawks | +1,200 | Nashville Predators | +1,200 |
| Anaheim Ducks | +1,400 | Dallas Stars | +1,500 |
| Minnesota Wild | +1,500 | Montreal Canadiens | +1,500 |
| New York Rangers | +1,500 | San Jose Sharks | +1,500 |
| Toronto Maple Leafs | +1,500 | Los Angeles Kings | +2,000 |
| Boston Bruins | +2,200 | Columbus Blue Jackets | +2,200 |
| St. Louis Blues | +2,500 | Ottawa Senators | +3,000 |
| Calgary Flames | +3,300 | Florida Panthers | +4,000 |
| Philadelphia Flyers | +4,000 | New York Islanders | +4,500 |
| Winnipeg Jets | +4,500 | Carolina Hurricanes | +5,000 |
| Buffalo Sabres | +5,000 | Arizona Coyotes | +6,000 |
| Colorado Avalanche | +7,500 | Detroit Red Wings | +7,500 |
| New Jersey Devils | +10,000 | Vancouver Canucks | +10,000 |
| Vegas Golden Knights | +15,000 | | |
Create a betting account now to start placing stakes on the upcoming NHL season as early as now!

2,998 total views, 1 views today
Comments
comments