The no. 1 Arizona Wildcats and no. 2 Wisconsin Badgers went back-and-forth down the stretch, exchanging leads and big baskets, and even needed to go to overtime. In the end though, it was the Badgers who came out on top, 64-63, winning the West region and moving on to the Final Four.
It was the stuff March Madness is made of.
[sc:MarchMadness ]
No. 1 Arizona vs. No. 2 Wisconsin March Madness Recap
The win pushed Wisconsin's records to 4-0 SU and ATS in the NCAA Tournament.
Even with five-minutes of extra time, the game failed to clear the totals line of 132. The total has gone under in three of the Badgers' last four games.
The Badgers fell behind early in the game as Arizona raced to take a 5-0 lead and even built a cushion of as many as eight points before closing the first half with a slim 28-25 lead. At the halftime show, Charles Barkley wrote three names on his chalkboard: Kaminsky, Kaminsky and Kaminsky. And that's who stepped up.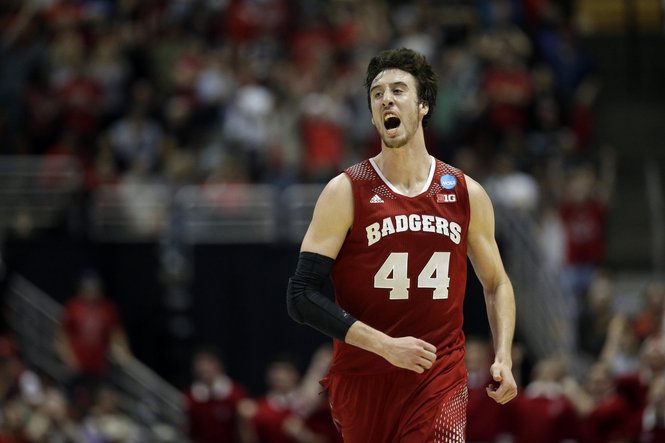 In the second half, the Badgers continued to go toe-to-toe with Arizona, who simply had no answer to center Frank Kaminsky. The talented seven-footer almost single-handedly beat the Wildcats, pouring in 14 of his game-high 28 points in the second half. He scored six more in overtime, including a tip shot with over a minute left to give the Badgers a three-point lead.
Kaminsky was an unstoppable force from everywhere on the floor. He shot 11-20 overall (3-5 from beyond the arc) and grabbed 11 rebounds. Kaminsky was later named the Most Outstanding Player in the West region of the NCAA tournament.
Arizona was down by two, 54-52, with under a minute left in regulation when Nick Johnson fired off a jumper that sailed wide left, but was fortunately caught by Rondae Hollis-Jefferson , who dunked the ball to tie the ballgame with 36 seconds left. Badgers guard Traevon Jackson missed a jumper at the buzzer, sending the game to overtime.
Nick Johnson squandered two chances to win the game for the Wildcats in the dying seconds. First, he was called for an offensive foul on a drive attempt with four seconds to go. Arizona managed to get the ball back, but his last-gasp jumper also missed, thus giving the Badgers their first Final Four appearance since 2000 and their first since Bo Ryan took the coaching helm 13 years ago.
Johnson led the scoring for the Wildcats with 16 points, while Kaleb Tarczewski added 12. Aaron Gordon contributed only eight points but was a monster on the glass, grabbing 18 rebounds.
The Badgers now await the winner of the Midwest regional final between Kentucky and Michigan. Like Wisconsin, Kentucky is also unscathed so far in the tournament against the spread, while the Wolverines are 2-0-1 ATS.
[sc:finalfour490 ]
2,008 total views, 1 views today
Comments
comments